After the Absolutely Maybe San Francisco Book Tour, it was time for the glorious LA Times Festival of Books. I was scheduled for the Young Adult Panel. Intense preparation is needed for something like that because you are in front of an audience of (possibly) millions . . .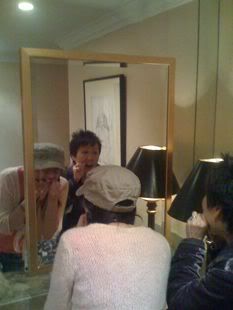 Yes, that's Moi and fellow panelist Lauren Myracle, author of oft banned TTYN, flossing.

Our panel was sold out! Well, okay, the tickets were free. However, just think, it they cost $1,000 a piece, that would have totaled $837,020,000ish. Here's the attractive audience all thinking the same thing . . . Lauren and Lisa's teeth are nicely flossed . . .


(BTW, the front row was roped off for some reason. Perhaps they were worried that the panel would escape?)

Our discussion was moderated by the always amazing Cecil Castellucci and included Robin Benway, Deb Caletti, Lauren and Lisa. It was such a blast!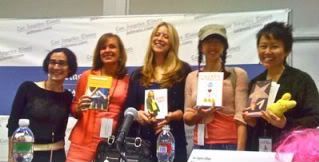 Immediately after, we were whisked to the autograph signing booth. Here's Lauren, Moi and Cecil gabbing while the line starts . . .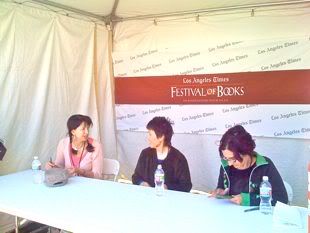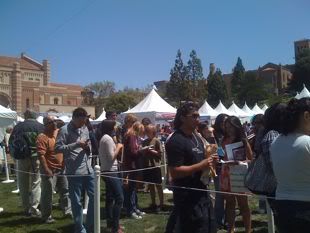 I signed lots of copies of ABSOLUTELY MAYBE and was feeling pretty good. Later, I went to meet bookseller Andrea Vuleta at Mrs. Nelson's Toy & Book Shop booth for another book signing session . . .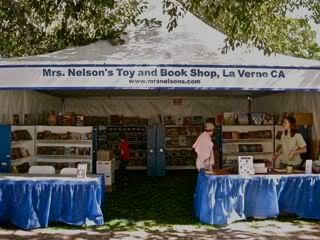 I was happy because I'd be signing alongside my pal, New York Times bestselling author/illustrator, Mark Teague . . .



Then I learned something invaluable. Never sign alongside my pal, New York Times bestselling author/illustrator, Mark Teague.

Why? Because sells he lots of books. Like when Mark was at the Storyopolis booth, he sold out of all 400 of his books, thus causing this man to smile . . .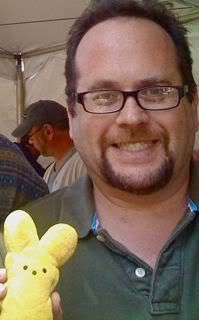 (That's Storyopolis owner Mathew Abramowitz.)

So anyway, back to Mrs. Nelson's booth. Mark's line was waaaaaay long. And mine was hiding . . .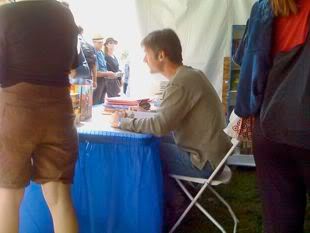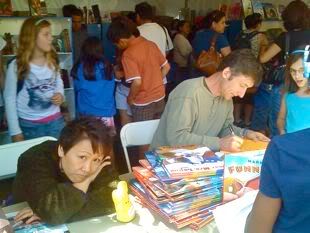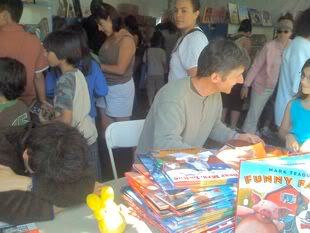 But that's when it hit me smack in the head! I needed to do what Mark was doing . . . DRAW PICTURES when autographing. So I decided that the next time someone had me sign their book, I'd include a free illustration . . .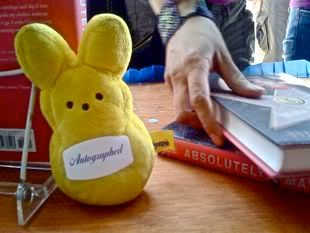 What do you think? Can you tell what I drew?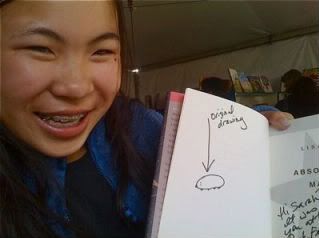 Stay tuned for the next blog when there will be a bevy of photos of famous authors I met/hounded at the LA Times Festival of Books. In the meantime, have you figured out who the dude in the pink wig is? Here's a hint . . .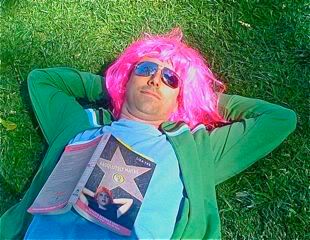 It's the funtastic Jarrett J. Krosoczka, seen here with her cuteness, his baby (and Gina's too). And for your viewing pleasure, here's Jarrett's dramatic true-life story of getting a book published . . .






Subscribe to Lisa Yee's Blog and get her fresh baked blogs e-mailed to you!

Or you can click this for a RSS feed...