The World Wide International Cross Continent BOBBY VS. GIRLS ACCIDENTALLY Tour continues. This time, West Coast Division.

Our California debut took place at the Moon Festival, sponsored by the South Pasadena Chinese-American Club . . .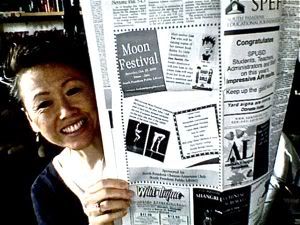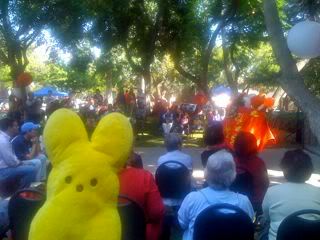 It was grand fun, except that four times I was mistaken for NY Times bestselling author Lisa See. This happens a lot.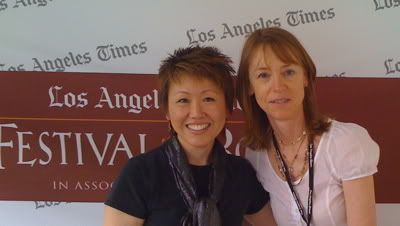 (Above: One is Lisa See and the other is Lisa Yee.)

BOBBY VS. GIRLS (ACCIDENTALLY) illustrator/neighbor/friend Dan Santat and Moi were given our own booth. It even included a kid reading a book . . .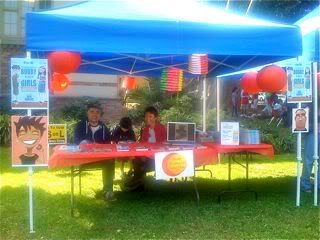 Here we are on the steps of the South Pasadena Library singing 1970's hits and doing impersonations of obscure Oscar winners. Or maybe, reading from, and talking about, BOBBY VS. GIRLS (ACCIDENTALLY) . . .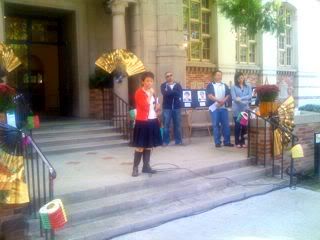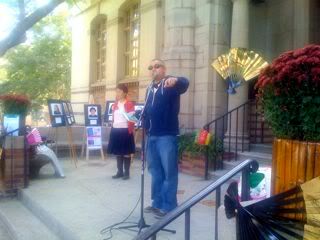 (Celeb that he is, Dan donned his shades so he wouldn't be mobbed.)

Later, Peepy hobnobbed with beauty queens as they begged her for fashion tips . . .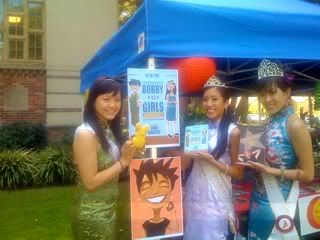 I got a bit miffed at Dan. Because of where we were sitting, I always signed the books first. Bobby's campaign slogan is "BOBBY ROCKS!" So, I'd write, "You rock!"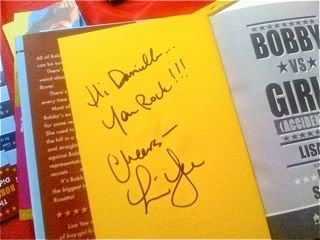 Then, I'd pass the book to Dan, and he'd write on the page BEFORE mine, "You totally rock!" PLUS draw a picture of Bobby. . .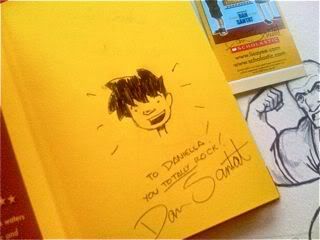 Thus making me a redundant undraw-er. Dan thought this was very funny, especially since I didn't discover it until the end of the festival.

That's okay though, because I am an author and can name my next villain . . . San Dantat.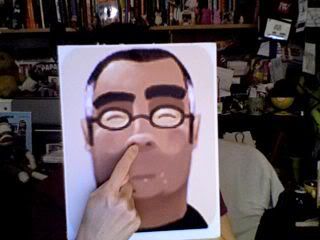 While we were in our special booth, Dan drew this picture featuring characters from our book . . .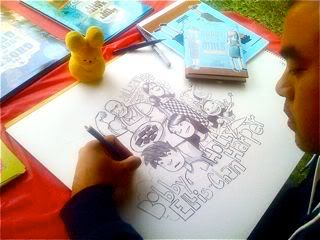 (People seemed more interested in watching him draw, than watching me write.)

It's going to be a prize at our official BOBBY VS. GIRLS (ACCIDENTALLY) Book Launch Party. Hope you can come. Here's the scoop:

Book Launch Party
Vroman's Pasadena
Sunday, October 18th at 2 p.m.
Free fun. Free donuts.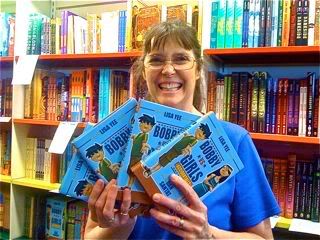 Pssst . . . CLICK HERE for an interview with Moi on KidsReads.com.





Subscribe to Lisa Yee's Blog and get her fresh baked blogs e-mailed to you!

Or you can click this for a RSS feed...