Last Thursday it was off to an early start in Arlington, Virginia where STANFORD WONG FLUNKS BIG-TIME is a Virginia Readers Choice book. I visited Aladdin's Lamp Bookstore and four local schools filled of enthusiastic students like these . . .



However, what brought me to Virginia was Claire, the talented winner of the SO TOTALLY EMILY EBERS "So Totally You" essay contest. On Friday, Claire threw a slumber party and Scholastic provided the goodies--a karaoke machine, Silly String, make-up, and more. Then I showed up and hosted a dinner for the party guests!


(Above: Claire, winner of the national essay contest, is wearing green. Peepy, in yellow, thought the party was in her honor.)

On Saturday, I caught an early morning flight to New York, New York, New York. I had heard horror stories about flaky authors who go missing, so I caught a cab and headed straight into the city.

At uber cool Books of Wonder my friend, the talented and oh-so-spendid Elise Broach and other picture book authors/illustrators were signing . . .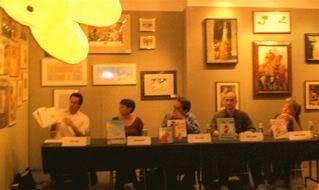 (Above: John Segal, Elise, Nick Bruel, Peter Brown and Doreen Cronin)

In the afternoon it was time for a book signing at The American Girl Place. I got to meet my GOOD LUCK, IVY editor, Jennifer Hirsch in person for the first time. Plus, Jodi Reamer, my agent, also showed up and later we all dined out and discussed world politics, advanced algebra, medical innovations and, um, other lofty topics.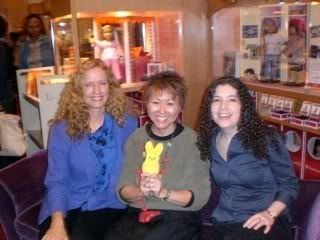 (Above: Jennifer, on left, Moi and Peepy, and Jodi debate who will win the Nobel Peace Prize next time.)

When I got to back to my hotel room there was an urgent message. It seems that Target, who was sponsoring the New York Times Great Children's Reads in the Park . . .


. . . had hired a driver to meet me at the airport. Only, they couldn't find me. (Because I had taken a cab.) So, they thought I had disappeared. Poof. Oops.

On Sunday, I made sure I was where I was supposed to be . . .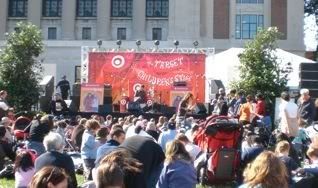 (Above: If you squint you can see me on the Target Stage at Columbia University.)

Back in the VIP tent, I almost ran over JULIEANDREWS with my luggage. Later, we spotted JulieAndrews (with some people it only seems proper to always say their first and last name) again.

Jennifer and I kept trying to get a photo of JulieAndrews by pretending to take photos of each other with JulieAndrews in the background. My brother was watching the whole sad thing and noted, "You two would be terrible paparazzi" . . .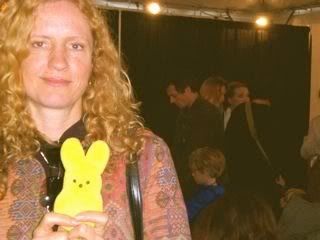 We never did get a good shot of ourselves with JulieAndrews, but wouldn't you know it? Someone else we know did . . .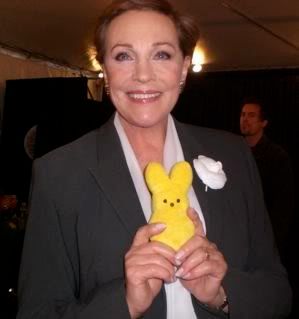 Then it was time to hop on a flight back to Los Angeles so I could attend J.K. Rowling's LA presentation at the Kodak Theater in the morning. Stay tuned for Close Encounters of the J.K. Rowling Kind!!!