On Sunday, the day after the wonderous Southern California Booksellers Award Dinner, I met my pal Jay Asher at Vroman's. Then we pointed the minivan toward Venice Beach to rendezvous with Julia DeVillers who was in town for the taping of Dancing with the Stars.

Yes! They are now having a spin-off featuring children's book authors dancing with supermodels!!!! (Actually, Julia's co-authoring a book with Sabrina Bryan from the Cheetah Girls. Sabrina is a contestant on the show, so Julia was in the audience. However, I think my idea has merit, don't you?)

Despite owning my very own Global Positioning System, I managed to get lost. Yet again. After 57 U-Turns, we made it to Shutters on the Beach and had a delicious meal . . .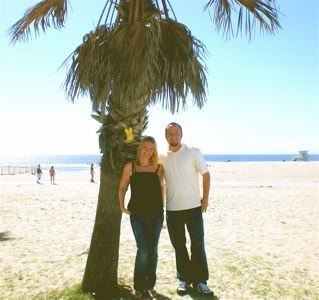 (Above: Julia and Jay, apres delicious meal.)

The next day it was off to Clairbourn School. Feast your eyes on the book fair in the school gym . . .


(Above: It was a super Super Hero theme, hence Superman--can you see him in the phone booth?)

A lovely breakfast was held for myself and illustrator Henry Cole and author Pamela Duncan Edwards.

I did three assemblies, and we all had a blast. I also got to have cookies and milk with a small group of enthusiastic fans. Later, Courtney, who had learned of my inability to text message, read text messages, or even program a cell phone, gave me this book about texting . . .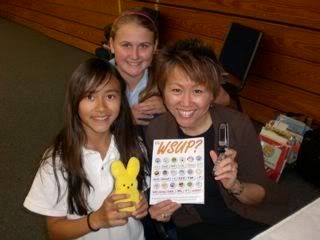 (Above: Courtney and Janella, who's name I may have spelled wrong because I can't read my own handwriting.)

Mid-day, when it was time for lunch, uber librarian Anita Knight said, "Someone is coming to lunch just to meet you!" I pretended to smile, but as we headed to Panda Inn I began to panic.

Who wanted to meet me?
Could it be someone I owed money to?
What if it was Hannibal Lecter?
Or, perhaps I was about to be ambushed by that makeover show where your friends/family/pets think you dress bad and then Stacy and Clinton embarrass you on national TV and throw all your old clothes in a garbage can?

Hoorah! Hoorah! It was someone TOTALLY unexpected and wonderful! Someone I didn't owe money to, was not a killer, and made no mention of my sense of style, or lack of one.

It was (squeeeee!!!) Best Actress Academy Award winner, West Wing regular, featured on The L Word, and Clairbourn mom, Marlee Matlin! She was sooooo nice and both Peepy and I were quite smitten . . .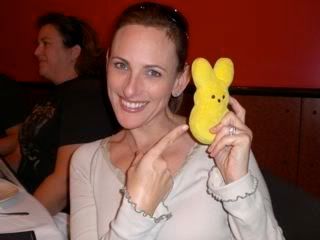 Later that afternoon, I rushed home to be the 22nd Flavorite of ReaderGirlz and YALSA's 31 Flavorites Teen Authors for October. Each day you can chat with an author, like on October 31 when it will be Stephenie Meyer who I spent a lot of time with in August. (Well, not really. But we would have hung out together longer if circumstances were different. Like if we were sitting next to each other on a cross-country flight, and it was crowded so no one could change seats.)

I was totally discombobulated, tizzified and thrilled by my chat. In one-hour-ish there were over 300 questions/answers, and not all of them were from me. If you have a MySpace, you can go there and then read the transcripts here . . .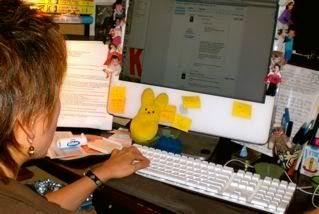 Speaking of graphic novels (pretend we were), you may want to check this out-- on November 3rd it's SCBWI So Cal's Graphic Novel Day.

And finally, when I was at the beach with Julia and Jay on Sunday, we could see the fire in the distance . . .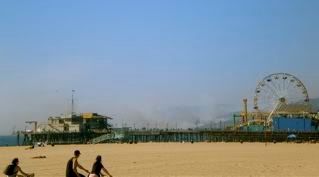 It's only gotten worse since then. To everyone in So Cal who's effected by the fires, I hope you are safe. My thoughts are with you.