Eventually, we leave childhood behind, but our fondest memories we carry with us.

When I was a kid, I practically lived in the library and would check out my favorite books over and over, again. The pages came alive and the characters were my friends. Back then, the author's name on a dust jacket was just that. It never occurred to me that authors were real people. In those days we didn't have the internet where you could Google someone, and no author ever visited any of my schools.

One of my favorite books was called HONESTLY, KATIE JOHN . . .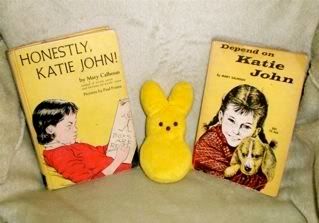 It was about a spunky tomboy who spoke out of turn, made a lot of mistakes, and was misunderstood. She was just like me. I loved Katie John so much, I named my daughter Katie, after her.

Not too long ago, Roger Sutton invited me to write an essay for THE HORN BOOK Magazine. I titled it, "Brave Orphans, Smelly Boys, and Girls Named Katie." When the essay appeared, the most unexpected thing happened. I heard from Mary Calhoun, the author of the KATIE JOHN series. She had read the essay.

Earlier this week I boarded a train to San Juan Capistrano . . .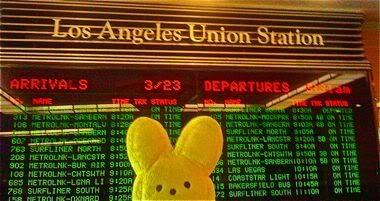 I was excited and nervous and scared, because Mary Calhoun was meeting me at the depot . . .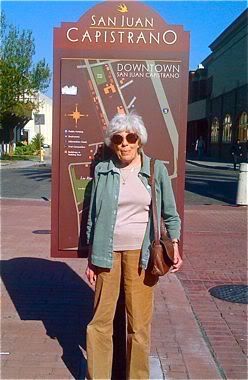 There was no reason for worry. Mary was as wonderful as I had hoped. Graciously, she signed my books and listened to me babble like the fan that I am . . .



Later we visited the local library. It was so fitting, because that's where I was first introduced to Mary and Katie John . . .



The San Juan Capistrano Library is beautiful. It was designed by Michael Graves. Imagine, all this--and books, too . . .



Books like KATIE JOHN made me want to become an author. And there I was with Mary Calhoun and the library books we both had written . . .



Melissa, the children's/YA librarian, greeted us warmly. She was familiar with our work and said she had just read ABSOLUTELY MAYBE!



Late in the afternoon, Mary and I parted. But not really, because I had her books with me.

When I was nine-years old reading about Katie John, there is no way I could have even begun to imagine this day . . .



On the train ride home, I savored my memories and read.

Subscribe to Lisa Yee's Blog and get her fresh baked blogs e-mailed to you!

Or you can click this for a RSS feed...