Okay, so I'm gearing up to go out of town for two weeks. Mostly for the BOBBY VS. GIRLS (ACCIDENTALLY) World International Cross-Continent Book Tour!!!

Only, it will take place in the midwest, starting with Chicago. Here's the schedule.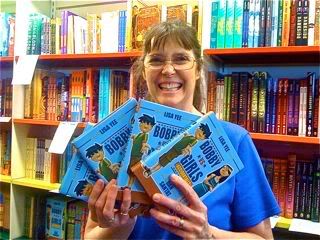 (Above: Kris Vreeland, manager of Vroman's children's book department, encourages everyone to purchase at lest four copies of the book.)

Even though I leave on Thursday, there's LOTS of prep and organization that needs to be done now. (Writing speeches, crafting presentations, critiquing manuscripts, etc.)

Here's the itinerary that my wonderful Scholastic publicist, Samantha Wolfert, put together . . .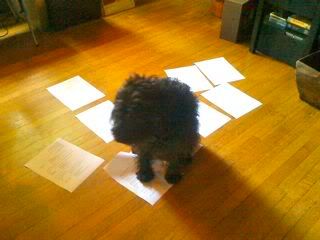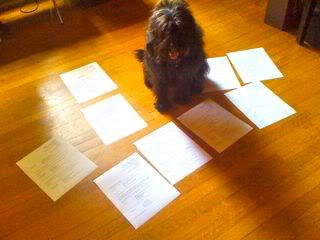 Since life can get so discombobulating, I keep a binder to sort out all my upcoming author appearances . . .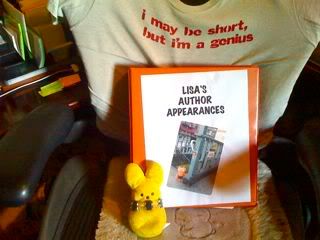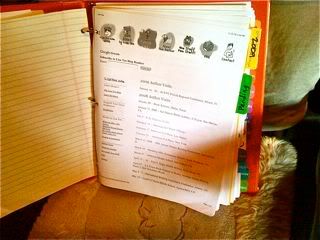 Plus, I have lots of lists, like the one that Chekov is holding . . .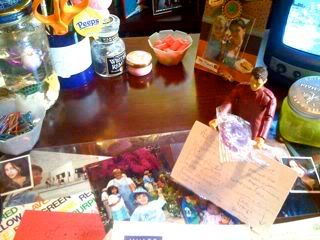 (See that small bowl of pink things on my desk? Can you guess what they are? The answer is at the bottom of this blog.)

Prior to the BOBBY tour, I'll be in at the Anderson's YA Conference talking ABSOLUTELY MAYBE . . .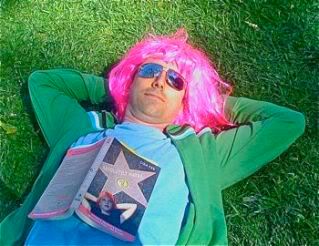 (Uber picture book author/illustrator Jarrett Krosoczka relaxes with his favorite book.)

For the BOBBY tour, I needed to create a new presentation. So I did it on my iMac using iPhotos. And then I uploaded it to my iPod, which I will hook up to my projector and show via a wireless remote!



Alright, okay, yeah, yeah, I know what you're thinking. "Lisa, given your history is it safe for you to go so high tech?"

The answer is: No.

Anyway, to see where I'll be, CLICK HERE to take you to the calendar. (And once you're there, hit AGENDA)



Oh! And remember my, er Scrivener situations? (Which, I hasten to add, were all author errors.) . . .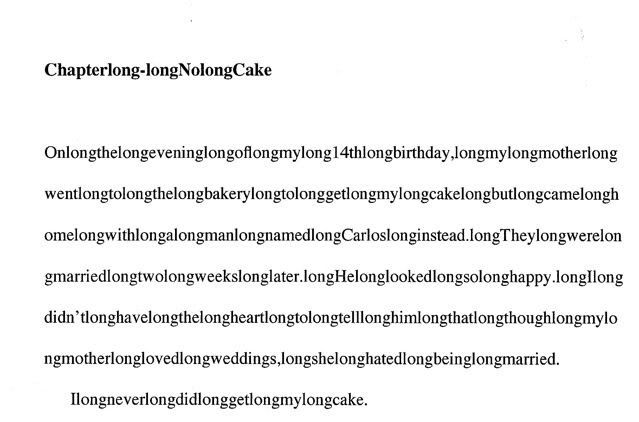 Well, now that everything is squared away, and I am more in love with Scrivener than ever before (having watched the tutorial video, which I should have done YEARS ago), guess who has a testimonial on the Scrivener website??? You can CLICK HERE to read my raves and those of other authors.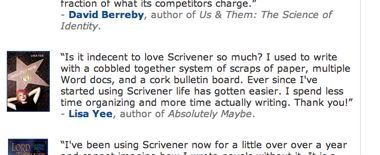 ----
Answer at the bottom of this blog: If you said, "earplugs" you are correct!!!! I use them when Son and Teen and their friends are especially loud.





Subscribe to Lisa Yee's Blog and get her fresh baked blogs e-mailed to you!

Or you can click this for a RSS feed...