The first time I met Sid Fleischman, I was an unpublished writer attending my first SCBWI Summer Conference. I had circled Sid's name on the brochure and attended his workshop, taking copious notes. Afterward, I worked up my courage to talk to him. He was kind and generous, and overlooked the fact that I was blathering.

Four years later, he announced my name at the Summer Conference and, at a grand banquet of more than 800 people, presented me with the Sid Fleischman Humor Award. It changed my life. He changed my life.

After I gave my acceptance speech, my son ran on stage and presented me with a bouquet of flowers. I kept one and pressed it into Millicent Min, Girl Genius, the book that won. I was in a daze for most of the day, and was happy to have had my photo taken with Sid and Arthur Levine, my editor. It was proof that I wasn't dreaming.

Over the years, I morphed from fan to friend, and Sid was always a delight. He was especially kind to my son, who loves magic tricks. A former professional magician, Sid always had a new trick to teach him.

"You can tell your friends that the author of The Whipping Boy taught you that," I once said.

"He wrote The Whipping Boy?" my son said, wide-eyed. He loved that book, but never connected Sid, the nice old man who teaches magic, with Sid, the Newbery Award winner.

We will miss you, Sid. Thank you for all the books you have gifted us with . . . and for those magic tricks, too.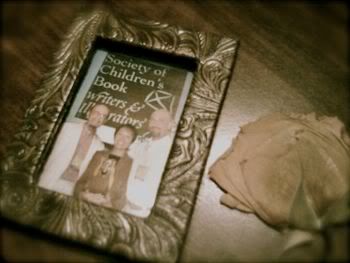 CLICK HERE for the obituary on the SCBWI website.

Lisa Yee

Create Your Badge
Subscribe to Lisa Yee's Blog and get her fresh baked blogs e-mailed to you!

Or you can click this for a RSS feed...