Wooooo . . . from the Windy City to the Big Apple!

We were in New York for the Ultimate Author Showdown LIVE game show and the kick-off of the Scholastic Summer Challenge.

It began with rehearsals in the Scholastic Auditorium . . .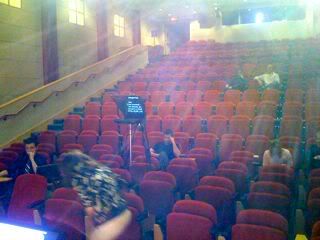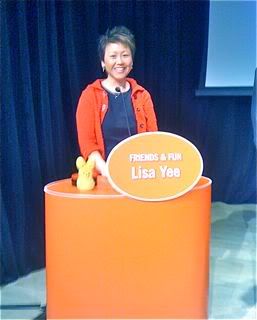 The contestants were authors, Moi, RL Stine, host/former National Ambassador of Young People's Literature Jon Sciezska, Gordon Korman, and Christopher Paul Curtis . . .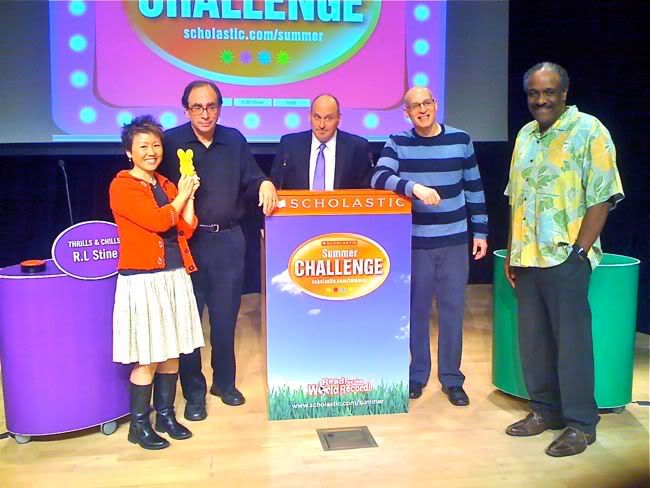 Here's why we were selected to compete:

RL Stine has over 300 millions books in print.
Gordon Korman has written over 65 books.
Christopher Paul Curtis has won a Newbery Medal.
Lisa Yee has a Peep.

Scholastic VP of Production and Creative Services, Maestro Billy DiMichele led us through the paces, telling us when/how to buzz in, etc. . . .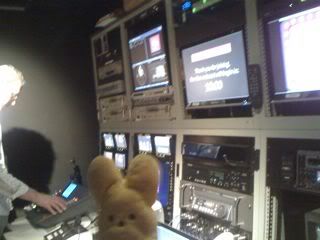 It was a blast! (Um, that's RL Stine and Jon Sciezska having fun.)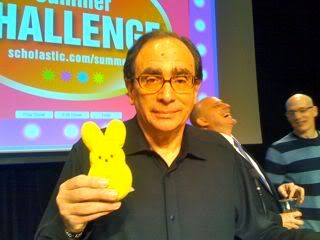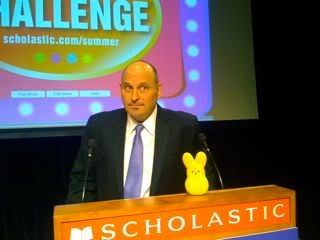 After we figured it all out, it was time to relax before the show . . .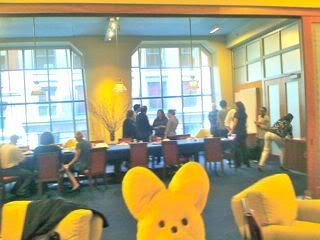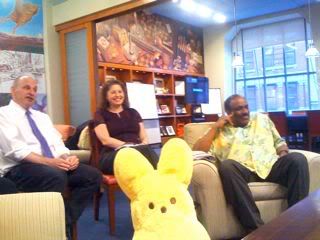 (Look! It's Tracy Van Straaten, VP Trade Book Publicity sitting between Jon and Christopher.)

Also hobnobbing were Dick Robinson, President, CEO and Chair of Scholastic, my editor Cheryl Klein, and my publicist, Samantha Grefe . . .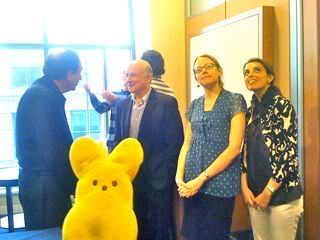 I spy . . . Vice President, Executive Editor for Scholastic Trade, Andrea Davis Pinkney with Jon, and there's Team Arthur A. Levine Books, Emily Clement, Arthur and Cheryl (we were trying to work out how to send telepathic/empathetic messages) . . .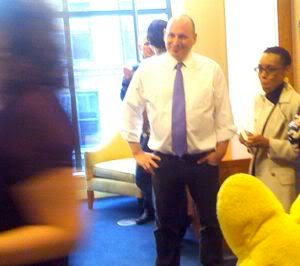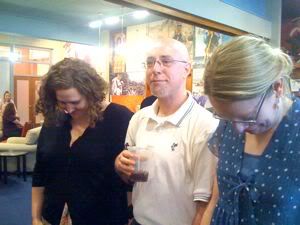 Soon it was time to go to the Green Room and freshen up . . .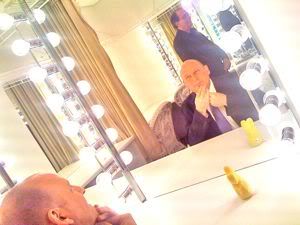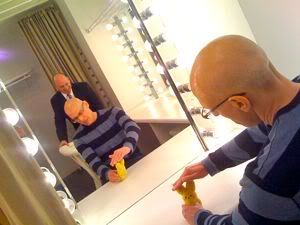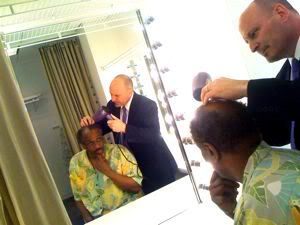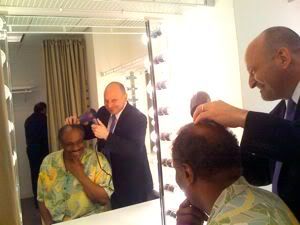 Before we knew it, we were back in the auditorium, only this time it was full of kids!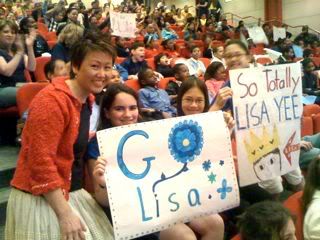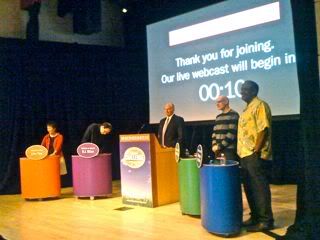 Then the game began. Eeeeek!!! Over 162,982,892.5-ish students were watching live on the web from all over the world . . .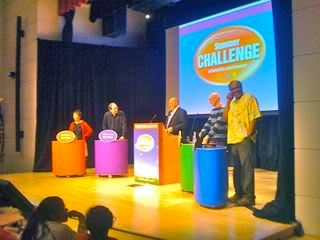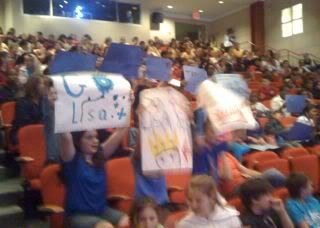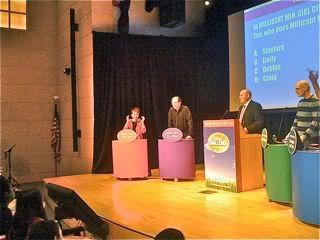 At one point, I buzzed in first and was asked a Goosebumps question. GULP. I didn't know the answer. However, since the author of the series was standing next to me, I asked him . . .

. . . and RL Stine GAVE ME THE WRONG ANSWER ON PURPOSE!!! (Grrr.)



Dispite being hosed, the game was sooooo fun . . . and the questions were MUCH harder that I thought they'd be. But the most difficult part was The Buzzer. Man, you have to have some mighty fine reflexes to be faster than those guys!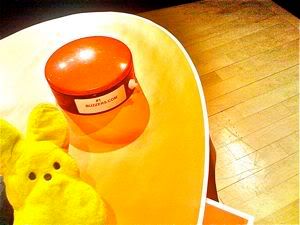 Christopher Paul Curtis was the winner!!!! But that's okay, afterward, Arthur, Cheryl and Emily took me out to dinner to cheer me up . . .



I was worried that I had let them down. You know, with the losing, and all.

So of course, the first thing Arthur said to me was, "I've just called Jodi and cancelled all your contracts." (Jodi is my agent.)

Hahahaha heeeheeheeee hahaha . . . so funny! Um, it was a joke, right? Good thing I had dinner with Jodi Reamer the night before the show. We went to super exclusive Nobu . . .



I really do hope Arthur was joking. Jodi is capable of anything . . .



But you know what? Even though I didn't win, I had a WONDERFUL TIME!!!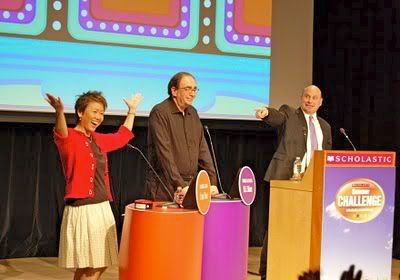 And I had the next day to redeem myself in a Jeopardy! style gameshow at the Scholastic Store. I'll blog about that next. In the meantime, if you'd like to watch the show . . .

CLICK HERE!!!!

Also, check out ABSOLUTELY MAYBE and me at READERGIRLZ. CLICK HERE and leave a comment and you may win a BILLION DOLLARS and copy of ABSOLUTELY MAYBE (or one of those things) . . .



Lisa Yee

Create Your Badge

Disclaimer: No proofreaders were harmed (or even used) in the creation of this blog.





Subscribe to Lisa Yee's Blog and get her fresh baked blogs e-mailed to you!

Or you can click this for a RSS feed...