Headed to New York for one of the largest gatherings of book people in the world - BookExp America a.k.a. BEA.

Got up at 3:30 a.m. to catch a 4:20 a.m. ride to the airport. Ah, the glamorous life of a traveler!

Things got immensely better once I landed at JFK. That's because I had dinner with my friends from American Girl . . .



(I apologize to the women who are only showing arms. You will have to take my word that they are beautiful.)

The conversation and meal was delightful. Can anyone say "seafood paella?"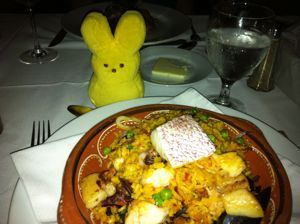 Our friend, National Book Award Winner Jeannie Birdsall was also in town. So, Peeps and I rendezvoused with her in Times Square . . .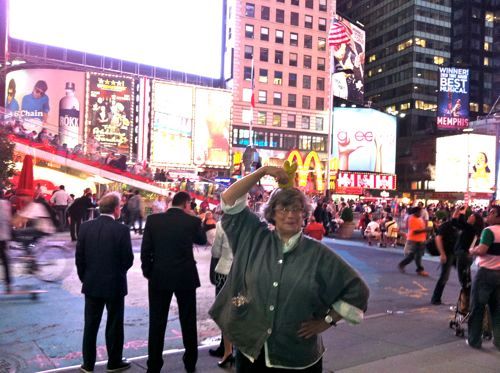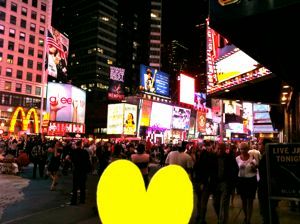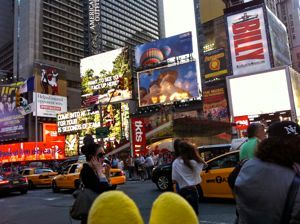 (We felt safe in Times Square because Jeannie is head of my posse/bodyguard brigade.)

The next morning, I got lost trying to find my way to brunch with my Arthur A. Levine/Scholastic editors . . .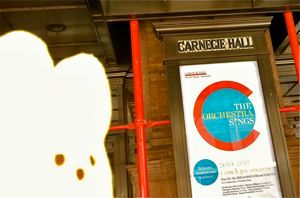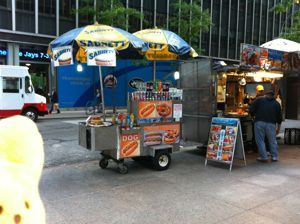 But I found them!!!!



(Above: One person/Peep is Cheryl Klein and one is Arthur Levine and one is Peepy, but I'm going to make you guess who's who.)

Not only are Arthur and Cheryl talented, but they are witty, too. Here's video proof . . .


Then it was over BEA to autograph my American Girl 2011 Girl of the Year books . . .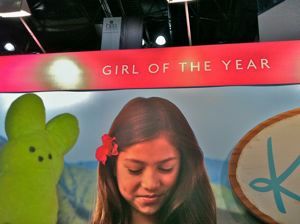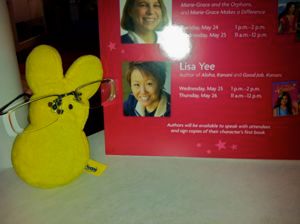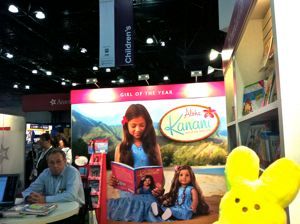 We signed lots and lots of books (each Post-It has someone's name on it) . . .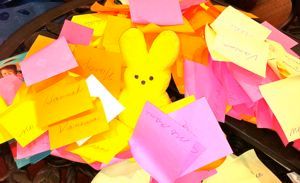 (The most popular name of the day? S-o-p-h-i-a!!!)

It was fun meeting American Girl fans. Plus, I got to see Jordanna Beatty, the star of Megan McDonald's JUDY MOODY movie. The last time we saw each other was HERE . . .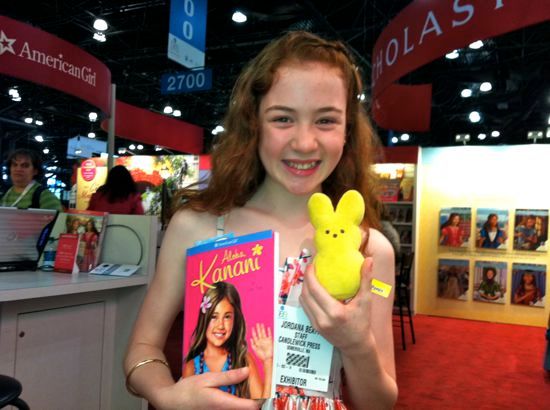 And look! Here's Megan Kelley Hall with her daughter . . .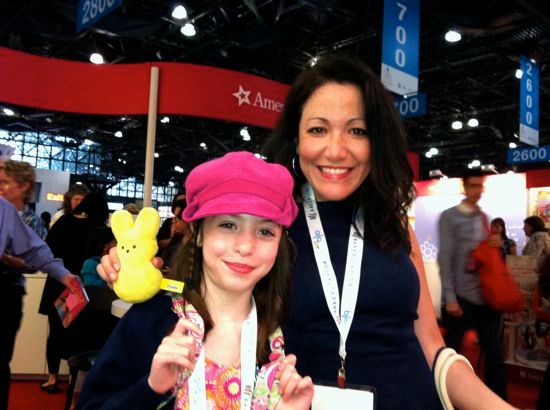 After, we wandered the convention floor . . .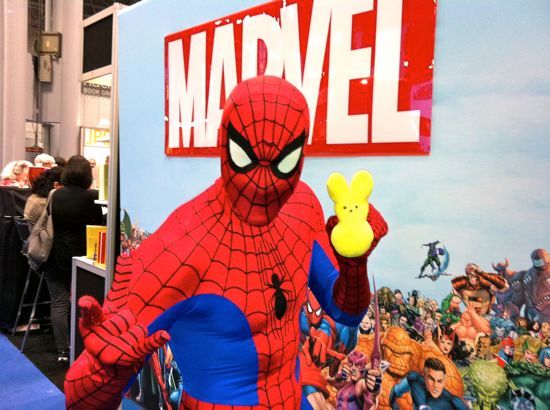 Documentarian Michael Moore was there, and so was Skate King Tony Hawk and others . . .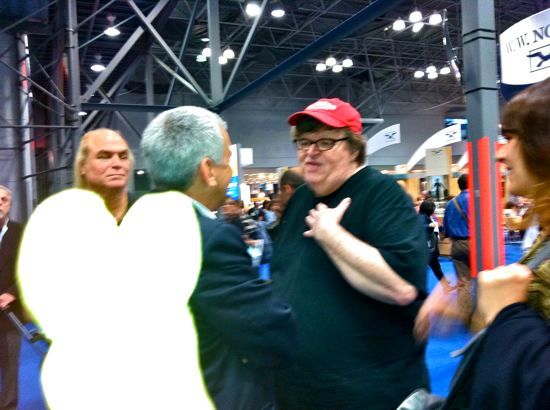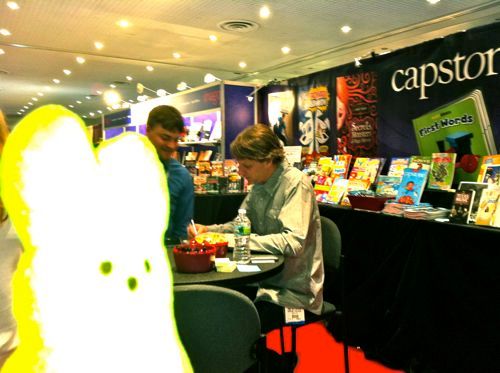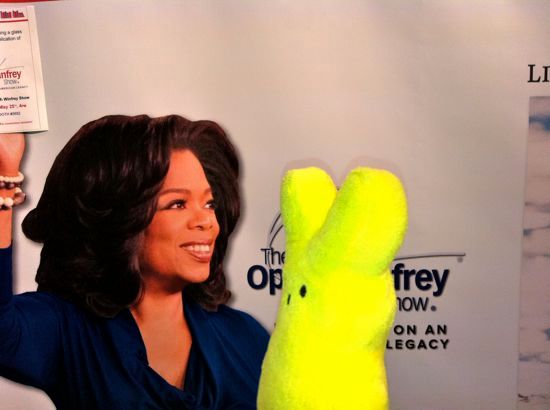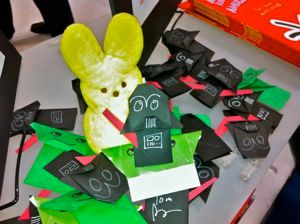 Soon it was time to head to the Scholastic booth . . .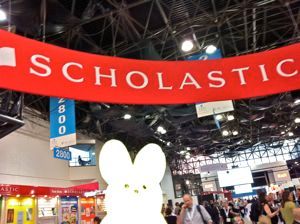 I had a meeting with my Scholastic publicist, Lauren Felsenstein. We ventured outside the convention, and it a good thing we did because WE SAW JON HAMM!!!!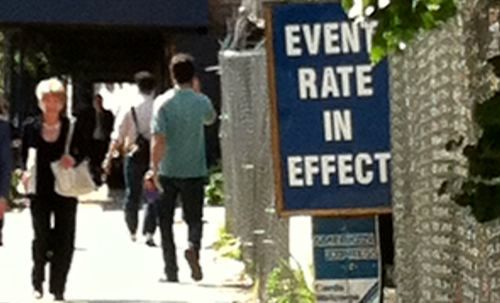 But after oogling, it was all business. Yes, Lauren and Peepy had a very intense (but ultimately productive) meeting . . .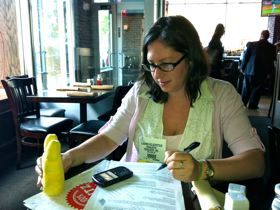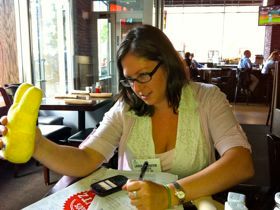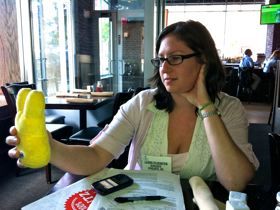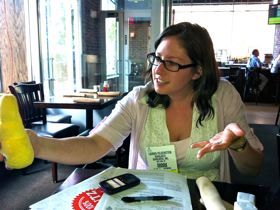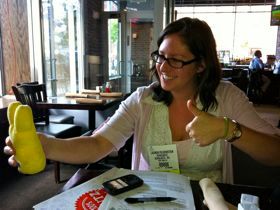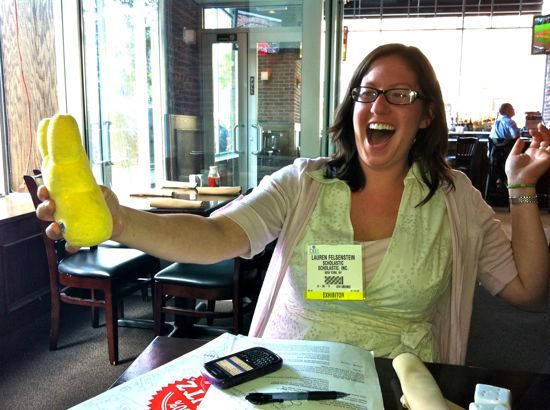 (Yes, Lauren is helping Peepy with her goal of ultimate world domination.)

However, the highlight of the afternoon was when author/poet Richard Michelson showed up . . .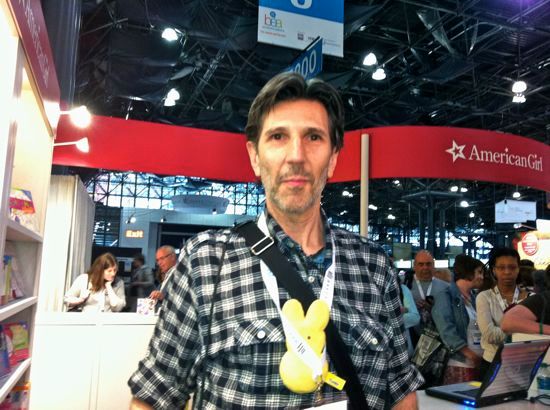 Rich knew all about my book WARP SPEED, about a Star Trek geek who worships Mr. Spock . . .



Now, Richard has a marvelous art gallery in Northampton. Not only does he show wonderful children's book art, but Rich represents Leonard Nimoy's photography. And so he got the original Mr. Spock to sign this for me . . .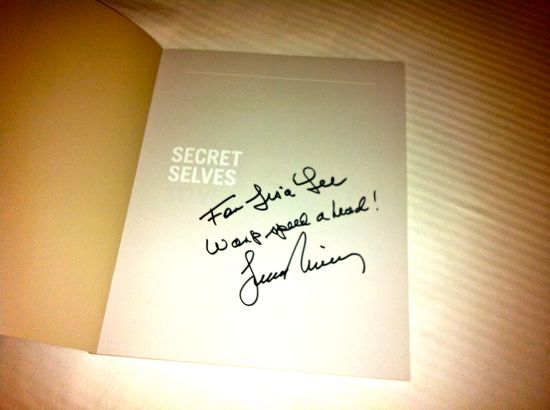 EEEEeeeeeeeeeeeeeeK!!!!! I felt like Sheldon from The Big Bang Theory.

Ah hem. Okay, calming down. Calming down.

Next blog -- Much more BEA, famous authors and other grand stuff. (We've only covered the first morning and afternoon!)

Disclaimer: No proofreaders were harmed (or even used) in the creation of this blog.

CLICK HERE to find out about Lisa's newest book, WARP SPEED!!!

Follow Lisa on Twitter by CLICKING HERE.

Lisa Yee

Subscribe to Lisa Yee's Blog and get her fresh baked blogs e-mailed to you!

Or you can click this for a RSS feed...