Just got back from my first trip to Austin, Texas where I spoke at the SCBWI Regional Conference. The whole time I was there, I kept wanting to spell the city: A-U-S-T-E-N, as in Jane . . .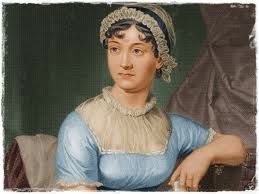 Left the house at 7:30 a.m. for a 10:45 a.m. flight, which was cancelled, and then I was rebooked for a 7 p.m. flight. Sigh. Behold the gliz and glam of traveling as I dine and recharge my dead phone . . .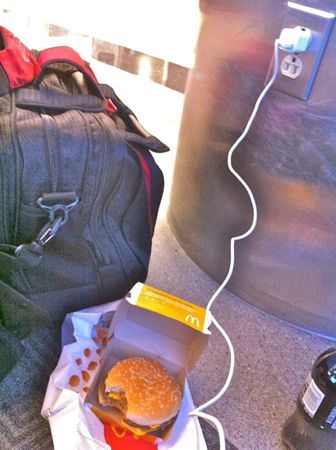 As soon as I got to Austen/Austin, the doom and gloom of travel and a particular bad airline which I won't mention (UNITED AIRLINES), lifted. Peeps was particularly pleased with the gift bag the SCBWI chapter left for her . . .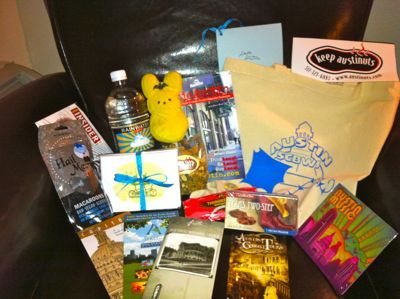 BTW, there were BAT symbols everywhere in Austin . . .




I thought that the town was Batman crazed, but learned that it's because their bridge is batty.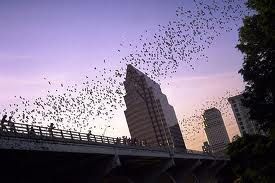 A couple MILLION bats live under the Congress Bridge. They weren't there when I was in town, luckily for all because you would have heard me screaming.

Oops. Digression. Back to writing!

The next morning, I delivered the opening keynote . . .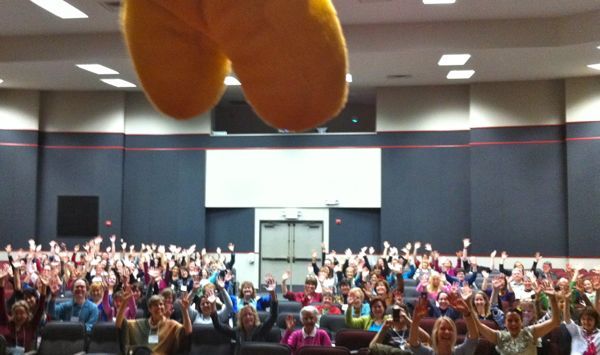 It was so much fun and everyone was wonderful. After, Peepy and I cast our ballots for portfolios and sat in on some of the panels, like this one with Chris Barton moderating and agents Erin Murphy and Ammi-Joan Paquette from the EMLA Agency.




We also marveled (and were confused) by the bathroom sinks . . .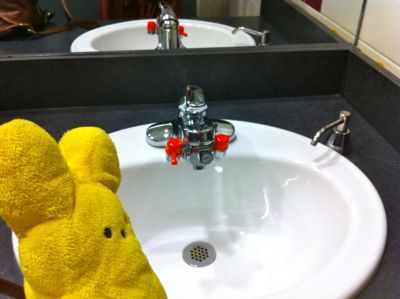 Peepy was presented by ANOTHER gift bag, this time by the Texas Sweethearts . . .




To cap off the conference, there was a wine and cheese party and book signing. Here's the room before and after . . .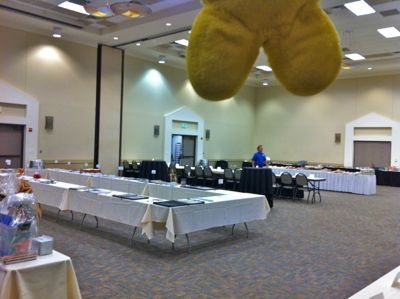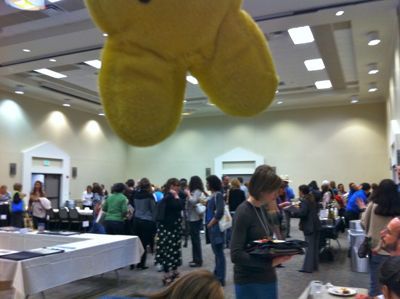 During the signing, Peepy cornered author/editor Diane Muldrow and asked for advice about her epic memoir/fashion tips book. (They also discussed trigonometic integrals.)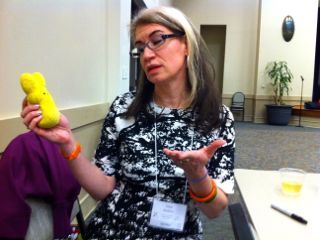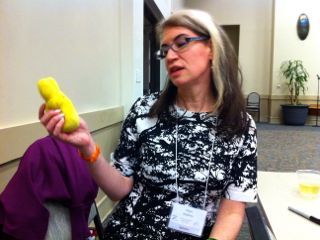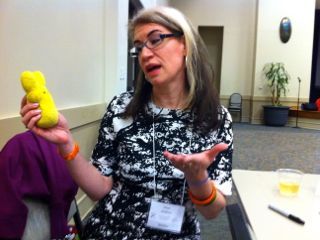 Then Peepy had the great idea of getting author Donna Jo Napoli to blurb her yet-to-be-written book . . .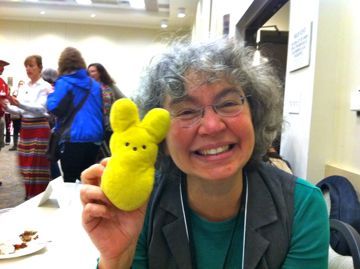 (Donna agreed, but only after Peepy promised to blurb her next novel.)

After, there was a big bash for the faculty and amazing volunteers and birthday people . . .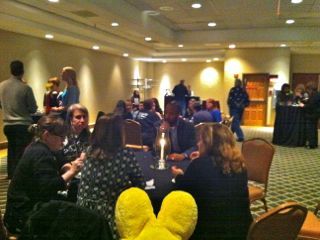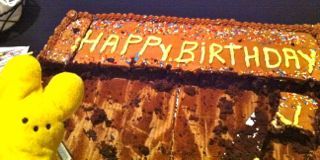 Jeanette Larson, Cynthia Leitich Smith and Peepy discussed who would play them in the movie version of their autobiographies . . .




The next day it time for my class "Creating Compelling Bad Guys and Bullies." Peepy was gifted (yes, again!) with a lovely Texas cheerleader dress. It was given to her by her newest BFF, Austin Austen, the bear . . .




The workshop sold out and closed at 50 attendees, and I made them work and work and work. Okay, so I sort of bullied them . . .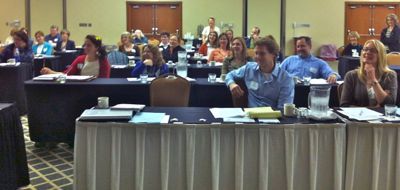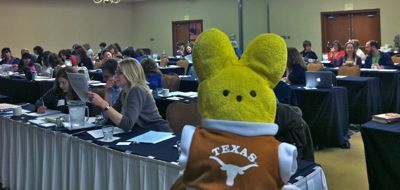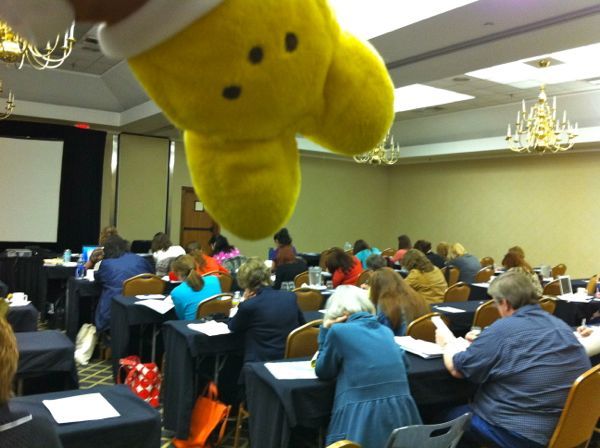 At one point, we role played and then wrote about it. The actors were so convincing that if this writing thing doesn't work out, they have promising careers in the theater . . .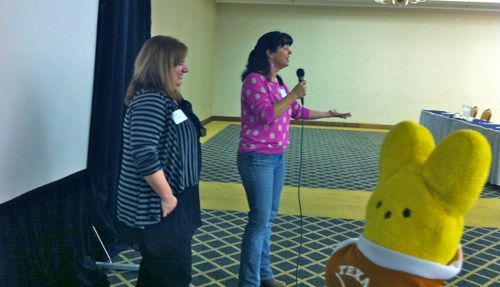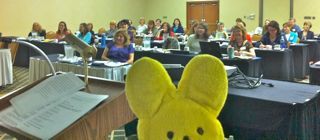 At lunchtime, the baked potato buffet was a hit . . .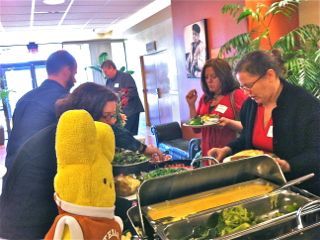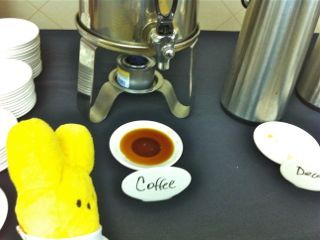 Then back to work!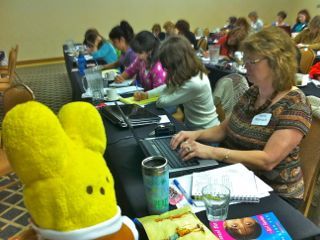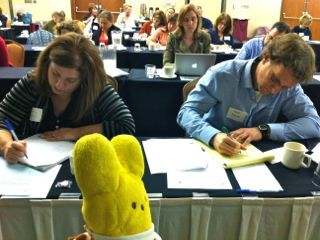 After exhausting my students, agents Jill Corcoran, Sarah Davies and Erin Murphy, and I did first page critiques. That's where the first pages of novels are submitted without anyone's name on it and read aloud . . .




Then, the agents and I give our first impressions on the page while being timed (so that it moves quickly) by Debbie Gonzales, the amazing Austen/Austin regional advisor . . .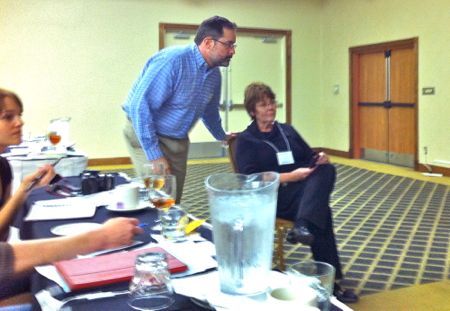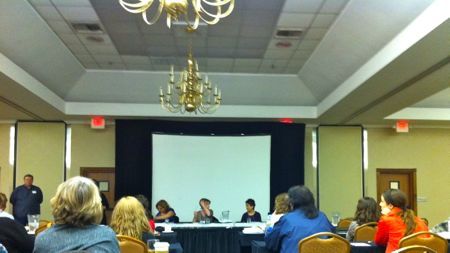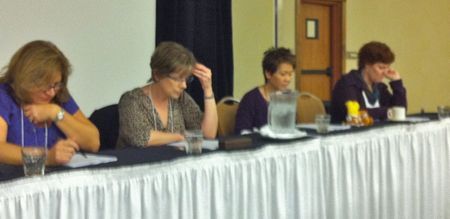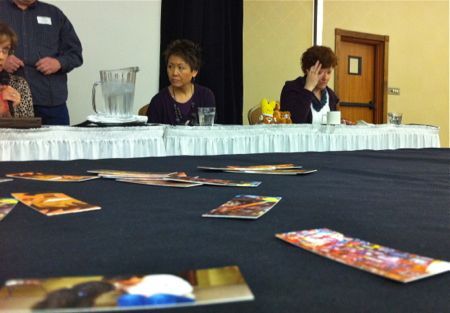 Thank you, Austen/Austin SCBWI, we had a MARVELOUS TIME!!!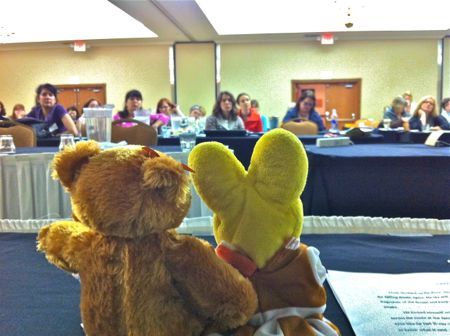 NEXT BLOG: Exploring Austin City Limits . . .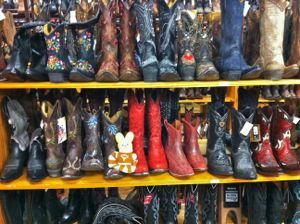 ----------------------


Disclaimer: No proofreaders were harmed (or even used) in the creation of this blog.

Want to check out Lisa's NEW AND IMPROVED website? SImply CLICK HERE.

Interested in having Lisa speak at your school, library or conference? CLICK HERE for more information.

Upcoming Events . . .

This weekend, I'll lbe in Vancouver for the Serendipity Conference . . .




In March, I'll be at LitFest Pasadena, and in April, you can find me here . . .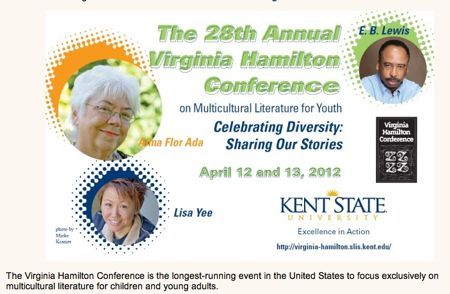 Lisa Yee
Subscribe to Lisa Yee's Blog and get her fresh baked blogs e-mailed to you!

Or you can click this for a RSS feed...