January 22nd, 2007
Are you ready for the Lisa Yee's Bodacious Book Title Contest GRAND PRIZE?!?!?!!!
FIRST, THE FACTS . . .
I was so totally discombobulated over the number of entries -- over 974,032 or maybe over THREE HUNDRED. (One of those factoids is true.)
Here are the entries,
if you'd like to refresh your memory, or if you're drinking milk right now and want to see it come out of your nose.
Of those who entered the contest, we had Newbery winners, illustrators, professional punsters, first-time bloggers, serial bloggers, librarians, people with deadlines, readers, and anonymous folk, who are hopefully known to themselves.
NOW, THE JUDGES . . .
Our
Good-Looking Celebrity Judges
were none other than
Goddess Cheryl Klein
, Editor,
Arthur A. Levine Books/Scholastic
. . .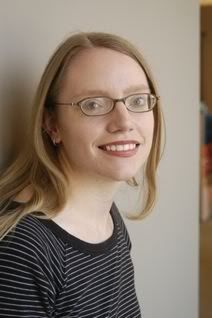 (Above: Cheryl trying to look calm when really thinking, "Lisa wants me to go through hundreds of entries and pick just one winner???")
And Hunk Michael Stearns, Editorial Director and Foreign Acquisitions Manager,
HarperCollins Children's Books
. . .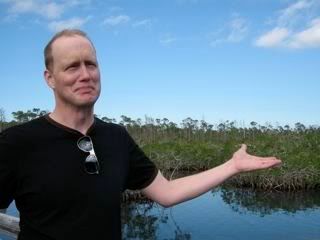 .
(Above: Michael saying, "When Lisa asked me to judge, she said there'd be about 100 entries. What is she doing to me???")
AND THE WINNER IS . . . ALMOST . . .
The judging was difficult with so many hilarious entries. But after the laughter subsided, these were the Oh-So-Close-To-Winning-Entries . . .
Lulu Dark Can Pee Through Walls
Mr. Brown Can Poo, Can You?
Medtime For Frances
Fear Mr. Henshaw
Calf Magic
Everywhere Rabies
AND THE WINNER IS PRACTICALLY . . .
This entry garnered the Coveted First Runner-Up prize. In the event that the winner cannot fulfill his/her duties (or doesn't claim his/her prizes), this person/entry will be the GP Winner . . .
GO KILL A MOCKINGBIRD
After Atticus loses the big trial, he wallows in drink and depression, no longer caring what happens to the yahoos in his stupid small town.
You, bdmundy (that's the clever code-name this person picked), and the Good-Looking Celebrity Judges, will share some or more or less of these glorious goodies . . .
AND THE WINNER IS ACTUALLY . . .
Drumroll, please, and some more drumroll, the BODACIOUS GRAND PRIZE WINNER OF THE LYBBC is . . .
BILLY'S PURPLE PLASTIC PURSE
When Billy brings his latest fashion accessory to school, Mr Slinger helps the kindergarten class understand that it's okay for Billy to march to the beat of a different drummer.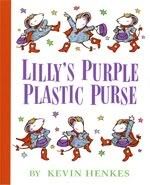 Said one of the Good-Looking Celebrity Judges (Michael), "I adore the way the name change works here to change the focus of the book."
You, Clever Anonymous Person, will receive an autographed ARC of SO TOTALLY EMILY EBERS, and these other fine prizes, including your very own purple plastic purse (the, um, lighting just makes it look red) . . .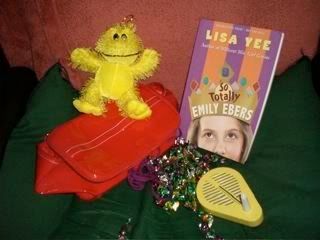 Oh! And an honorable mention goes to GOY IN THE STRIPED PAJAMAS from the female Good-Looking Celebrity Judge (that would be Cheryl). Teen's favorite was THE TARDY BOYS AND THE CASE OF THE MISSING CLOCK. Hubby liked GOODNIGHT GOON. And some of my personal faves included POP ON HOP, BAT THE BUNNY, THERE'S WALDO, JEEZUS AND RAMONA, and THE SOUSE AT POOH CORNER. (I have the second largest collection of Winnie-the-Poohs in America.)
Thank you to all the contestants. We will have another fun contest in a couple/few months, so hang around this blog. You never know what (or who) will to show up here!!!
Legal: Bodacious Grand Prize Winner and Coveted First Runner-Up, please reveal yourselves/comment on this blog, and contact me at millicentmin@magicpencil.com within one week so that I may get your prizes to you. (If I don't hear from you then we will turn to our Oh-So-Close-To-Winning-Entries for the awarding of the cool prizes.)
The Newbery, the Printz, the Caldecott, all prestigious prizes for sure. (And I will be blogging about them soon.) However, there's one more Major Award to be named this week.