A word of advice. Well, a few words. Don't get on an airplane with a book called
GRIEF GIRL
and not have any tissues because then you have to keep blowing your nose on the tiny cocktail napkin that comes with your Diet Pepsi and the person beside you thinks there is something wrong with you, although that will not stop them from hogging the armrest.
I read
Erin Vincent's
WONDERFUL memoir and it was riveting. Sad, funny, tragic, irreverent. Totally great. It's Erin's true story about losing both parents in a traffic accident when she was 14.
Erin is a LAYA
, so I know her. As I read, I could hear Erin's Australian-accented (such a cool accent) voice throughout every line, which made it even more poignant and sad and funny and tragic and irreverent.
The reason I was on the plane, was because I was going to Michigan to speak at
Detroit Country Day School.
When I spoke to the 8th grade, they had just come back from seeing Macbeth. Imagine having to follow Shakespeare! Well, as daunting as it sounds, I knew I could do it since I had just had dinner with the Pope the night before . . .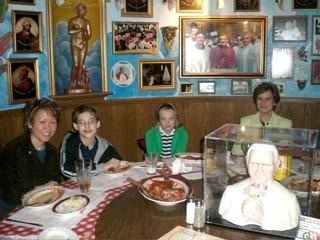 (Above: Lisa and friends and the Pope.)
I told the Pope that next Tuesday I will be speaking at
Ramona Convent
. This pleased him.
It's ironic that also speaking at Ramona Convent, though not on the same day, are Newbery (Son calls it "Blueberry") author
Cynthia Kadohata
and bestseller
Lisa See.
One time, Cynthia and I were at a bookstore and I used my credit card. The cashier looked at my name and exclaimed, "Oh! You're that famous author!" I blushed and tried to look modest, when she continued, "You're Lisa See!!!" Then Cynthia had to spend five-minutes explaining to her who I was.
When I spoke
here
-- there was a woman who had been expecting to hear Lisa SEE. But my dad talked her into staying and listening to me. Dads will do that.
Must stop rambling. Back to Michigan. It was a blast, and I even got to hang around with the
Happy Bunny
fellow,
Jim Benton
. Happy Bunny says things like, "You make me want to throw up a little." He (Jim) signed a book for Teen and a door hanger for Son.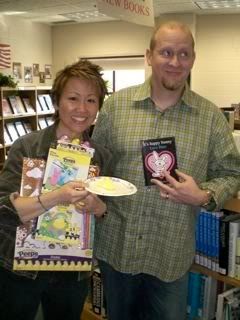 (Above: Lisa clutches the PEEPS the 6th graders gave her. Jim pretends she is a stranger.)
Teen is now reading both GRIEF GIRL and the HAPPY BUNNY book simultaneously. (Talk about extremes!) She can do that. Read multiple books at once. I cannot.