On Wednesday I met with a lovely, smart and talented
Make-A-Wish
author. We had so much fun, and were both surprised by how quickly the time flew by.
Later, we joined about 20 other teens for the
Thurber House Young Writers Workshop
. The writing was great and I was so impressed by the talent in the room. However, the talent did not include figuring out how to put up a screen . . . so we ended up using the room divider and it did just fine!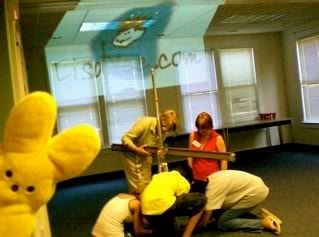 Q: How many writers does it take to put up a screen? A: (Record your answers in the comment section!)
On Thursday, after a delightful lunch at
First Watch
with a posse of fabulous librarians (Hi Debbie! Hi Amy! Hi Mary Jane!), I went to the . . .
The
Worthington Library of the Year
is actually two branches. And after touring them both, it was easy to see why they were selected for this honor.
Just take a look at what's in the children's department at the Old Worthington Library . . .
(Above: Librarian Mary Jane Bellay hobnobs with the locals.)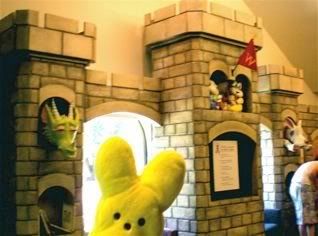 (Above: Peepy was scared of the dragon, but won't admit it.)
And at the Northwest Library, Peepy made even more friends . . .
(Above: Homer Price loves donuts almost as much as someone else I know!)
(Above: Peepy claims she can spell "Some Peep!")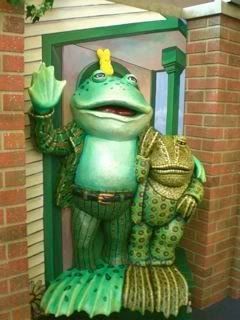 (Above: Who can tell what this scene is from?)
(Above: I had tea with the Mad Hatter. Actually, he had tea. I had Diet Coke.)
The kids' writing workshops were packed, and everyone was enthusiastic, but I was especially moved by one boy. His family drove 1-1/2 hours to come to the event. His questions were wonderful, and after he came up to talk to me.
"We're forced to read at school and the books are boring, and I don't like to read them," he said, clutching his copy of STANFORD WONG FLUNKS BIG-TIME. "But I love this book and wanted to tell you."
Moments like these are what authors live for.