This past New Year's Eve we indulged in our favorite end-of-year pastime. Getting drunk and throwing up . . . NOT!!!
Instead, walked along the route where the
Tournament of Roses Parade
Floats lined up the night before my alma mater, USC, triple-smashed Illinois in the Rose Bowl.
Hubby served on the
South Pasadena
Rose Parade Committee for our town's entry. That's not Hubby (below), that's James Jontz, the float concept designer, and Peepy in front of our float . . .
We love going the night before because you avoid the crowds, and at midnight you can ring in the New Year with scent of flowers in the air. Here are some floats being placed in the line-up . . .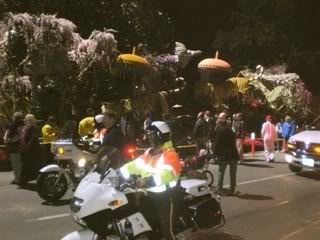 There are lots of very official officials everywhere and logo-clad officially sanctioned motorized vehicles dot the streets . . .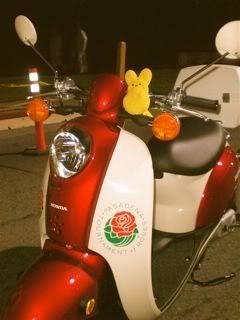 The security people were very nice. Can you find Peepy?
Oh, there she is . . . ON the float?!?! (BTW, all the floats are made entirely of flowers and plants. The fur on that bear? Coconut hair or fiber or whatever that stuff is called.)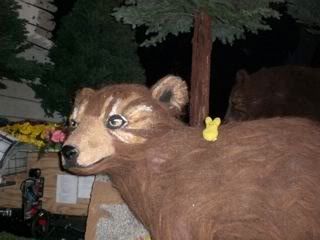 Oops! There's Peepy on another float . . .
And on another float . . .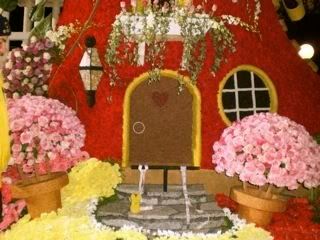 Hey, is that Peepy with one of the float drivers . . . ?
Some revelers were a little wary of Peepy at first glance. Lots of people asked me, "Uh, what are you doing?" But when I explained that Peepy is real, they seemed satisfied as they slowly backed away. However, most thought that Peepy was pretty cool--like this Marine (who is not the same person as the other security person with the bear) . . .
Peepy got VERY excited when she saw the Rose Parade Queen's float taking its place in the line-up . . .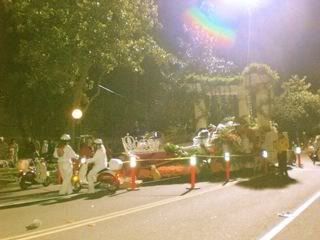 She told me that it was her float. At first I laughed, but then Peepy reminded me that she was quite the royal. (Peepy owns her own silver gown and crown.)
Great. Now, for the remainder of 2008, I'm going to have to hear Peeps talking about how she is the true Rose Parade Queen . . .