Peepy
is having a time out right now . . .
All the
Peepy-related blogs
went to her head and she started getting really bossy.
Monday, I taught a workshop on revision to Mrs. Hodge's fifth graders. My camera wasn't working (I had put the battery in upside-down), but luckily I was able to remember EXACTLY what everyone looked like . . .
I've got lots of writing due soon. Sadly, the Lure of Laundry has been a detrimental to my career. Just when I'm sitting down in front of
my computer
, I think hmmmmm . . . laundry. Now would be a good time to do laundry.
Yet despite laundry being time consuming, there is an upside. In addition to getting clothes smelling springtime fresh, I claim everything I find in pockets and on the bottom of the dryer. I put my treasures in jars and have quite a collection of this stuff . . .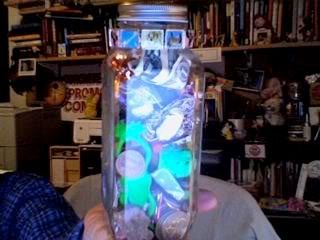 And lastly, though none of today's ramblings are in any particular order, vice. Because I don't drink or smoke when I write, or ever, I do have a major habit, in addition to buying too many books, chocolate, and Colin Firth as Mr. Darcy. (Boy, that last sentence was awkward.)
For a while it was
Blackjack
. . .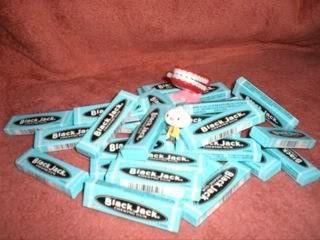 But recently, it's been this . . .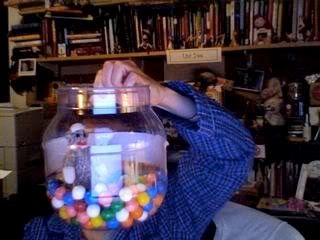 Um, that would be gumballs. Not putting
Sock Monkey
in a jar. Uh oh. I just read the ingredients. Carnauba wax? BHT, "to maintain freshness." Tapioga dextrin? Well, on the plus side, one piece is merely five calories.
Okay, back to writing. Or laundry. Whatever needs me most.