One of these things is not like the others . . .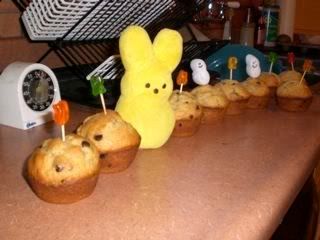 In preparation for an official LAYA (Los Angeles Young Adult Authors) Board of Directors meeting, I baked chocolate chip muffins. Then I ate them and baked some more.
The LAYAs were fabulous, as always. However, we had trouble staying on topic . . .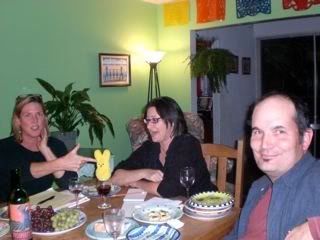 (Above:
Sally Nemeth
with hostess and Peepy hater,
Amy Goldman Koss
, and
Mark London Williams
)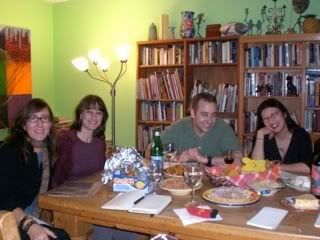 (Above:
Kerry Madden
,
Eileen Rosenbloom
,
Michael Reisman
, and
Paula Yoo
. Not pictured,
Colin Firth as Mr. Darcy
)
The last time the LAYAs gathered, it was our
semi-annual holiday party
. We had a gift exchange and I ended up with the sock-keeper-togethers-for-the-washing machine. As much as I loved them, I regifted them to this
fabulous buzz-worthy author
when he won the
Bodacious Book Title Contest
. (At least I think he got them, or it could have been one of the Honor Winners.)
Speaking of awards, there was another contest recently. You may have heard of it. The
NewberyCaldecottPrinzOdysseyCorettaScottKingandMore awards!
Congratulations to all the winners, and especially to
Brian Selznick
for his Caldecott Medal for the totally amazing
THE INVENTION OF HUGO CABRET!
I really believe that Brian has created a new genre, and henceforth all books that combine pictures and a novel in such a flawless manner shall be deemed Selznickian . . .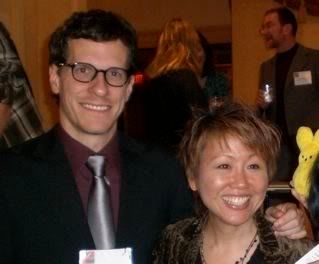 (Above: Brian and Moi)
And congrats also to
Mo Willems
for his
Geisel Award
AND his Caldecott Honor. (Uh, Mo, one's not enough?) . . .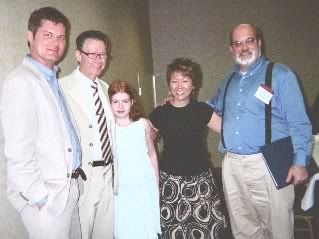 (Above: Tall Mo,
Jack Gantos
and his daughter, Moi, and the irrepressible--apprehendable?--
David Lubar
at the
Booklist Humor Forum
at the ALA New Orleans*)
*Since the photo was taken, we have all gotten better looking and smarter.