Sadly (for my family who has to hear me
expectorate
), I am still a tad sick. My eyes are red and my throat is sore. Poor, poor, pitiful me . . .
However, this cheered me up immensely . . .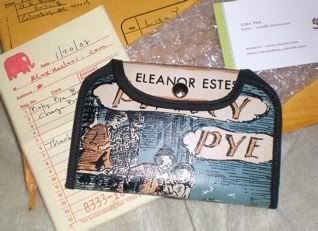 Yes! It's a
handmade Pinky Pye
coin purse/business card holder.
I first saw it on Alison Morris's
Shelftalker blog
, which led me to this
wonderful site
of handmade goodies.
As soon as I got my coin purse/business card holder in the mail, I ran around looking for my signed copy of
PINKY PYE.
Alas and woe-is-me, I could not find it. I'm sure it has something to do with my discombobulation due to my sinuses. (I'm also fairly certain it will appear immediately after I post this blog.)
Happily, I did find my other
Eleanor Estes
books . . .
Oh rats. I also have
THE HUNDRED DRESSES
, which I love, love, love. Only, I'm too lazy and expectorant to find that one, too. So trust me. It's around here, somewhere.
In other news of discombobulation, I will be speaking at the brand new
San Marino Public Library
at 3:15 pm on January 31st. And GUESS who will be there
earlier in the week?
Answer:
Lisa SEE
You may recall there was
some confusion
and a grand mix-up between Lisa See and Lisa Yee before . . .
(Above: Lisa Yee at a book signing, only they had Lisa See's books there instead.)
I'm going to be in Dallas to give a speech, so I won't be able to see Lisa See. But if you do, tell her that
Lisa Yee
says hello!
BTW, if you can't figure out who your presidential candidate is, try this
Who Should I Vote For Quiz
. It may surprise you.