So,
Sally Struthers
and I flew to Dallas together. Only, Sally was unaware of this, and I only found out later when my driver said, "See that lady by baggage claim, she used to be on
ALL IN THE FAMILY."

I was in town for
Scholastic's
Book Summit. When I got to my hotel room guess what I discovered waiting for me???

Whoops! Wrong picture. I meant, I discovered this . . .
Yep. My cough medicine with codeine spilled all over my steroid inhaler. Luckily, there were still enough meds to get me through the trip.
Later, when I was in the bathroom I over heard people discussing a murder. A MURDER! I panicked. From the sound of it, they were in the room right next door. It wasn't until I heard Nancy Grace weighing in that I realized that CNN was being piped into bathrooms. I guess that's what happens at
swanky hotels
.
Wait, let's get out of the bathroom and onto the Summit. In addition to esteemed educators, there were two authors speaking.
Walter Dean Myers
opened the event . . .
. . . and I closed it. I had a lot of fun with my speech, in part due to the heavy duty medications--and let's not forget the DayQuil. The audience of educators was wild and woolly. (Well, they were wild.) And we had a blast. At one point the PA system kicked into high gear. Only, when I asked the audience about it, they didn't know what I meant. Then I realized that my ears had finally popped. Hoorah!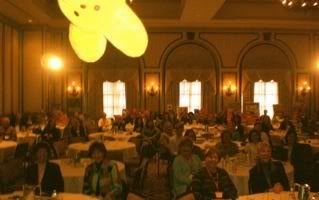 (Above: The empty seats represent the Chicago attendees. They all ran out of the room right before my speech because there was threat of a blizzard shutting down schools. Or at least that's the story they gave me.)
Tomorrow it's a presentation at the
San Marino Public Library
. That should be interesting because I have now totally lost my voice! Then on Monday it's off to St. Charles/Chicago for a week. I'm hoping for clear skies and sinuses.
Full disclosure: I am now on antibiotics.