Practically any moment now I leave for Chicago for the
St. Charles Literature Festival
where I'll finally be able to meet
Andrea Beaty
and also see my pal,
Amy Timberlake
, as well as the always entertaining
David Lubar
, among others.
Each grade in the district gets an author. The sixth graders are mine and I'll be speaking to 2,400 of them! At the end of the event,
all the authors
will be at
St. Charles Public Library
on Saturday to sign books and speak to anyone willing to talk to us.
Later in the week (on Sunday) I'll be at the
American Girl Place, Chicago.
to sign
Good Luck, Ivy
. . .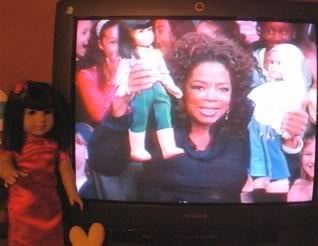 (Above: Oprah holds up Ivy and her best friend Julie when they were
on her show
!)
This month I will be visiting all three American Girl Places (Chicago, NY and LA).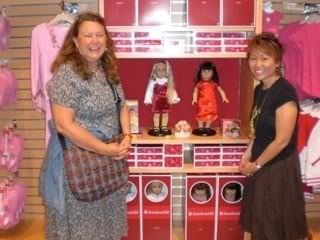 (Above: This is when
Megan McDonald and Moi
rendezvoused the Los Angeles store last year.)
While I'm in Chicago, can you guess where
Millicent Min
has been? Here's a hint . . .
And another hint . . .
If you said, "Hmmmm, is it India?" you are correct! My author pal, the talented
Deborah Davis
, was in India researching her next YA novel when she came across a book fair, and look what some people were reading . . .
Thanks for the photos, Deborah!
Closer to home, last Thursday I spoke at the brand new and beautiful
San Marino Public Library
in California . . .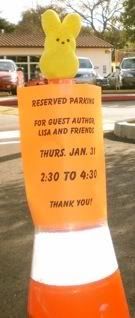 Author Lisa See spoke there on Tuesday. We are often confused. And we are
often confused
for each other, too.
Oh! And lest I forget,
click here
for a newspaper article about Moi, St. Charles, and what my kids think of me.
*Hoorah for antibiotics! I no longer feel
like this
.