Okay. She-Who-Wimps-Out-When-It-Gets-Under-70-D
egrees is in the Chicago area right now . . . in a SNOW STORM!! Luckily, everyone is soooooo nice that I have been greatly distracted from weather.
The
Hotel Baker
is tres lovely. Peepy was pleased to find her own cozy blanket waiting for her. (Don't tell her, but it's really a shoe mitt.)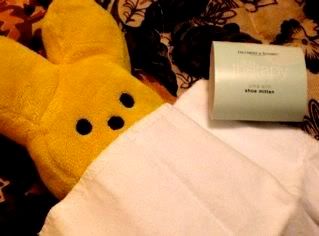 On Tuesday I visited
Wredling Middle School
. Millions (more or less) of totally cool students and totally cool posters greeted me . . .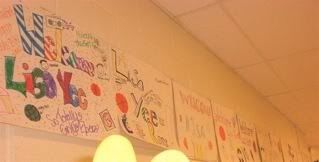 On Wednesday, it was off to
Thompson Middle School
. The day was cut short because of the snow, but I was still able to meet lots of smart, talented students . . .

Also speaking at the St. Charles middle schools is
SAMMY KEYES
author
Wendelin Van Draanen
. . .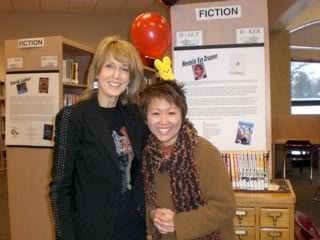 (Above: California gals Wendelin and Lisa stay indoors.)
Fellow blogger
David Lubar
* is here, too--although he arrived 24-hours late muttering something about airports and bad weather. But who really knows? David, as you may know from
his books
, is unpredictable. I mean, how many other authors use the words
lawn weenies
in their book titles?
(Above: David frolicks in the snow with his Peep pal.)
There are three more days of the
St. Charles Literature Festival
, including a book signing at the library on Saturday. (BTW, a huge thank you to the
Illinois State Library
for providing a grant for my visit.)
On Sunday, it's off to the
American Girl Place, Chicago
where I'll do a Q&A and sign
GOOD LUCK, IVY
. . .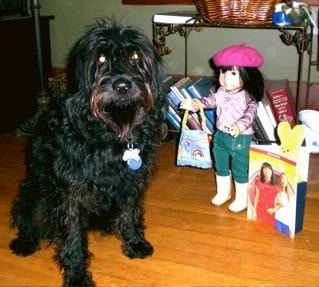 Speaking of wacky (it's too cold outside to come up with good transitions), Author
Robin Friedman
invited me to do a Wacky Wednesday List for her blog. She said I could make any list I wanted to. So here's the title of my list:
IF I WAS REALLY RICH THESE ARE THE PEOPLE I WOULD HIRE
A few examples are . . .
Colin Firth as Mr. Darcy as my social secretary
Johnny Depp as Edward Scissorhands as my gardener
Brad Pitt and Brad Pitt as my masseuse
For the full list, and to find out what I'd hire Voldemort for,
click here.
Who would YOU have on your list?
*A special thanks to David's wife for my present!