As you may have guessed from my
last blog
Peeps and I were at the spectacular St. Charles Literature Festival in Illinois . . .
(Above: Fun authors/illustrators:
Amy Timberlake
, Caldecott winner
Eric Rohmann
,
Candice Fleming
,
Kevin Luthardt
,
Ilene Cooper
and
Esther Hershenhorn
.)
When I visited
Haines Middle School
look what we had for lunch . . .
(For the record, there were sandwiches and salads, too.)
During a break, I thought I'd listen to
Wendelin Van Drannen
while I crocheted a coat. Only, I don't know how to crochet. I brought printed directions but they discombobulated me. Sadly, here's what I made before giving up . . .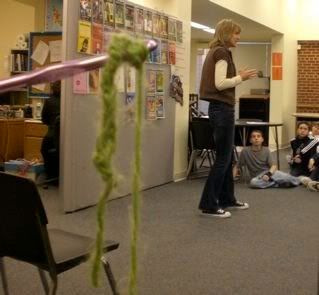 Happily, a student made me a totally cool present(s) . . .
(Above: A tiny donut and bird. Thanks Maddy!!!)
I wasn't the only one to get a gift. Peepy got one, too. And it was from
Silly Chick
extraordinaire
Andrea Beaty!!!!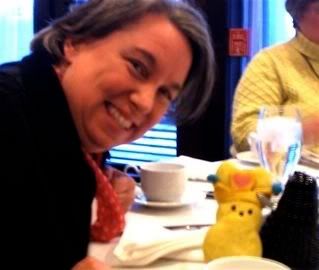 (Above: Andrea tries to protect Peepy, who is wearing her new felt crown, from the mutant
Dalek Bad Guy
--he's the black blob next to Peeps.)
Sigh. Now that she has a felt crown, Peeps has gotten a little full of herself. She insisted on wearing it to the
Stonehouse
, a totally cool store . . .
On Saturday morning it was time for a book signing at the library. How do you transport a dozen authors through the snow?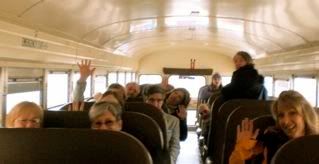 . . . you put them on a yellow school bus!!!
Up next . . . downtown Chicago--where it's -2 degrees--and a book signing for
GOOD LUCK, IVY
at the
American Girl Place.
(Plus, you won't believe what someone gave Peepy when they saw her at the library!)