I was once locked in the meat locker at Arby's. However the sub-zero temperatures of Chicago were far colder and I am still thawing out.
That said, I still had a wonderful time. Peepy did, too. Just look at the fabulous golf ensemble, complete with golf bag and clubs, her friend Trina gave her . . .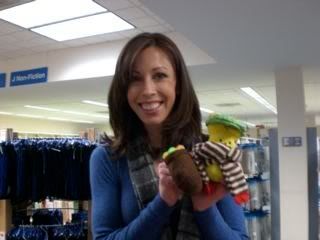 After we left
St. Charles
it was off to the city for an authors' lunch with
Laura Ruby
(on right) and
Amy Timberlake
. As always, we fixated on the deserts . . .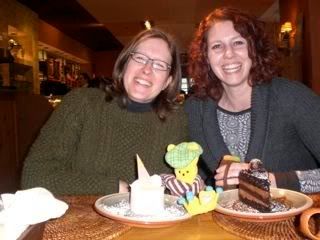 That evening Peeps and I had even more sweets. It was sort of required because Chicago has the
BEST caramel popcorn
and we weren't about to let that go unnoticed. However, Peepy went on sugar overload and passed out . . .
The next morning the temperature was BELOW freezing. The short walk (I left my gloves, hat and scarf in my suitcase—yes, duh) from the cab to the
American Girl Place
was enough to make me think my fingers were going to fall off.*
Luckily, it was warm inside and everyone was so hospitable. Before I had my book signing for
GOOD LUCK, IVY
, I did a Q and A. Here's what the theater looked like pre-audience . . .
This is Chloe. She did a fabulous job as my moderator . . .
Next up, as part of my American Girl World Tour—the
American Girl Place in Los Angeles
at The Grove on Sunday, February 17th!
(Above: American Girl has a GameBoy Loaner Program for the boys. Don't you love it?!?!")
*It's in the 70s in Los Angeles.