This past weekend there was a HUGE celebration in honor of
Peepy
. At least that's what she's been telling everyone. Really though, it was awesome author
Sonya Sones'
32nd-ish birthday . . . !
Several author-types gathered at Sonya's abode to indulge in delicious homemade chili, sing "Happy Birthdaaaaay, dear Sonya . . ." and play bookish games. One pondifferous game included 1) someone reading the first line of a book, 2) others penning a pretend last line, 3) (literally) throwing the fakes into a hat (along with the real last line), and 4) caucusing to guess real last line vs the phony bolognas.
Talented gamers included Newbery-ian
Richard Peck
. . .
Agitator/author
Ron Koertge*
. . .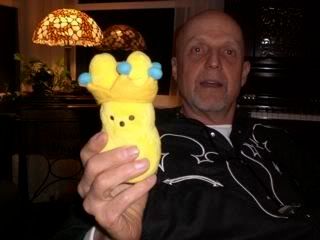 Lovelies
Paula Yoo
(who's
debut novel
has just come out!) and
Eileen Rosenbloom
. . .
And producer-authoress-
SCBWI
Queen
Lin Oliver
. . .
The games and food and company were so amazing that I laughed! I cried! And then I laughed some more!
Stay tuned for the exciting dramatic next blog which includes photographic proof of my relationship with Colin Firth, plus answers the question that pundits wanna know . . .
Why is this Person and this Peep on the cover of That magazine? (BTW, it only looks like I'm drooling. It's really the reflection of the light when the camera flash went off. Honest!)
*See #80
Subscribe to Lisa Yee Blog Readers and get fresh baked blogs e-mailed directly to you