Okay, so this is where we
last left off
. . .
Yes! Peepy and Moi were (sort of) on the cover of American Girl magazine. (Again, I must point out that I am NOT drooling. It's the reflection of my camera flash against the glass--really!!!) Oh, and the truth is, you too can be on the magazine cover.
The
photo shoot
took place at the
American Girl Place, Los Angeles
where I had a book signing for
GOOD LUCK, IVY
. . .
(Above: Valerie, the
cover model
for the book)
The weather was wonderful (70's!!!). Over 1,000,000-ish people showed up. To impress the American Girl staff, I pretended that most of them were not my relatives. This was difficult because my niece insisted on calling me Auntie Lisa, but I just ignored her--not!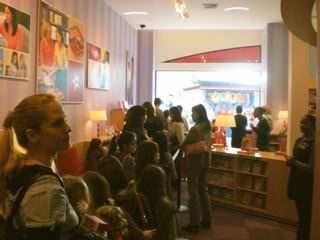 I was thrilled that the signing went so well, because early in the week, February 14th signaled something deeply, darkly, distressing for me. No, not Valentine's Day. Well, YES, Valentine's Day. It was the release date of the movie
DEFINITELY, MAYBE
. . .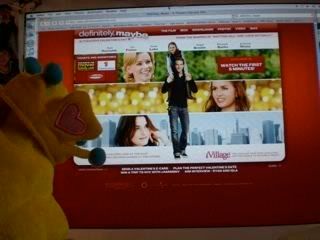 The title of my young adult novel (to be released next year) is/was DEFINITELY MAYBE. (Note, the movie has a comma, but my book title does not.) If the subject matter is wildly different, do you think having the same title matters? Yes? No? Maybe?
While we're on the topic of movies, when I was seeing
THERE WILL BE BLOOD
for the sorta-second-time (the first time the theater lost power and we had to leave 1/2 hour into the film), I ran into my old friend/
employee Colin Firth as Mr. Darcy
. . .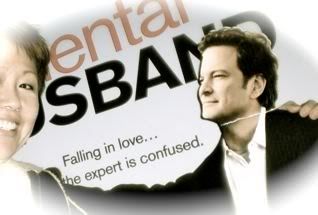 Always nice to see you, Colin!
Hey, if you're in the New York area, I'll be at the
American Girl Place, New York
this Saturday from 12 p.m. to 2 p.m. If you want to meet Peepy, this would be the time and place!
And in tribute to New York, my pal Mel sent me this lovely procrastination link. It's "The Best Prank Ever." OOoooooh, I wish I could have been part of it!!!
Subscribe to Lisa Yee's Blog and get her fresh baked blogs e-mailed to you!