After my
American Girl signing
the weather in New York continued to be cold . . .
But that didn't stop me from having a totally enlightening dinner with my agent,
Jodi Reamer
. . .
We discussed important career moves, like how I should learn how to roll when I fall down so
this
won't happen again.
The next day it was time for more food. (I now sport an XXL
muffin top
). This meal was with
Sydney Taylor
award-winning author
Sarah Darer Littman
and her mucho-multi-talented daughter . . .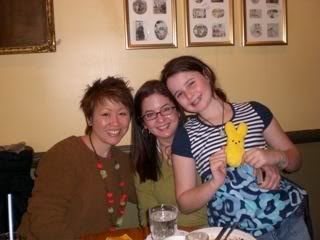 Wheeeeee!!! Sarah's daughter painted--the covers of
MILLIE
and
STANFORD
and
EMILY
. . .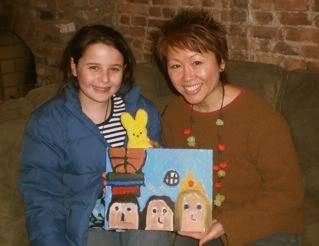 And not only that, but she took these museum-quality
candid photos
Peepy!
Later, Peeps and I rode the SUBWAY ALL BY OURSELVES. To our relief, we did not accidently end up in Queens at midnight, like last time. Instead, we landed here . . .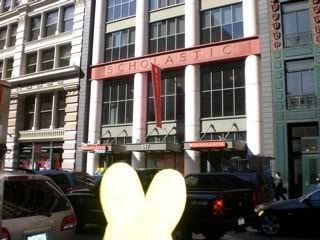 At Scholastic headquarters, we met up with my editor
Arthur Levine
and his awesome metal door . . .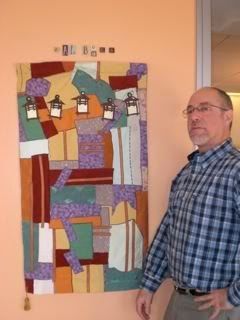 The AMAZING tapestry with the famous AAL lantern logos was created by his mom, and the
AAL Books
magnets were from Moi. I got them when I was
here
.
Before leaving for our glamorous editor/author meal, Arthur showed me the company mission statement . . .
(It's woven into the carpet--how cool is that?)
The next day, it was back to
Scholastic
headquarters for an editorial meeting. Only, I was shocked when something quite scandalous occurred. Yes, a fight broke out among editors and weapons were drawn. And I was there to document the carnage.
Oops! We're running of space.That'll have to go on my next blog. Until then . . .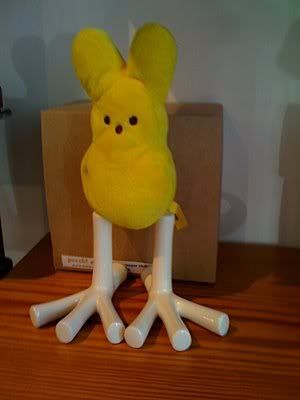 Subscribe to Lisa Yee's Blog and get her fresh baked blogs e-mailed to you!