When we last left off I was
in New York
. However via the miracle of JetBlue, I'm back
home
. Discombobulatorially, my brain is still on overload due to the violent battle I witnessed at Scholastic headquarters in the Big Apple.
The day started off lovely. I was determined to see all of the wonderful Scholastic people who have been so kind to me. Only, there must have been a memo that I was coming. Most desks were empty and I swear I heard people running away as I neared.
However, here are some Scholastic-ites who either, 1) Did not get the memo, or 2) Weren't fast enough to hide.
New York Times
bestselling author
and
Scholastic Book Fairs
Guru Ed Masessa and his good friend, Peepy . . .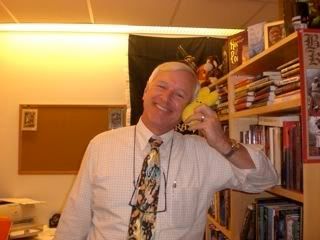 Library and Educational Marketing Czar John Mason and Marketing Maven Rachel Coun just happened to be quoting their favorite lines from
SO TOTALLY EMILY EBERS
when I stumbled across them . . .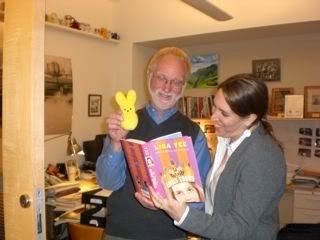 And Convention/Author Events Celebutantes Jacky Harper and Lizette Serrano were practicing for America's Next Top Model when I snapped this candid photo . . .
I also caught up with
Storyworks
editor, and author of the most wonderful
EMMA-JEAN LAZARUS FELL FROM A TREE
, Lauren Tarshis . . .
When it was time to discuss my upcoming young adult novel (previously titled DEFINITELY MAYBE, new title TBD), my editors
Arthur Levine
and
Chery Klein
were all smiles . . .
Now, thousands of you have asked, "Lisa, what's it like working with TWO editors on ONE book?" (Okay, I asked that question myself, but still I think it's a valid one.) So I will tell you. It's really cool. We've gone the dual-editor route
three times
before. You get the benefit of two amazing-smart-talented-publishing professionals. And all is happy happy, oh so happy . . . until something goes wrong.
We were all in blissful agreement about the direction the novel was taking until Cheryl (or was it Arthur?) said something the other editor didn't like. I'm not certain, but it's possible the words "You doofus" and "dunderhead" where exchanged. Then this happened . . .
And this . . .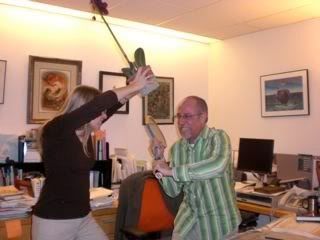 And yes, this . . .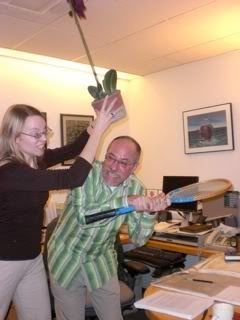 Both editors are currently in time out.
Subscribe to Lisa Yee's Blog and get her fresh baked blogs e-mailed to you!