Yep, that was me with
Valerie Bertinelli
on the flight back from NYC last week . . .
We were merely a seat away from each other. (On the diagonal.) Jet Blue has these marvelous little TV screens for each passenger. When Entertainment Tonight came on they mentioned
Marlee Matlin
, who
I met
a little while ago . . .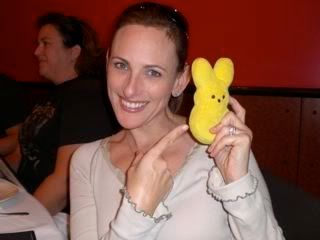 . . .
and they mentioned
Carol Burnett
, who I also
got to meet
. . .
(Above: Okay, so one of us was nervous.)
Then an ET (that would be Entertainment Tonight, not extraterrestial) segment about Valerie Bertinelli comes on! And she's sitting practically right next to me. (On the diagonal.) To be polite I didn't look to see if she was watching herself on TV. But I wanted to.
Speaking of celebs, I recently attended a book launch party for this guy . . .
Oh, wait. Peepy was telling a bad joke. Here's a better picture . . .
Hey! That's
Michael Reisman
of the
seven-figure-movie-deal
-for-his-debut-novel,
SIMON BLOOM, THE GRAVITY KEEPER.
(Snort! I almost wrote GRAVY KEEPER, which would make it an entirely different book.)
There were lots of glamorous, fancy, well-dressed people at the party held in/at
Tangier
including these usual suspects/LAYAs . . .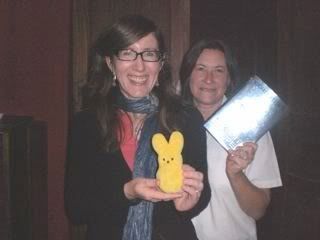 (Above:
Kerry Madden
, with Peepy, and
Amy Goldman Koss
, demonstrate several uses for the shiny reflective cover of Michael's book, including eye-blinding weapon.)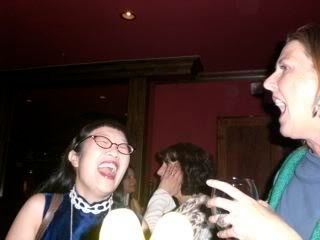 (Above:
Paula Yoo
and
Sally Nemeth
, are struck by the shiny reflective cover of Michael's book and are blinded.)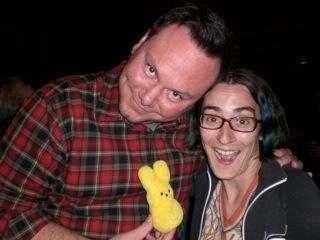 (Above: Eddie Gamarra, who's with
the Gotham Group
, and glam It Girl
Cecil Castellucci
who's with Peepy.)
Since we're talking glam, when I was in New York, a friend of mine suggested I go to this place where bootlegged goods (designer purses and whatnots) could be had for mere pennies.
Taking the moral high ground, I refused to go because: 1) I am against that sort of thing, and 2) I couldn't find the place.
Lucky for me, because
there was a raid
on the day I would have been there. Just think, this could have been me . . .
. . . only in NY and not blonde.
Subscribe to Lisa Yee's Blog and get her fresh baked blogs e-mailed to you!