This past weekend was
my iPhone
class. I was really looking forward to it, especially since I had (very nearly) destroyed mine in a tragic
Wet Wipes accident/incident
.
I got to the Apple Store early and sat in the front row, iPhone in hand, ready to be enlightened. Sadly, it was not to be. I had shown up for the iMusic class.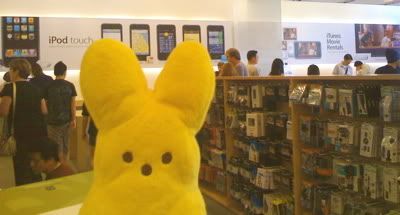 Sensing my dejection, Chris, the Apple Store Guy, asked if I had any questions for him. So I said, "If your protagonist is clearly in the wrong, but a minor character who has bad breath offers him/her a mint, how long is the train?"
Not really! I did ask things like, if you don't use a Wet Wipe then HOW DO YOU CLEAN your iPhone?
WAIT! WAIT! OMG, when I went to find a Wet Wipes link, so I could highlight the words, I found out that I've been saying "WET WIPES" when I really meant, "DISINFECTING WIPES."
I had NO IDEA that Wet Wipes is the term for
something ENTIRELY different
. (How embarrassing.)
Okay, let's just move on to a new subject. Peeps. My pal Carolyn Fain from
Westlake Porter Public Library
fame sent this
slideshow of Peeps
. And then mere moments later, the uber talented
Cecil Castellucci
sent me
this amazing site
. There's alotta fabulous Peeps out there!
Speaking of fabulosity--
Paula Yoo
. Yes, mega talented
musician
, WEST WING TV show writer, and author of
GOOD ENOUGH
, Paula Yoo and I had lunch. Of course, her friend Bartlett, and my pal Peepy came along, too. Here's Paula in my office . . .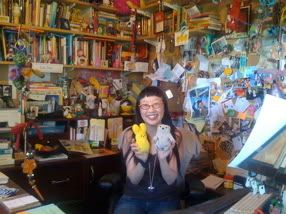 Bartlett and Peepy were messing with my computer, even though they were told not to . . .
We had a delicious lunch at
Bistro de la Gare
. That big potato is really the Croque Monsieur a La Parisienne, a "classic French ham sandwich with melted Gruyere and Bechamel" . . .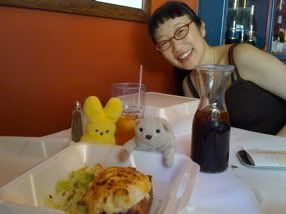 After our meal we stopped at
Hubby's workplace
. . .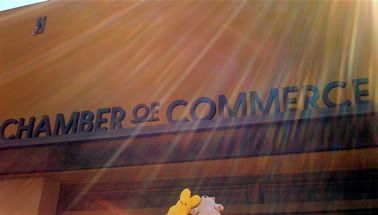 It was a great day, only it ended on a sad note. Bartlett accidentally got left behind at my house . . .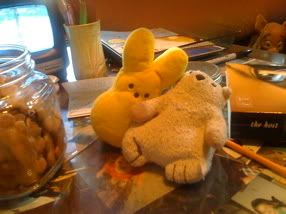 Not to worry though. He and Paula will be reunited soon.
Subscribe to Lisa Yee's Blog and get her fresh baked blogs e-mailed to you!