Judge a book by its title? We all do it. Sometimes we do it for fabulous prizes and worldwide glory, like when I have my
Bodacious Book Title Contests
. . .
However, naming a book can be soooooo hard. You think you've got it and then find out, you don't. Like, the original title of
this book
. . .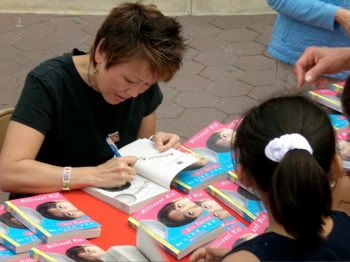 . . . was THE LITERARY MEMOIR OF MILLICENT L. KWAN. Not only did we have to change the title because (I was told) I had come up with a truly awful one, but the main character's name was changed because people though that MILLICENT KWAN, GIRL GENIUS was the biography of
this ice skater
.
Then there was
this book
. . .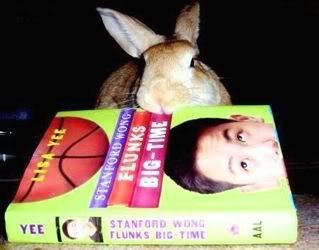 My first title was SOME SORT OF HERO, which I was told was a somewhat awful title. My editors liked the word "flunked" so I came up with lists with flunked in the title . . .
Eventually,
this editor
. . .
. . . came up with STANFORD WONG FLUNKS BIG-TIME.
I scored on this book . . .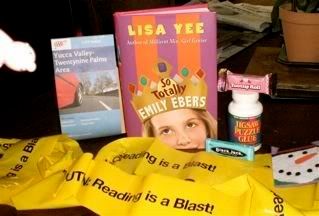 . . . and we kept my title, although it wasn't the first one I came up with.
And for
this book
. . .
American Girl
editor,
Jennifer Hirsch
, came up with the title.
And now . . . DEFINITELY MAYBE, which used to be called CHARM SCHOOL DROPOUT, but when it magically morphed from a middle grade novel to a young adult one, the title morphed with it.
DEFINITELY MAYBE was THE PERFECT title. Lemme tell you about the storyline . . . Maybe (named Maybelline after the mascara) is a goth girl living in Kissimmee, FL. Her mother runs the local charm school and specializes in training beauty pageant contestants. Married, six times, Maybe's mother is getting ready to marry again. Only, after a devastating event, Maybe runs away to Hollywood to find the father who doesn't even know she exists.
It's a picture book. Oh! Wait, I mean it's a young adult novel. The theme is searching for identity.
However, there's
this movie
with the same title (although there's has a comma) . . .
So
my editors
. . .
. . . and I have come up with a HUGE list of alternate titles. Here are a few of them. Your thoughts?
Won't be:
DEFINITELY MAYBE
May be:
MAYBE, MAYBE NOT
ABSOLUTELY MAYBE
WHATEVER MAYBE
MAYBE SOMEDAY
Subscribe to Lisa Yee's Blog and get her fresh baked blogs e-mailed to you!