A BIG thank you to everyone who weighed in (over 149,398 pounds in all!) on the subject of what my
next book title
should be. After thinking, thinking, thinking, then closing my eyes and pointing, then thinking and consulting with my editors, the title is . . .
ABSOLUTELY MAYBE (!)
(The exclaimation point is there for dramatic effect. It will not be in the title.)
On other news, late last week I was
here
, thanks to the PTA who sponsored my visit . . .
I spoke at three assemblies. Here are the enthusiastic sixth graders. Can you find Peepy . . . ?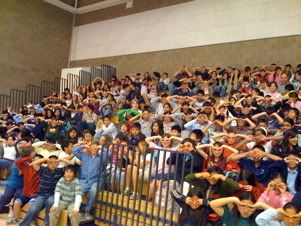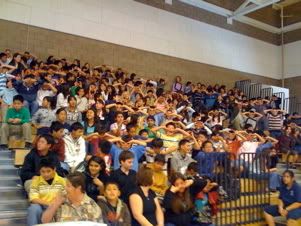 In the evening, Son and I returned for the Scholastic Book Fair . . .
. . . and to do a Q and A, and sign books. It was great fun and the questions were terrfic, expect for the math ones . . .
And in more other news, CONGRATULATIONS TO
ALAN SILBERBERG
for being named the new
Thurber House
Children's Writer-in-Residence. (I guess that make me the "old one.") I'll blog more about Thurber House and what Alan has to look forward to later. But for now, YAY Alan!!!
Next blog . . . the BEST ever super secret surprise I have ever pulled off in my entire life!!!!
Subscribe to Lisa Yee's Blog and get her fresh baked blogs e-mailed to you!