Teen had a major birthday recently and wanted to go to New York City really, really, really, "Oh Mom, just you and me in New York, pleeeeeeease, please, please," badly.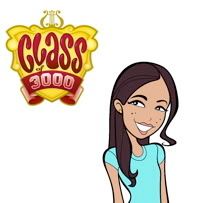 (Above: This is Teen when she made a cameo in a
Cartoon Network show
.)
I said, "No, I was
just there
. But I'll take you to
San Francisco
instead." (New York is over five hours by air from
our town
. San Fran is less than an hour.)
Hee hee.
I got tickets to
New York
. Only, I didn't tell her. I wanted to see how far through the airport Teen would get before she noticed we weren't going to San Francisco.
And now here's the incredible/no-way/you-have-got-to-be-kid
ding part . . .
We checked our luggage.
We went through security.
We boarded the plane.
We put on our seat belts.
We listened to them announce, "This flight to New York will take five hours and . . ."
And still, and still, and still, Teen was unawares. (Let me take a moment to say that Teen is a smart girl. But she is of the
Teen
Persuasion.)
Immediately after taking off, Teen took a two-hour nap. Then woke up and ate lunch. Still no clue. It was FOUR HOURS into the flight when Teen became suspicious. She looked at the map on the TV and noticed that we had flown past Indiana . . .
That's when Teen asked where we were going. Perhaps you heard her squeal with happiness when she found out we were going here . . .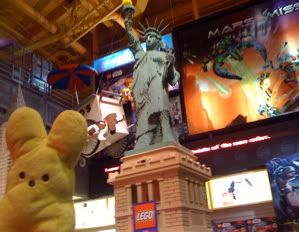 Teen got a tour of
Writers House
. . .
And I got to see my agent
Jodi Reamer
and sign contracts for some chapter books I'm writing . . .
Immediately after, we pigged out at
Emily Eber's
favorite restaurant,
Serendipity 3
. . .
One of us had too much . . .
And if that wasn't enough sugar, right around the corner was
Dylan's Candy Bar
. . .
Even the stairs are made of candy . . .
We did a TON of shopping, and saw
the first
of three shows . . .
Peepy, Teen and I were even on LIVE TV. We're not sure what the news story was, but we walked past while the camera was rolling . . .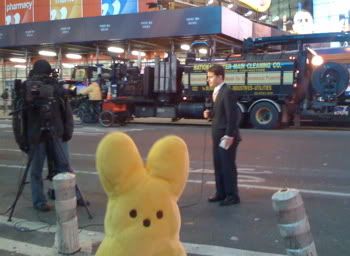 We also partook in a fabulous lunch at trendy
Bar 89
in SoHo with those divine
Scholastic
marketing and author appearance Dining Divas. (Note: These women are such serious foodies that as we were eating we discussed other meals.)
Oops! This is getting to be a loooong blog. More about the trip later. Until then, here's Peepy with her new best friends in
Times Square
. . .
Subscribe to Lisa Yee's Blog and get her fresh baked blogs e-mailed to you!