Recently, I was invited to join the
Board of Directors
for the
Children's Literature Council of Southern California
. I had to miss the first two board meetings because: 1)
I was sick
, and 2) I was in sick and in Dallas
giving a speech
. However, I was neither sick nor in Dallas for
this event
.
The festivities took place at the
Glendale Public Library
. . .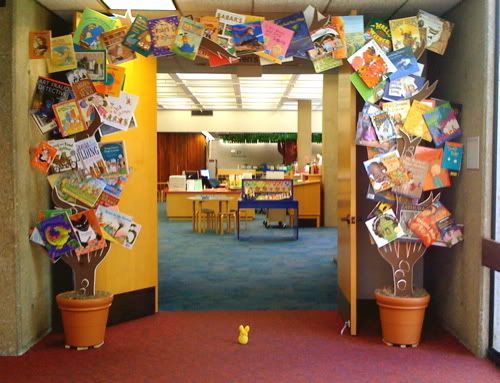 (Above: This is the doorway to the children's department. The actual event was in a really nice big ol' room.)
I wanted to impress the other board members with my skills, so I volunteered to assist with the refreshments. After all, I began my career in food service. Yes! I wore polyester and worked at
Arby's
in
high school
.
It being
National Licorice Day
, Peeps and I were asked to put the candy is a jar in an attractive array. This was the best we could do (the licorice was so fresh it wouldn't stand up) . . .
However, the other food looked spectacular, thanks to the refreshment committee. (That would be Kay) . . .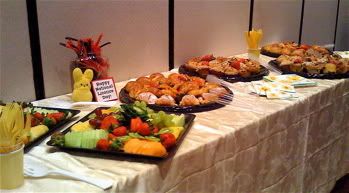 The featured keynote speaker for the Biography For Children and Young Adults workshop was
Diane Stanley
. . .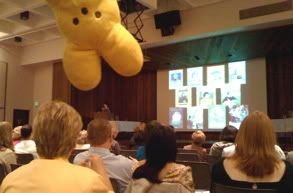 (Above: If you squint and get really close to your screen, Diane is on stage behind the podium.)
Also speaking was the delightful
Susan Goldman Rubin
. Susan and I got to sit together last year at The
Brian Selznick Show
. Oops, I mean, at this
awards ceremony
where we were both nominated . . .
(Above: See the Andy Warhol book she's holding? I bought it for Son and he gobbled it up the minute I got home.)
The totally cool
Elizabeth Partridge
was also a featured speaker. I loved hearing about her Printz Honor book about
John Lennon
. I first met Elizbeth at
this conference
. (I believe she is the person in the first photo with her head turned away as Susan Patron gets her photo taken with Peepy.)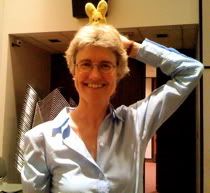 Peepy was particularly thrilled after the workshop and is convinced that three biographies about her will be written soon.
Tomorrow I head to the airport. Oh the joy. I hope the planes are taking off! I need to get to Pennsylvania where I'll be visiting West Grove.
Lastly, many times we read about people after they have died. I first came across the amazing Last Lecture of Randy Pausch and blogged about it
here
. Earlier this week there was a TV special about him. He doesn't have long to live, but you'd never know it to see him . . .
Subscribe to Lisa Yee's Blog and get her fresh baked blogs e-mailed to you!