With the Democratic presidential candidate race underway, all eyes are on Pennsylvania. Everyone, from CNN, to ABC, to ALA is asking the same thing: "Lisa, what else did you and Peepy do while you were there?" Well, lemme tell you . . .
There was serious work to be done on Day Two of our visit to
Fred S. Engle Middle School
. Yep, food. In between assemblies and author chats, we had to eat TWO LUNCHES . . .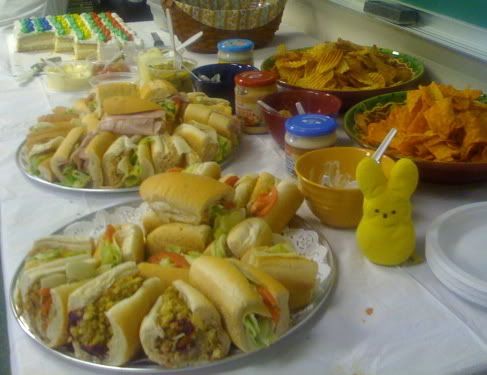 Okay. Well, we didn't have to, but we did. Students were selected at random to have lunch with us . . .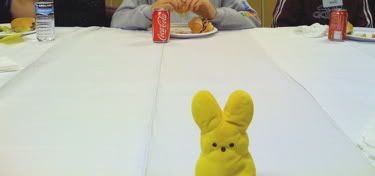 And there were two lunch periods, so we didn't want anyone to feel left out. Besides, there were homemade cookies and cake. And we like cookies and cake. A lot. Peepy and I had practiced eating two lunches the day before, so we excelled at it.
In addition to eating, and speaking to the 8th grade, Peepy got to meet her new fan club . . .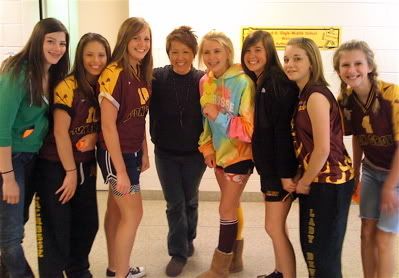 During our author chats on both days great questions came up. One student asked why, if my next book is called ABSOLUTELY MAYBE, then does say in the back section of the
After Words
version of
STANFORD WONG FLUNKS BIG-TIME
it's called, CHARM SCHOOL DROPOUT? (Whoa! That was an awkward sentence.)
My reply? "Uh, oops."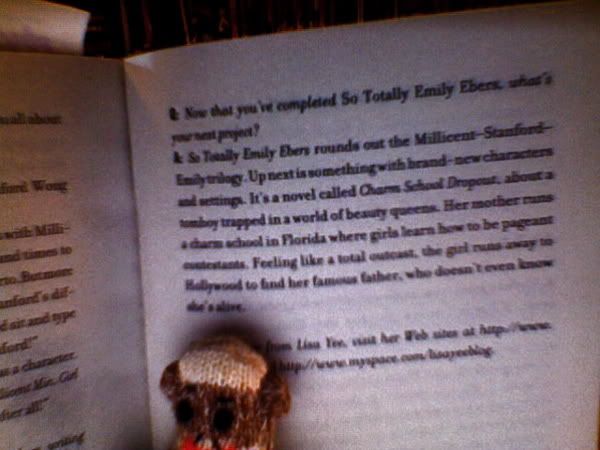 Well, as many of you know, I don't have much luck with titles and
they change
on me all the time. But at least luck was on my side when this person was in charge of my visit . . .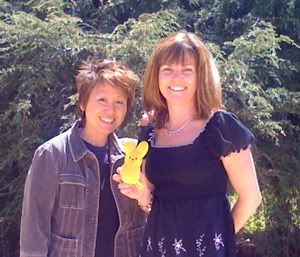 (Above: Denise Ciancia with Peep and Moi.)
And finally, teacher Doreen Holly was not about to let Peepy and I go home empty-handed. We were treated to a BIG BOX of locally grown
mushrooms
. And boy, I gotta tell you, they are DELICIOUS!!!!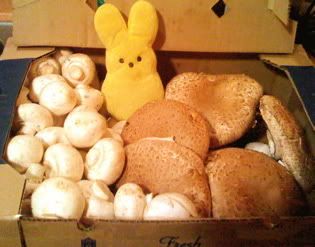 Here's what Son and I did with them . . .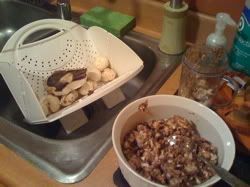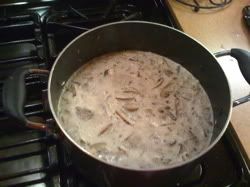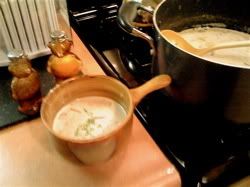 Yummy! Next up, why this is making me eat a lot of chocolate . . .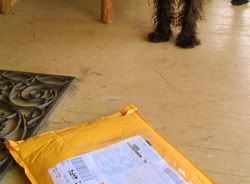 Subscribe to Lisa Yee's Blog and get her fresh baked blogs e-mailed to you!