"THUNK!"
We
last left off
when a mysterious package had been flung on my doorstep . . .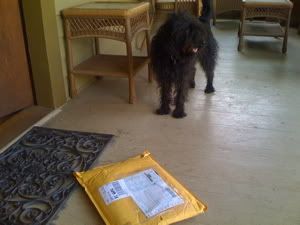 It was the copyedited manuscript for
ABSOLUTELY MAYBE
, my young adult novel. I almost fell over when I saw all the comments/Post-its. Then I recalled
Linda Sue Park
had a
similar-Post-it situation
, and thought, "Hey, if this happens to Newbery winners, then it's okay that it happens to me."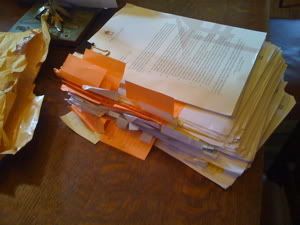 (Above: Lisa's manuscript)
(Above: Linda's manuscript)
I was all set to get to work, but suddenly was faced with the dreaded Colored Pencil Crisis.
Okay, here's what happens. You've written a first draft. You've written a final draft. And even a draft or two, in between. All this is done electronically and you e-mail your manuscripts to
your editors
in
NYC
.
Once everyone is (pretty) happy with the book, a copyeditor is called in. This person checks the facts and the flow. For example,if you say in one chapter, "She only loved Colin Firth as Mr. Darcy." You don't say in the next chapter, "She only loved Johnny Depp." (Not that there's anything wrong with that.)
But here's the weird part. At this point in the process, all the changes now are made with old-fashioned pencils. Yep, no more computers. This is how it's done:
Editor #1 (
Arthur Levine
) makes his marks/comments/changes in blue pencil and on the manuscript itself or on lilac or pale yellow Post-its.
Editor #2 (
Cheryl Klein
) does the same, only with a graphite pencil on orange, bright yellow, blue/white, and brown/white Post-Its. Still with me?
Copyeditor makes her marks in red pencil on the manuscript. No Post-its.
Author (that would be
Moi
) is then supposed to make her changes with green pencil and then erase anyone's marks/comments/changes she/me/I don't agree with.
Tragically, I didn't have a good green pencil or eraser . . .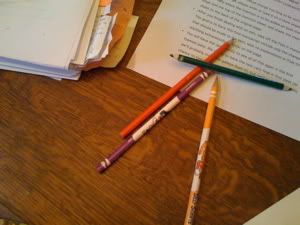 So,
Sock Monkey
and I visited Rite Aid to solve our CPC. (Though
Peepy
is my travel companion, Sock Monkey is my writing muse.) We were a bit overwhelmed with the writing instruments . . .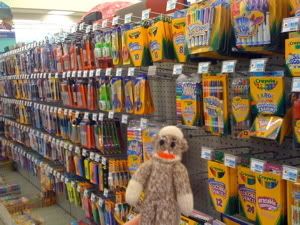 . . . but settled on an okay green pencil and some erasers.
Then, knowing that time was precious and that we should get right back home, we checked out the magazines--in case there was some pressing news we didn't know about . . .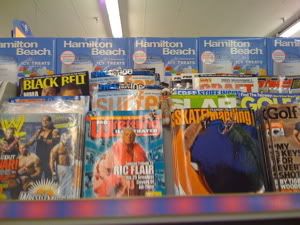 And, of course, we had to stop for more writing supplies . . .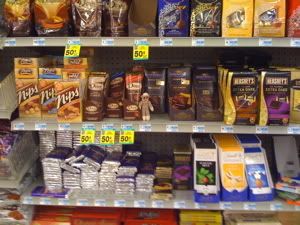 At last we were ready to get started . . .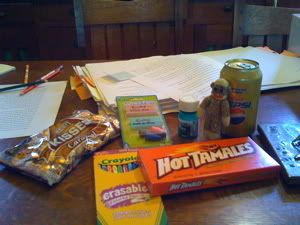 As you read this, we are working hard. So hard that we may need to make another chocolate stop. In the meantime, Arthur, who's also this
world-famous author's
editor, has a problem. He needs questions and has asked to guest blog this . . .
"I'm (that's Arthur speaking) scheduled to do a Q&A session at this coming weekend's SCBWI conference in Washington, that has the following description:
"What the heck is an eff''n Gee?": An editor answers your questions about the mysterious language of publishing." And further description might be: Come prepared with questions you've had about the publishing process: from confusing technical language you've heard and read, to difficult concepts you've struggled with in group and individual feedback. Arthur Levine will do his best to demystify and englighten."
What I'm (that would be Arthur, again) looking for are some other good examples of confusing or opaque lingo that I should come prepared to discuss at this session."
Now is your chance (this is Lisa speaking) to ask this talented, dignified,
got-his-own-imprint
-named-after-him man (that would be Arthur) questions.
Post your questions in the comments section of this blog and I'll make sure Arthur gets them. And while you're thinking of those, I'll be finishing my final changes. Then on Friday, I'm attending the
LA TIMES Book Prizes
ceremony.
And on Sunday at 10:30 a.m., I'll be speaking at the
LA TIMES Festival of Books
(UCLA Humanities room A51). Also on the panel will be fellow Sid Fleischman Humor Award winner
Gennifer Choldenko
and
Linda Urban
. Our topic? Tween Writing: Stuck in the Middle with You moderated by LA Times writer and motorcycle enthusiast
Susan Carpenter
.
Oops. Almost forgot to add, I'll also be signing at the Festival at Whale of a Tale on Sunday from 1 - 2 pm!!!
Subscribe to Lisa Yee's Blog and get her fresh baked blogs e-mailed to you!