Eeek!!! The
last time
we were hanging out together,
Sock Monkey
and I were wondering if we would finish up the final touches on
ABSOLUTELY MAYBE
on time. Well, thanks to the magic of overnight shipping, we made our deadline . . .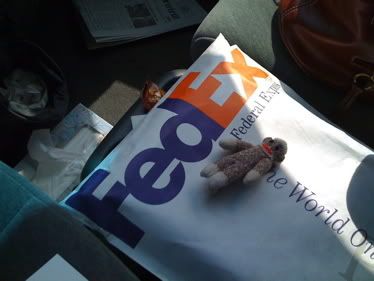 BTW, you will be happy to hear that I no longer cry when I send out a final manuscript, although I do weird out and can't even complete a senten
Once we shipped out, we were able to see our good friend
Kerry Madden
speak at the
Marengo
Elementary School Book Fair . . .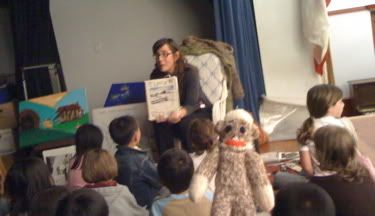 Kerry, Son and I got in a heated debate over LORD OF THE RINGS. It was two to one. One loving it. Two, not so much.
On Friday, more fun was to be had even though it was at
UCLA
(yuck).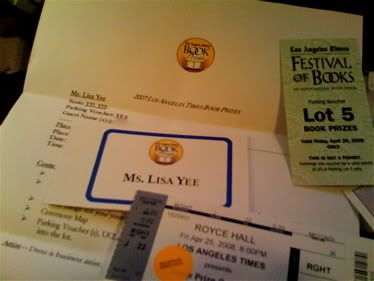 We were invited to the 2007
LA TIMES Book Prizes
.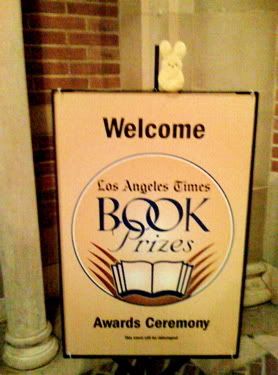 There were signs proclaiming no photography or cell phones. Oops.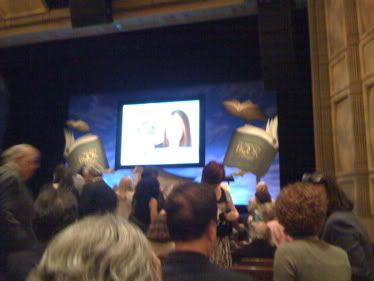 I knew that
National Book Award
winner
Sherman Alexie
would be there and I really, really, really wanted to meet him and have him sign my copy of
this
.
The gala was hosted by
Gay Talese
. It was fun to hear
Scott Simon
present one of the awards because I always listen to his NPR program.
Francesca Lia Block
announced the winner in the YA category, Philip Reeve and his novel
A Darkling Plain
. The awards flew past. (Writers give good speeches.)
Afterward, we bumped into author/pal
John Coy
. (He lives in Minnesota, so we ordered up good weather just for him. Not to boast but it's in the EIGHTIES!!!!) Since he was near the front, John let us slide into line with him for the hoity-toity private reception. Once inside, we met up with LAYA's
Mark London Williams
and
Sally Nemeth
.
Alas, still no Sherman Alexie. However, we did get to gab with
Johnathan Hunt
. He was one of the judges for the LA Times YA Prize, and he was a Printz judge this year, and he's been on the Newbery Committee, and judged Miss America and So You Think You Can Dance with Your Mom and have one Foot Tied Behind You, or whatever that show is called. (Two of those aren't true.) Here's Johnathan . . .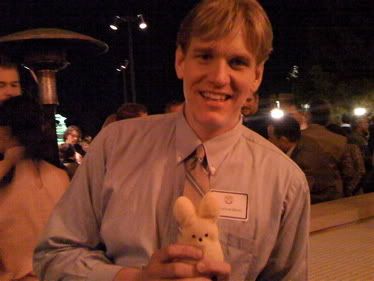 The evening continued as we wandered around searching for Sherman. It did occur to us that perhaps he heard an author and her Peep were looking for him--and he was hiding. About to give up, we consoled ourselves by making several trips to the CHOCOLATE FOUNTAIN(s) and indulging in too much sugar. While I was taking this picture, a lady said to me, "Oh how cute. You must have children."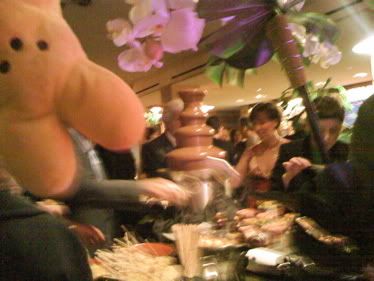 To which I replied, "Yes."
So there we were, hyped up with CHOCOLATE! and who should we meet? No, not Colin Firth as Mr. Darcy, but Mr. Alexie, at last! And he couldn't have been nicer . . .
Tomorrow it's back to UCLA (yuck) for the
Los Angeles Times Festival of Books
(yay!). I'll be on a panel with
Linda Urban
and
Gennifer Choldenko
, and will be doing a couple of book signings. Stay tuned for whatever happens!
Subscribe to Lisa Yee's Blog and get her fresh baked blogs e-mailed to you!