I've heard it said that that L.A. is not a reading town. Well, WRONG-O!!!
This past weekend was the spectacular
Los Angeles Times Festival of Books
.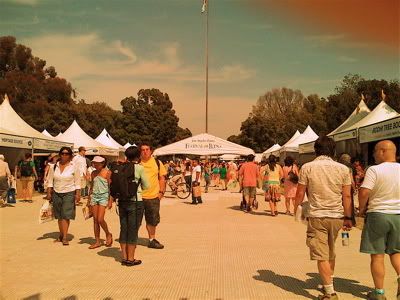 (Above: I took this with
my iPhone
. Doesn't it look postcardesque?)
There were 24,384,943 book lovers at the event. Here's the breakdown:
140,000 attendees
450+ authors
300+ exhibitors
900+ volunteers
100+ author panels
6 outdoor stages
2 children's areas
1 Peep
That adds up to 24,384,943. I know. I did the the math.
We attended the LA TIMES Book Prizes on
Friday night
and were all geared up for more reading-related festivities. Peepy and Moi arrived early because 1) We were told to, and 2) I get lost easily and didn't want to be late.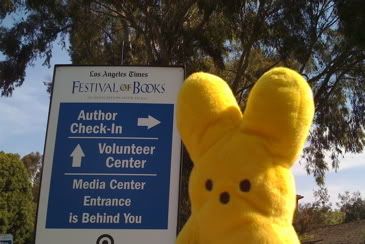 I was speaking on a panel called Tween Writing: Stuck in the Middle with You . . .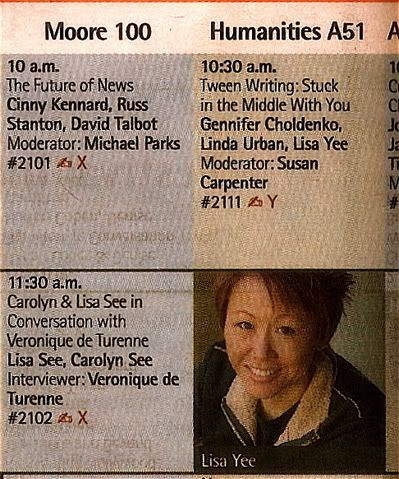 But look! Look! In the newspaper insert, they had my photo, yeeees, but look who's name was to the left.
Yep, Lisa See. Okay, so Lisa Yee was correctly identified in the photo, but Lisa See, uber bestselling author was next to it.
Lisa See
and
Lisa Yee
have been confused for
each other
in the past. Like when I was supposed to sign Lisa Yee books, but someone ordered Lisa See's books . . .
So I worried. What if people show up at my panel expecting Lisa See and are disappointed at getting Lisa Yee? This happened once before at
this event.
The Lisa See-seeking woman found herself sitting next to my dad (Mr. Yee) and he convinced/forced her to stay to hear Lisa Yee instead.
And then, I wondered. OMG, what if LISA YEE and LISA SEE are the SAME PERSON, and no one's told me? I mean, we've never been in the same room together. Kinda like Michael Jackson and LaToya. And there was the time when I had a book reviewed, only it listed Lisa See as the author.
Hmmmm.
Oops. I'm rambling. Focus. Focus. Back to the Festival. We got to hang out in the VIP/Green Room, where all the authors congregate and eat a lot before they go on . . .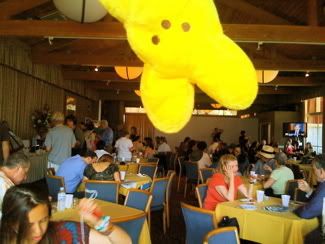 There were lots of goodies to be had, including a bounty of this . . .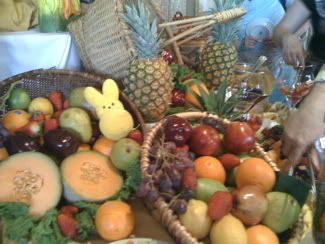 (Note: Peepy was there as a guest, not a food.)
While VIPing, we bumped into our other two panelists, plus as an extra bonus feature--It Girl,
Cecil Castellucci
. . .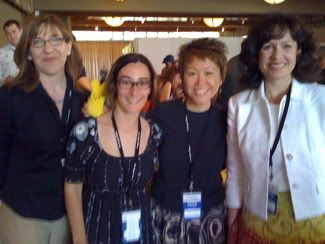 (Above:
Linda Urban
, It Girl, Moi and
Gennifer Choldenko
)
Then it was time for the panel. Here's our some of our smart-attractive-well-read audience. There were actually more people, but I couldn't get them all in.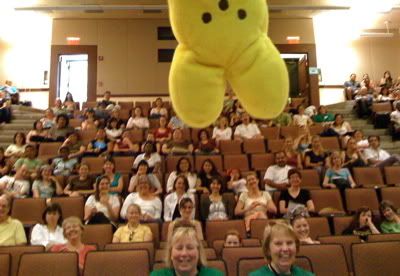 Throttle Jockey
Susan Carpenter
was our moderator. (In addition to writing about kids books, Susan writes about motorcycles for the LA TIMES. How cool is that?!?!) . . .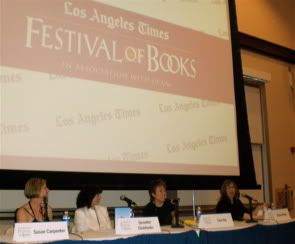 OOoooOooooh, it was so much fun--I'd be on a panel with SusanGenniferLinda anytime!
Oops. Looks like I'm running out of space. More on the next blog about the LA TIMES Fest o' Books, plus, Peepy Gets Presents, and Does Lisa Yee See Lisa See?
Subscribe to Lisa Yee's Blog and get her fresh baked blogs e-mailed to you!