So, when we
last met
, we were at the Los Angeles Times Festival of Books, henceforth to be called the LATFBEE. (I added the last two letters because they look pleasing.)
Our panel had just ended when it was time to sign books. But wait! Right before we went to the book signing booth, Peepy and I got a special surprise . . .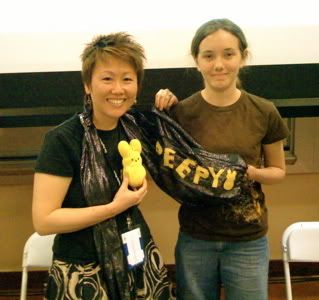 Isn't that a beautiful scarf? Our friend Linda made it for us! (We first met Linda
here
.)
Peepy was feeling quite puffed up over her present, when who should we meet but a
fellow blogger
. And get this, Melodye then gives Peeps ANOTHER present. (Actually, it was her husband's Peep cap, but he told her we could have it!)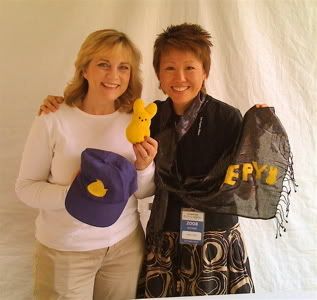 Because we were signing books, I wasn't able to go to Lisa See's panel to see if Lisa See was really me, Lisa Yee, or if Lisa See was a
separate Lisa
from Lisa Yee.
However, Just as I was leaving the book signing tent,
Linda Urban
starts yelling, "Lisa Yee! Lisa Yee, quick, come meet Lisa See!"
Wheeee . . . here we are, together again for the first time . . .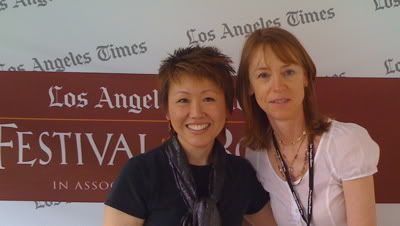 Later, it was time to sign books again. This time at the
Scholastic
/
Whale of a Tale
booth . . .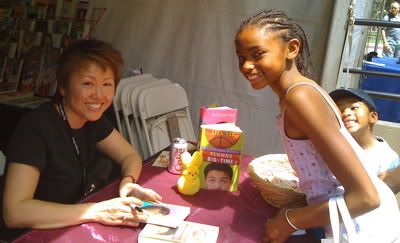 While there, a girl came up and told me, "I love
Stanford Wong Flunks Big-Time
. It changed my life."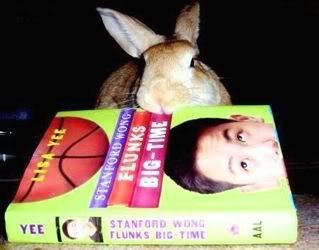 After she, left, my head began to swell and threatened to get really, really, totally big. However,
Teen
stopped chewing on her
churro
long enough to comment, "What she said--how is that even possible?"
Ah, leave it to my kids to keep me grounded!
Then it was time find
Megan McDonald
, author of the zillion-selling Judy Moody series.
Megan and Moi
worked on
American Girl's
latest historical novels based in the 1970s (!!!). Megan wrote the
Julie series
and I wrote about Julie and Oprah's best friend,
Ivy
.
When we met up, Megan and I had a total gab-fest. It was so fun, but it made us hungry. Luckily, there were snacks nearby . . .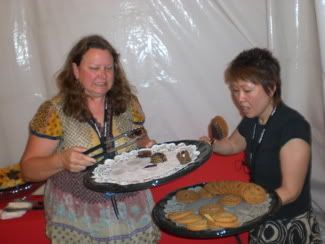 At the end of the day I rendezvoused with a gaggle of
LAYAs
. What a great way to close a great LATFBEE.
On Monday I leave for the International Reading Association
Conference
in Atlanta.
Here's my schedule. (Deep breath.) On Tuesday, May 6th at 7 a.m. (that's 4 a.m. my time) I'll be speaking with
Meg Cabot
and others at Scholastic's "Favorite Authors Remember Their Favorite Teachers" Breakfast . . . then reading from
EMILY
at 10:40 a.m. at the Scholastic Reading Booth . . . then at 11 a.m. signing books at the Scholastic autographing booth . . . then at 12:15 p.m. I'll be the RIF Luncheon keynote speaker . . . then at 3 p.m. it's time for a Scholastic website interview . . . then at 5 p.m. it's the Joint Publishers Reception . . . then I'll dine with other Scholastic-ites . . . and then the next day from 9 - 11:45 a.m. I'll be on the IRA program: Middle School Reading--Inquiring Minds.
Then I will collapse.
Subscribe to Lisa Yee's Blog and get her fresh baked blogs e-mailed to you!