I'm back from Atlanta where I was at the IRA
International Reading Association
Conference a.k.a. LSHMLCDBSKO (Let's See How Much Lisa Can Do Before She Keels Over).
Peepy and I checked into the oh-so fancy-schmantzy
Ritz-Carlton
. . .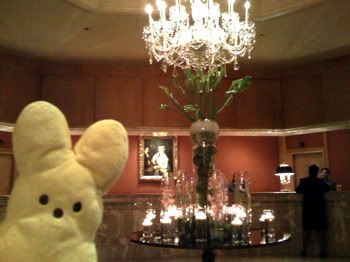 (I'm not sure if I spelled schmantzy right.)
Suddenly, it was time to meet our wrangler in the lobby. What I love about being a traveling author is that the publisher knows that in a nano second, you can go from being a Do-it-All-Mom to a Space-Cadet. So whereas, at home, I am the one who has to make sure people get to where they are supposed to be,
Scholastic
has people who make sure I do not get discombobulated.
I was herded to dinner along with the Lovely 50-million-books-in-print (!!!)
Meg Cabot
Who Wears Nice Shoes . . .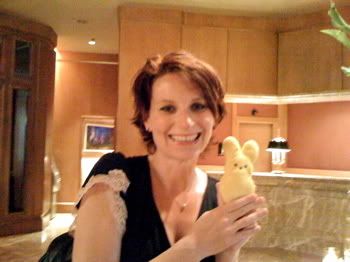 We partook in an elegant meal in a private dining room for the
Scholastic Book Clubs
Favorite Authors dinner . . .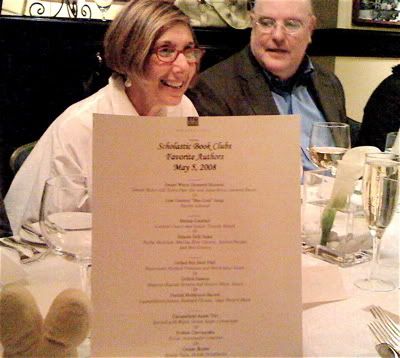 (Above: Carol Levine from Book Clubs and author
Roland Smith
)
One of our dining partners was the always charming Scholastic CEO, President and Chairman
Dick Robinson
. Here's Peepy trying to get a book deal out of him . . .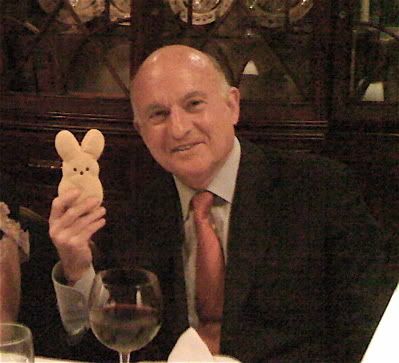 EARLY the next morning, 6:30 a.m. Atlanta time (which translates to 3:30 a.m. Los Angeles time), I pried my eyes open and was led to the Scholastic Book Clubs Favorite Teachers Breakfast. (Tickets to this event are the hot item at the conference.)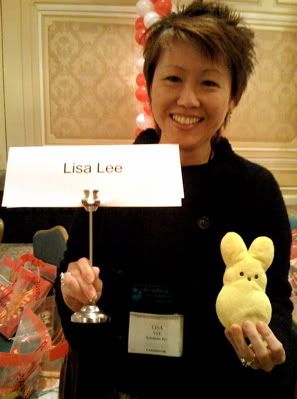 (Above: Um. My name got misspelled. But this time it was Lee and
not See
, instead of Yee.)
In addition to Moi, Meg and Roland,
Sara Pennypacker
,
Bryan Collier
and
Denise Fleming
spoke to the 500 guests about our favorite teachers. Here's what a third of audience looked like from the podium . . .
I talked about
Mr. Glick
, a character in
STANFORD WONG FLUNKS BIG-TIME
, and my real 7th grade teacher. All the speeches were wonderful and moving.
After, I was whisked away to the Scholastic Readers Theater where I read from
SO TOTALLY EMILY EBERS
. . .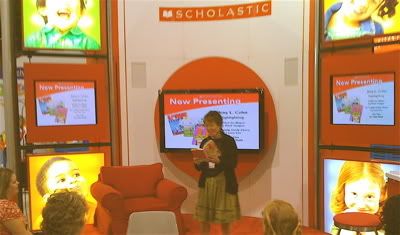 Then it was time for a book signing, along with super-talented
Mark Teague
and
John Muth
. . .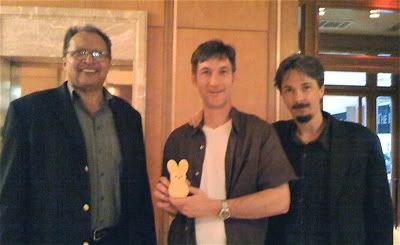 (Above: Peep and the guys, uber author,
Walter Dean Meyers
, with Mark and John.)
Immediately after that, John Mason, Director of Library and Educational Marketing and dude with a cool British accent, and I hurried over to the
RIF
luncheon honoring 300 of their fabulous volunteers . . .
(Above: Egged on by her friend Clifford, Peepy tries to talk John into giving her a book deal.)
My keynote speech got a standing ovation (wheeeee!). But truly, those volunteers are the ones who deserve a standing-o and so much more. As you may have heard, RIF is in danger of losing their federal funding. If you'd like to help make sure this doesn't happen, then
click here
.
From there, it was time for a video interview . . .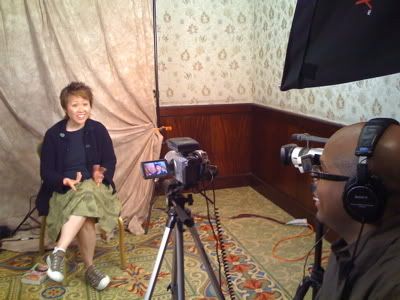 Well, this is getting kinda long and we're only into the afternoon. Stay tuned for my next blog and see what happens when you have a packed schedule and are operating on not enough sleep. Until then,
Peepy
wanted you to know that her video will be coming out soon . . .
Subscribe to Lisa Yee's Blog and get her fresh baked blogs e-mailed to you!