Tonight was the kick-off-day-before
BEA
(BookExpo America). It's the largest annual book trade fair in the country and on several planets--but not Pluto because Pluto has been downgraded.)
Peepy and I began with the First Annual LAYA-PALOOZA hosted by
ABC
(Association of Booksellers for Children) and the
LAYAs
(Los Angeles Young Adult Authors) . . .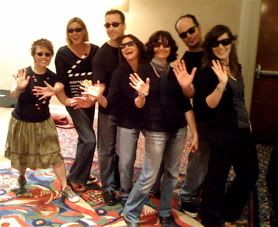 (Above:
Moi
,
Sally Nemeth
,
Michael Reisman
,
Amy Goldman Koss
,
Carol Tanzman
,
Mark London Williams
and
Kerry Madden
.
Paula Yoo
is not pictured because she was really, really sick, or so she said. Someone later thought they saw her bowling.)
Years of planning
went into this event. Fun! and games! and swag! and music! and games! and more games abounded!
Like, "Guess The Title." For example,
this opening line
, "I have been accused of being anal retentive, an overachiever and a compulsive perfectionist, like those are bad things," came from what book?
Yes! Hubby got it right. Yes! He didn't have to walk home! Yes! It was from
MILLICENT MIN, GIRL GENIUS.
Like, "Spell The Author's Name" . . .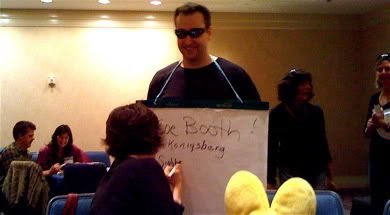 Plus, there were more brainperplexingbookrelatedcategories and LAYAs sang even though no one asked them to.
Over 14,323 contestants, or maybe a lot less, participated. Everyone had a great time, except for Peepy. She fell victim to an accident engineered by Amy, who is
her nemesis
. . .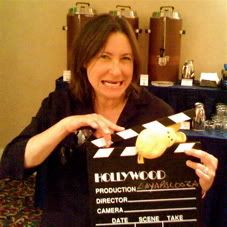 Afterward, we had some time to kill so we checked out the local tres chic bowling alley . . .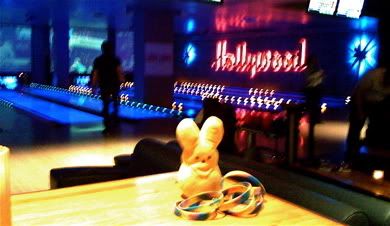 Then it was on to the
Welcome to Hollywood
reception at the famed Egyptian Theater on Hollywood Blvd . . .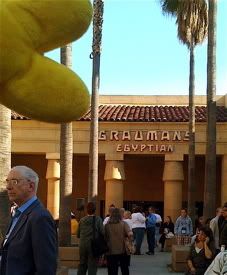 Hosted by the
ABA
(American Booksellers Association) and
SCIBA
(Southern California Independent Booksellers Association) . . .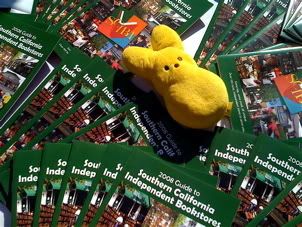 . . . it was a chance for booksellers from around the country to mingle with local Southern California authors, drink wine, and eat cookies while discussing Los Angeles traffic.
Oh, and lookit! It took hours, but Peepy was able to translate the hieroglyphics . . .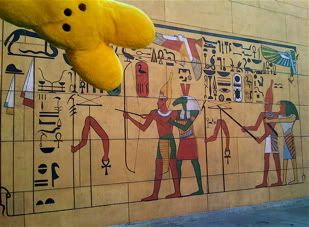 (Translation: ABA + BEA + LAYA + ABC + NBA + SCIBA = Smart, attractive, witty book people will be attending BEA, so stay tuned for more on this blog. Also, if you had to do without one major appliance, what would it be?)
Subscribe to Lisa Yee's Blog and get her fresh baked blogs e-mailed to you!