BEA
lasted less than a week, but it'll take me more-than-a-week to blog about all the
bookishness
that went on.
As always,
Scholastic
, who publishes most of
my books
, had a HUGE booth and really soft carpet. (The softer the carpet, the more respected the publisher.)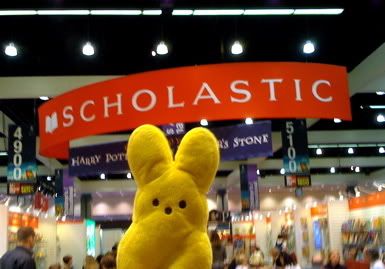 BEA was not just at the LA Convention Center. It was
all over tinsel town
. Like the Book Sense Book of the Year Awards on Hollywood Blvd. . . .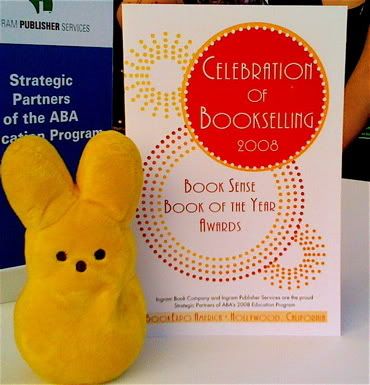 Peepy's pal, the Caldicott-ian,
Brian Selznick
was one of the winners (this makes his 475,892th award) for
THE INVENTION OF HUGO CABRET
. Peeps ran up to congratulate him . . .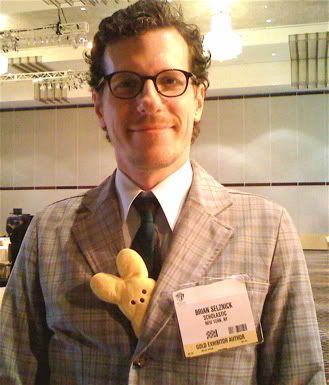 Only, it was really his swag she was after. You see, in addition to a cool award, the winners also got tres chic gift bags o' goodies . . .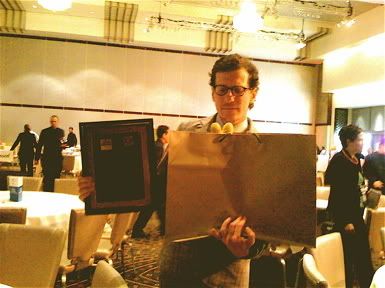 Booksellers were also winners, too. Like our friends author
Elizabeth Bluemle
(on right) and Josie Leavitt of
The Flying Pig Bookstore
in Vermont. They won the
Lucile Micheels Pannell Award
, which celebrates bookstores "that excel at inspiring the interest of young people in books and reading."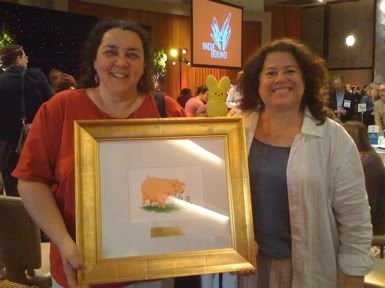 The next day, we met up with
Kerry Madden
who's just finishing up a book about HARPER LEE (Kerry's also a LAYA and American Girl author) and
Valerie Tripp
, who's written almost 1,200
American Girl
books . . .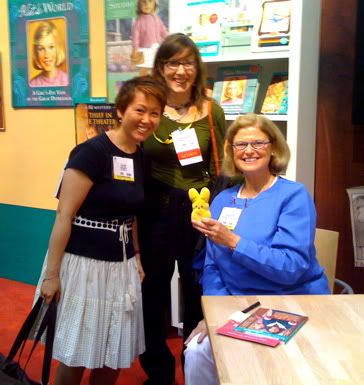 It was wonderful hanging out with Valerie--she was soooo friendly and funny! Before meeting her, I figured she would be wearing colonial garb and would speak like
Felicity
, I'm not sure why I thought that. After all, I don't dress like Ivy, the main character of my American Girl novel,
GOOD LUCK, IVY
. (Although I used to.)
We had a blast cruising the convention floor together, along with the 28,494 other attendees . . .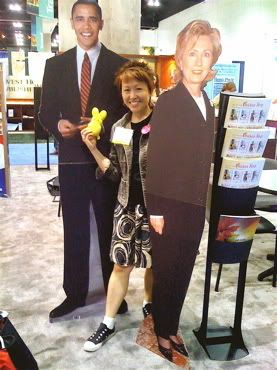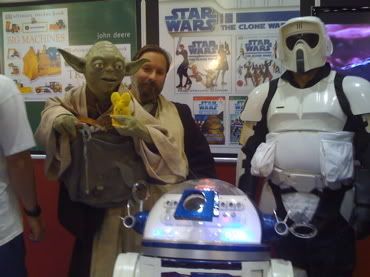 Daniel Vosovic
from PROJECT RUNWAY told Peepy she was his muse . . .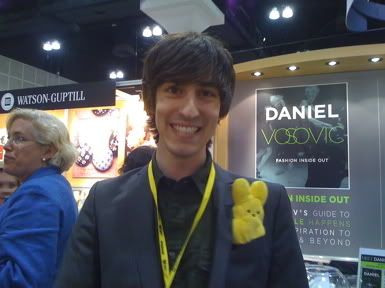 And National Book Award winner
M.T. Anderson
, multi-talented
Cecil Castellucci
and tireless
David Levithan
, author/Executive Editorial Director, Scholastic Press Fiction, Multimedia Publishing, and PUSH (try fitting that on a business card), all wanted Peepy for their next book covers . . .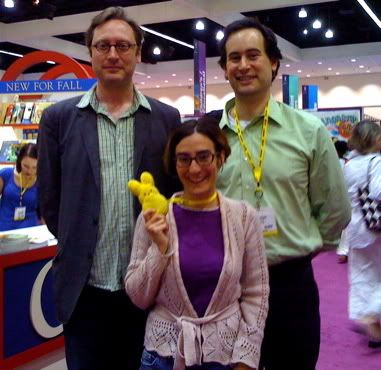 (The guys are standing on ladders.)
My Peep and I also snagged an invite to
ABC's Not a Dinner and (Mostly) Silent Auction
of original children's book art . . .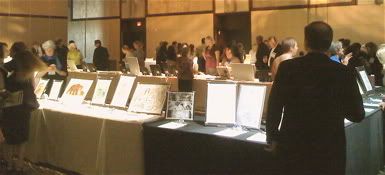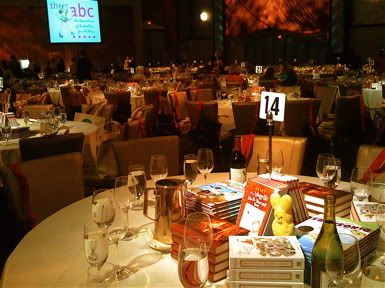 Oops. We've run out of space. More on our BEAing in the next blog--including the E.B. White Read A Loud Award, our sneak peak at
TWILIGHT
movie footage, and more pics of Literati Glitterati. In the meantime, see all those books on the table? We got to take them home, PLUS bags filled with even more books. Wheeeeee!!!
Subscribe to Lisa Yee's Blog and get her fresh baked blogs e-mailed to you!