We
last left off
at the Book Sense Awards where, among other winners, my very own local bookstore,
Vroman's
in Pasadena, was picking up the Publisher's Weekly
Bookseller of the Year Award
.
Then the next night, after some serious roaming of the convention floor, it was time for NOT A DINNER and Silent Auction and
E.B. White Read Aloud Awards
.
The Not a Dinner part consisted of GREAT appetizers, like this mashed potato bar, where you put the buttery mashed wonder into a Sex-And-The-City-style martini glass and then smother it with bacon and cheese and whatnot and Carrie (snort!) it around with you . . .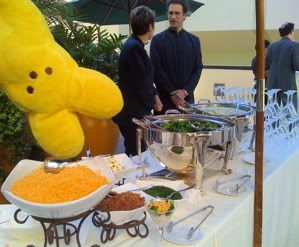 While noshing, we bid on this piece of artwork . . .
Only we lost out. Sigh. Oh well, there was still fun to be had, like an EXCLUSIVE sneak peek at footage from
Stephenie Meyer's
multigooglezillion-selling book that'll soon be
TWILGHT
the movie. (Go Jacob!)
Plus, not to brag but we were given THESE COOL TOTE BAGS and WE WERE THE FIRST PEOPLE TO SEE the cover of Book Four, BREAKING DAWN!!!!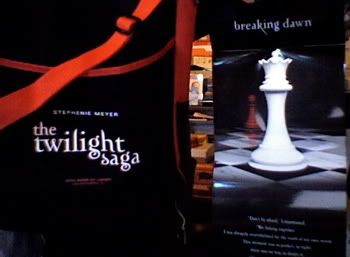 And if that weren't enough excitement, our very own
Elise Broach
won the E. B. White Award for WHEN DINOSAURS CAME WITH EVERYTHING. Here's Elise with multi-tasking
Marlene Perez
. . .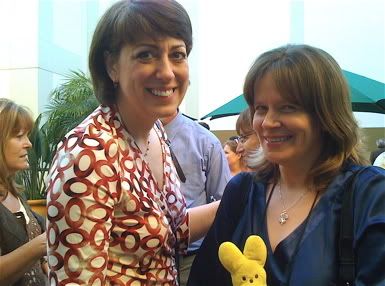 During the awards, we sat between
Brian Selznick
and
Chicken House
publisher Barry Cunningham . . .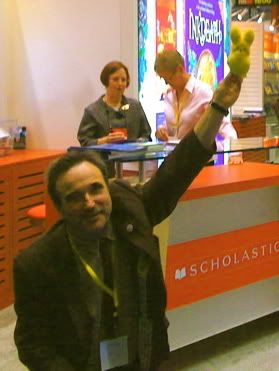 Barry, the founder of Bloomsbury Children's Books,
discovered
my
friend J.K. Rowling
.
One of TIME magazine's
most influential
people in the world,
Cornelia Funke
was also at our table . . .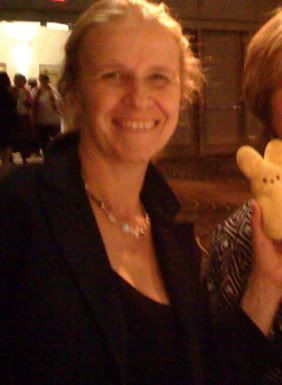 (Above: Peepy tries to influence Cornelia.)
Suddenly, it was 10 p.m. Bedtime? No way! It was on to ANOTHER party. This time it was
Scholastic's
Big Bash celebrating New York Times #1 selling author
Rick Riordan
(pronounced Ryer-dan) and
THE 39 CLUES
at the Biltmore Hotel.
Peepy spent most of the evening near the chocolate fountain chatting with her relatives . . .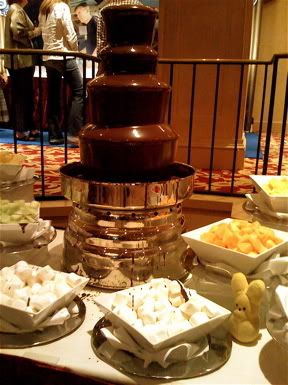 (Above: Peeps and the marshmallows)
However, she broke away long enough to ask Scholastic's V.P. of Publicity, Tracy van Straaten and CEO, President and Chairman of Scholastic,
Dick Robinson
to do the Bunny Hop with her . . .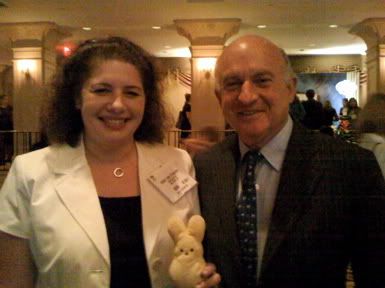 The next day, it was back to the convention center, where we bumped into more friends, like Newbery Honor medalist
Joan Bauer
. . .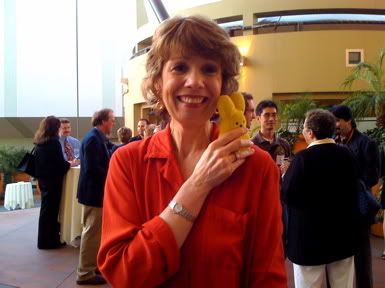 And we hung out with our uber agent,
Jodi Reamer
. . .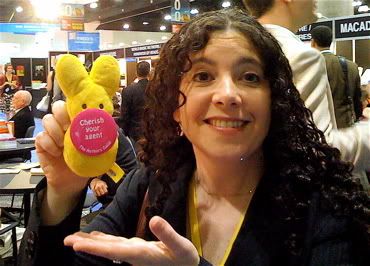 (Above: Peepy is wearing her "Cherish Your Agent" button.)
We caught National Book Awardeeeeeee
Sherman Alexie
lollygagging around so we cornered him . . .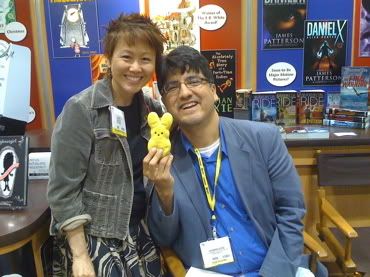 Then Sherman gave Peepy a sneak peak at his upcoming kids' novel.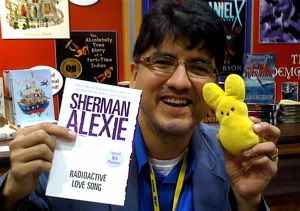 Finally, it was time to bid BEA farewell. So Peepy did the logical thing . . .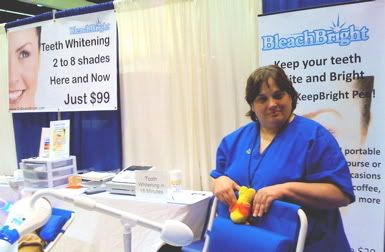 Yep. She went to the teeth whitening booth. (I'm still trying to figure out why it was even there.)
Subscribe to Lisa Yee's Blog and get her fresh baked blogs e-mailed to you!