I'm really tired. I don't know why. Perhaps it's from not getting enough sleep?
Anyway, my brain is not organized enough to put things in order, so here are Ten Random Author-ish blobby blog things in no particular order:
5. My prediction for the Big Book of the Fall?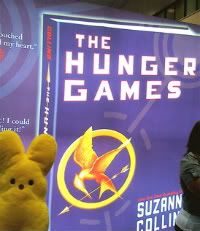 by
Suzanne Collins
. It's sort of Survivor meets Lord of the Flies meets The Lottery meets all new stuff, and it's amazing, disturbing and the ARC was impossible to put down.
Here's how you can get
your own copy
before anyone else.
2. I am working hard on a short story for GEEKTASTIC, and YA anthology edited by
Cecil Castellucci
and Spiderwick Chronicle's
Holly Black
, and uber-edited by
Alvina Ling
for
Little Brown
.
Authors contributing to the book, who/whom I have met even though they may not remember and/or will deny it, include
John Green
,
Scott Westerfeld
(Peepy is convinced he wrote a book about her!),
M.T. Anderson
, Colin Firth as Mr. Darcy,
Cynthia and Greg Leitich Smith
,
Libba Bray
, and
David Levithan
, seen here with a really big guy looking over his shoulder . . .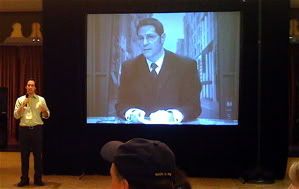 (BTW, one of those name I've never met, or aren't writing a short story, or both. Yet.)
7. The indomitable Roger Sutton of
HORN BOOK
fame, has blogged about the new Mac Computer campaign and one of my book covers.
Click here
to find out which one.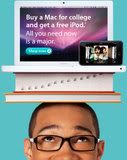 3. Author
Kim Norman
is amassing a list of
Author School Visits by State
on her blog. Scholastic also has a list of
authors who do school visits
.
9. Because I am working hard on a short story for GEEKTASTIC, I felt it necessary to buy these cool new Converse . . .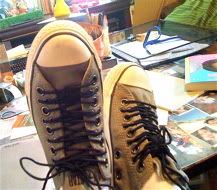 But do new shoes help you write better, you are asking? Yes. Yes, they do.
6. Jane Lofton, the super librarian at
Lindero Canyon Middle School
where
I spoke
last month, made this Franklin Mint-esque Collectable Poster . . .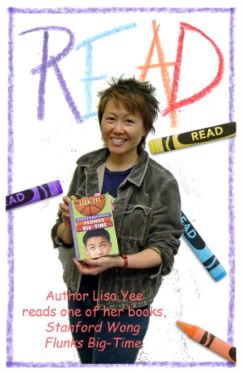 8. A couple days ago (okay, okay, it was MONTHS ago), my pal
Arthur Slade
tagged me on
his blog
. The challenge was to:
-- Pick up the nearest book -- then, open to page 123-- then, find the fifth sentence--then, post the next three sentences.
Here's what I came up with . . . "I even looked up the writer of "Mountain Dew," since near everybody sings that song. His name was Bascom Lamar Lunsford. The songcatcher." (Anyone know what book that's from?)
I'm not going to tag anyone, but if you want to play jump in, the water's warm!
4. Peepy's pals sent her a photo recently via
Carla Kozak
, esteemed judge of Lisa Yee's 2nd Annual
Bodacious Book Contest
.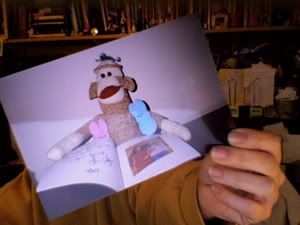 9. This is the historic
Rialto Theater
by my house . . .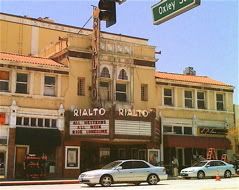 It appears in my books. Since it was shut down last year, it has made more moola as a film location site than a movie theater. Pity.
10. Here's the new Scholastic Book Talk for MILLICENT MIN, GIRL GENIUS.
Adrienne Maria Vrettos
is the person on screen.
(Like David Levithan, Adrienne works at Scholastic AND writes novels. I am asking both of them to STOP IT. It makes us other authors who can barely find time to tie our Converse look like slackers.)
Subscribe to Lisa Yee's Blog and get her fresh baked blogs e-mailed to you!