The bug to be an author bit me when I was a kid . . .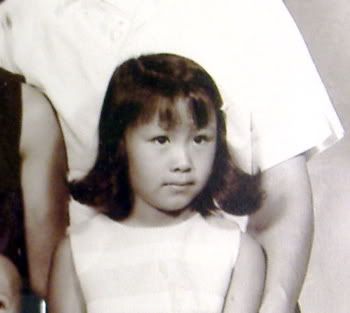 I was always writing things, like this gem . . .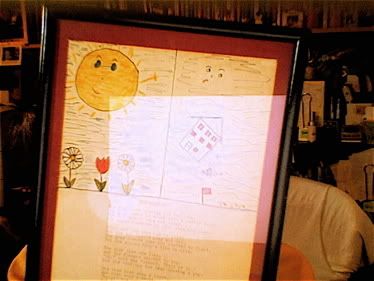 Yes, it's the world famous poem, THE WEATHER by Lisa Yee, age nine. Who can forget these immortal words --
"The grey clouds came and started to fight,
But the clouds didn't like to bite."
Okay, okay. So I've come a long way. At least I hope I have. But get this, there are some kid writers out there who are so good they're getting their books published NOW, thanks to
Scholastic
. PLUS their books will be sold at
Book Fairs
throughout the country.
Earlier this year, I was asked to judge the finalists for the
Scholastic Kids Are Authors
contest in the fiction and non-fiction category. Other judges included
Sarah Weeks
,
Gordon Korman
, and
Jon Muth
(who is very brave and coordinated because sometimes he wears all white even when he is painting with black ink) . . .
(Umm, so I didn't have a photo of Sarah and Gordon. But that really is Jon on the right. Oops, looks like he spilled.)
Thousands of students in grades K - 8 entered the contest. They worked in teams of three or more (under the supervision of a project coordinator) and wrote and illustrated their own books.
There were four levels of judging before the best of the best were narrowed down to the finalists. The judges were sent packets . . .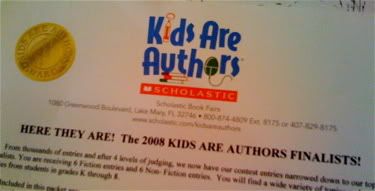 . . . that included color copies of the books . . .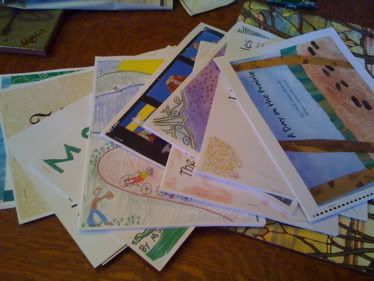 I was so impressed by the creativity and talent, and kept having to remind myself, "Self, KIDS created these books!"
And now I'm proud to announce, the
Grand Prize
book in the fiction category is LITTLE PRICKLES . . .

Written and illustrated by seventh grade students from The Montessori Middle School, Norwalk, Connecticut
Here's one of the illustrations . . .
And the
Grand Prize
in non-fiction goes to A DAY ON THE PRAIRIE . . .

Written and illustrated by third grade students from Kildeer Countryside Elementary, Long Grove, Illinois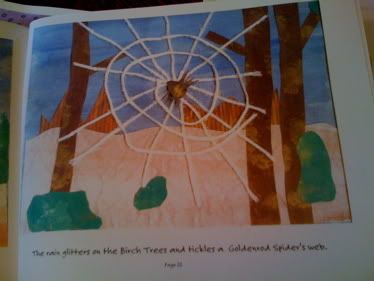 (I couldn't figure out how to make the book covers bigger. Sorry.)
Congrats to the winners and to all who entered!!!
You can
click here
for more information on the Grand Prize winners, plus the 25
honorable mentions
. And to read about the so totally cool way a group of kindergartners found out they won the Going Green Grand Prize,
click here
.
If you know some talented kids,
here's how
they can enter the 2009 contest!
Speaking of books, wanna read JK Rowling's prequel to HARRY POTTER? It's postcard-sized and just sold for $48,000. You can
read it here.
Speaking of the presidential election (okay, so maybe we weren't but Anderson Cooper was), check out this bumper sticker. Would you vote for
this person
? I would.
Subscribe to Lisa Yee's Blog and get her fresh baked blogs e-mailed to you!