Phew! Imagine 348,398-ish librarians in ONE place. That would be the
ALA Conference
in Anaheim, CA.
A
nice smelling Peepy
and I were part of the
YALSA
Pre-Conference Program, "Got Tweens? Serving Younger Teens and Teens." It was
a blast!
. However, I almost didn't make it.
Early morning, my editor (and
J.K. Rowling's editor!
) the supercoolamazing
Arthur Levine
and I met in the
hotel lobby
. He was assigned to walk me to the convention center (across the street) so I wouldn't get lost.
We got to the Room 203B by 7:55 a.m. Because the program wasn't scheduled to start until 8:30 a.m., we filled the time by discussing how to achieve world peace, doing geometry, and cracking ourselves up by taking funny pictures with my
beloved iPhone
. . .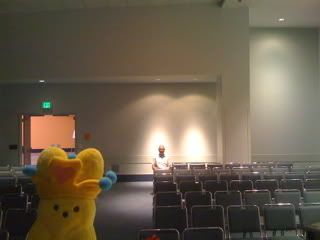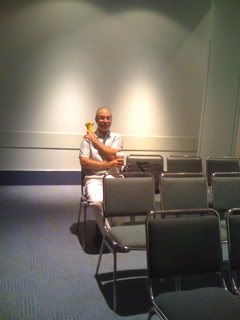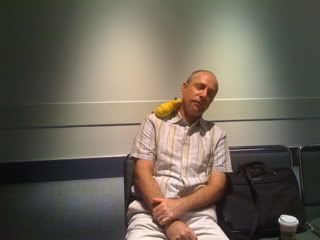 Suddenly, it was 8:35 a.m. and we both started getting suspicious that something was not quite right.
Uh. Oops. Duh. We were in the wrong room! (It was the emptiness that tipped us off.)
We finally found ourselves where we were supposed to be. I could tell because Blogland's very own
Professor Nana
(in blue), who was running the program, was there. And so was Odyssey Chairperson (that would be
the award
, not the car) Mary Burkey (polka dotted), who was set to introduce me.
My speech was tweeny and teeny and I had a great time. How could it not? Look at this smart, good-looking, literature-loving audience . . .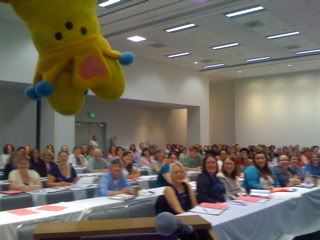 After my talk, I stayed to listen to most of the others including my friend and Peepy's enemy
Amy Goldman Koss
and THE CLIQUE author,
Lisi Harrison
. There was also was a mighty fine lunch. (Wheeeeee, cake was involved!)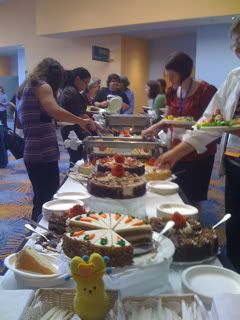 I dined with Arthur and
Dan Santat
who will be illustrating my chapter book series (Fall 2009) . . .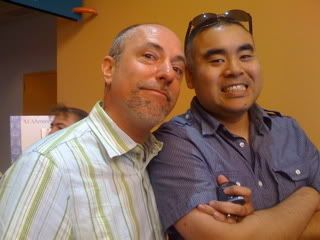 Then it was back to listen to hat collector
Bruce Hale
. . .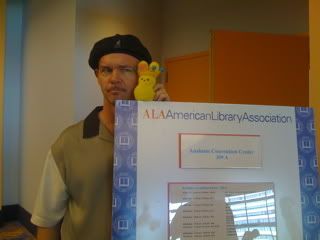 And Ambassador of Children's Literature
Jon Scieszka
. . .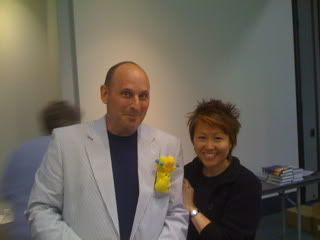 Later, it was off to the YALSA Cocktail party. Wow, librarians sure do know how to mingle!
I finally got meet
Barry Lyga
in person. (We've met in cyberspace before.) Barry wrote the marvelous FAN BOY AND GOTH GIRL and BOY TOY . . .
My gal pal
Cecil Castellucci
was there, only she tried to corrupt Peepy . . .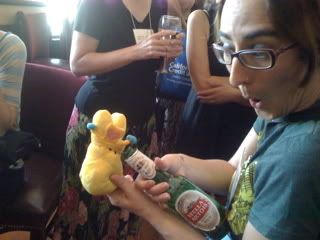 After, when we attended a dinner thrown by
Scholastic
, Peepy was feeling woozy. Luckily, editor/author
Tracy Mack
and
Pam Munoz Ryan
tended to her . . .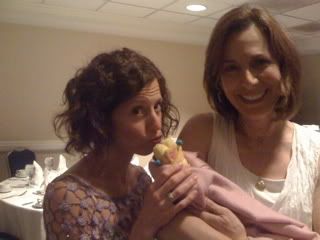 Lots of talented artists and authors and editors were also at dinner, like Phantom Tollbooth's
Norton Juster
and Spiderwick Chronicles'
Holly Black
. . .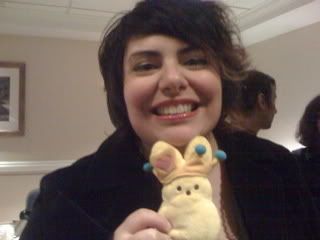 Phew! And that was just the first day.
Next blog: Guess who "Got Peeped?"* when we roamed the convention floor?!?!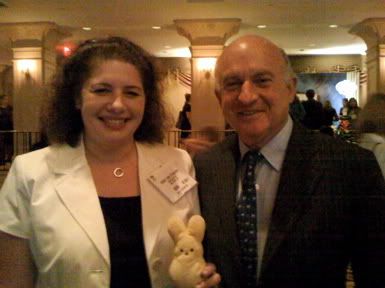 *Above: Scholastic's V.P. of Publicity, Tracy van Straaten, seen here with Dick Robinson, CEO, President and Chairman of Scholastic, coined the soon to be famous phrase, "Got Peeped."
Subscribe to Lisa Yee's Blog and get her fresh baked blogs e-mailed to you!