When last seen,
Peepy
and
Moi
were
here
.
Day Deux started with a book signing . . .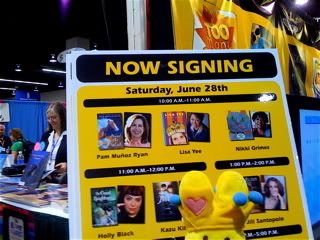 . . . followed by lunch with my editor
Arthur Levine
. We discussed ABSOLUTELY MAYBE (spring 2009) and JUST BOBBY, my chapter book series (fall 2009), plus we ate a big ol' piece cheesecake without the berries. Well, one of us did. The other just had coffee.
Soon it was time to get out the horns. Yes, it was
LAYAPALOOZA
time!
Here's National Book Award Finalist
Nancy Werlin
trying to spell the
Ambassador of Children's Literature's
name. Can you?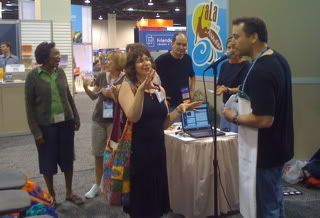 Beeeeeep!!! Nancy's spelling was incorrect.
J-o-h-n
S-c-i-e-s-z-k-a.
The correct spelling is J-o-n. (She got the last name right!)
Ahem! Speaking of spelling, I'm quite a speller myself having
appeared on Broadway
singing and spelling my heart out.
Oh, must not deviate. Back to ALA. That's spelled A-L-A.
Look! It's NY Times bestselling dude (left)
Jay Asher
and Boston Globe-Horn Book Award guy
Neal Shusterman
trying to pass kidney stones.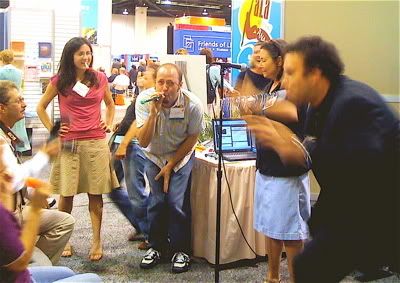 Oops. I mean, blowing their horns to ring in and answer a LAYA lit question.
After the fun and games, it was time to wander around, collect ARCs and see who was next to GET PEEPED . . .
(Above: San Francisco librarian and Wilder Committee Member Carla Kozak with Printz prince
John Green
, who/whom I
once grilled
.)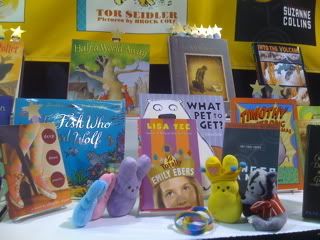 (Above: Carla's friends came along specifically to meet Peepy!)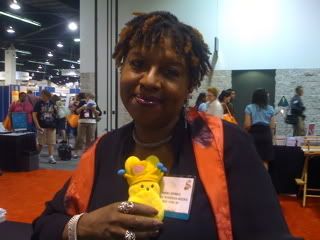 (Above: Coretta Scott King Author Award winner
Nikki Grimes
and Peepy swapped poems.)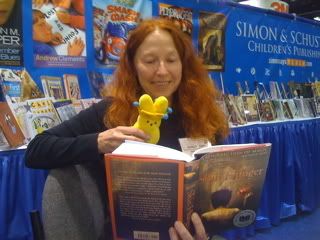 (Above: National Book Award Finalista
Kathleen Duey
shows Peeps the importance of good plotting.)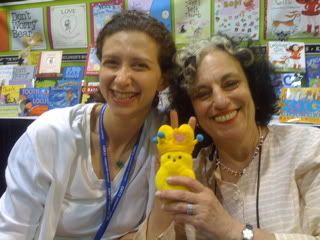 (Above: Dutton Senior Excellenta Editor
Julie Strauss-Gabel
and Prairie State Award-winning author and Booklist Editoress
Ilene Cooper
discuss politics with Peeps.)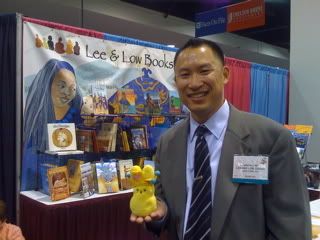 (Above: Publisher Jason Low of
Lee & Low Books
wasn't sure what a Peep was--until she explained herself to him. BTW, Jason and I were once on NPR together.
Click here
to listen.)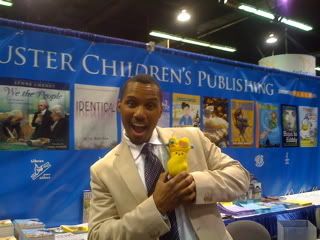 (Above: I told Simon & Schuster Executive Editor/author Kevin Lewis that I was sick of
this book
he wrote. I mean, I love it, but when Son was little we read it over and over and over and over and over and then some more, again and again and again.)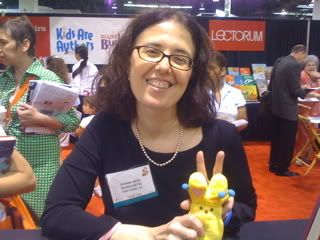 And finally, Scholastic Press Executive Editor Dianne Hess huddled with Peepy. Both refused tell me what they discussed.
Hey wait! Hmmmmm . . . Peepy was sure meeting with lots of editors. Methinks she's angling for her own book deal.
Next blog: A behind-the-scenes look at a top secret author/agent meeting.
Subscribe to Lisa Yee's Blog and get her fresh baked blogs e-mailed to you!