. . . and then, after talking to the young writers' group, Peepy got hugged (?) by
Candice Ryan's
sea creature at the
Flintridge Bookstore and Coffeehouse
. . .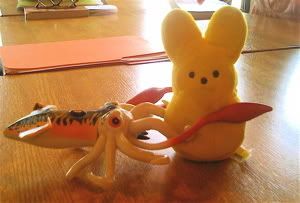 Afterward, we rushed home.
Julia DeVillers
and
Sarah Darer Littman
were both in town (that would be Los Angeles) and wanted to meet some LAYAs. So I hosted a little soiree at my casa . . .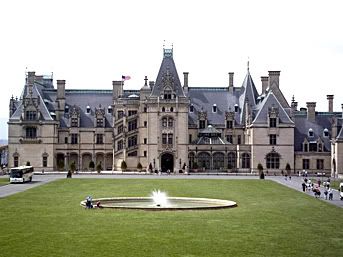 (One LAYA was so excited about the gathering that he/she showed up 24-hours early! I won't embarrass the person by revealing their
secret identity
.)
About 90,037 Los Angeles Young Adult Authors swarmed the party. We debated syntax, linking verbs, and if theme was overrated. We ate and drank. We discovered that gathering LAYAs for a photo is like herding baby squirrels--but we managed . . .
(Front seated: Sarah Darer Littman,
Moi
,
Dan Santat
. Standing from left,
Ben Esch
,
Len Mlodinow
,
Jordanna Fraiberg
,
Sally Nemeth
, Mitch (who later sang),
D. L. Garfinkle
,
Amy Goldman Koss
,
Michael Reisman
, Julia DeVillers,
Mark London Williams
,
Sasha Watson
,
Betty Birney
and
Susan Casey
. Unfortunately, Johnny Depp got cut out of the photo.
Click here
to see him.)
The evening was soooooooo much fun that it's all a blur . . .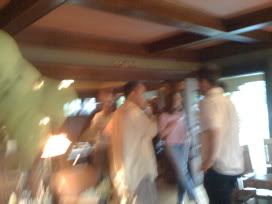 But I do recall Michael Reisman telling a looooong story that caused two people to fall asleep standing up . . .
And then there was the book swipe, er, swap. After MUCH discussion, someone/Mitch started singing. While someone/Mitch sang, we keep passing our books to the left. Then, when someone/Mitch stopped singing, we got to keep whatever book we were holding . . .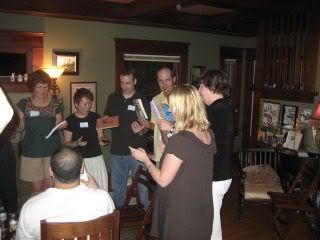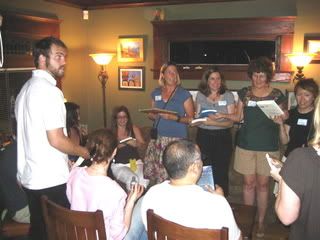 Later, it was time to play with the photo booth camera on my Mac. Someone/Lisa wanted to see how many LAYAs we could cram into one photo . . .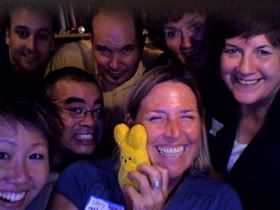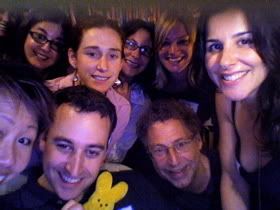 Hmmmm . . . looks like (almost) everyone made it.
Hey, I'll be at the
La Puente Library
this Tuesday at 3 p.m. If you're in the neighborhood, stop by. Peepy will be there, too!
Next blog: Squishy-faced LAYAs.
Subscribe to Lisa Yee's Blog and get her fresh baked blogs e-mailed to you!