Yoo hoo . . . I'm baaaack!!!!
I've been at the
SCBWI Conference
, the largest gathering of children's book people (and Peeps) in the world. There were about 14,937,938 attendees, including a Who's Who of the publishing world.
For me, the event began before it began since I had
heavily prepped
. However, officially, it kicked off with a dinner for the esteemed faculty on the eve of the conference.
Here's Peepy and Moi with David LaRochelle (check out
David's pumpkins
) and
Sara Pennypacker
(all three of us are
Sid Fleischman Humor Award
Winners!) . . .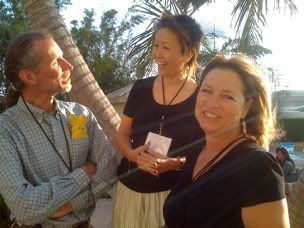 Peepy also got to hang out with her peeps, like award-winning
author
, photographer and
hostess with the most-est
Sonya Sones . . .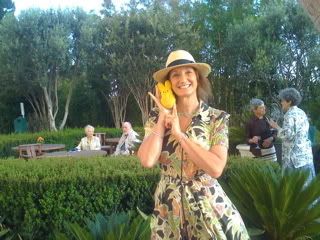 And Simon & Schuster Art Director and all-around-talented-guy
Laurent Linn
. . .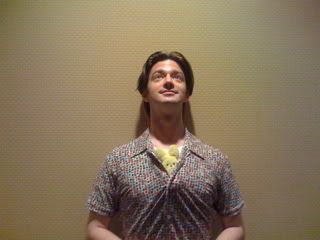 At the faculty dinner we dined with my editor
Arthur Levine
, Scholastic VP and Publisher of Arthur A. Levine Books (and
my good friend J.K. Rowling's
editor),
Brenda Bowen
, VP and Publisher of Bowen Press/Harper Collins, and Writer's House agent
Steve Malk
. . .
The next morning there was a standing-ovation-killer-keynote-speech by
Bruce Coville
, talented author/
audio-er
and
contest judge
. . .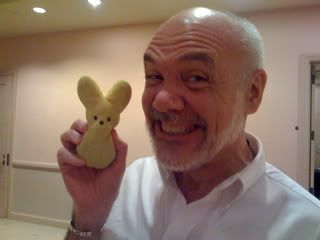 Then it was time for manuscript critiques. There was this HUGE room . . .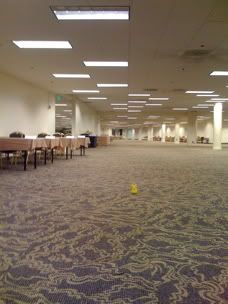 . . . where fifty editors, agents and published authors critiqued 450 manuscripts.
Peeps is shopping a book around and sat with
Firebrand
Agent (and former
Lisa Yee's Bodacious Book Contest
Judge
Michael Stearns
for her 30-minute critique . . .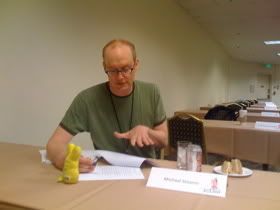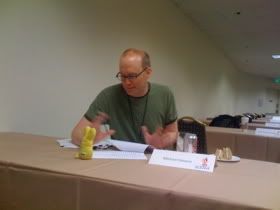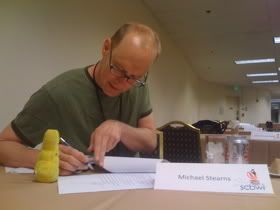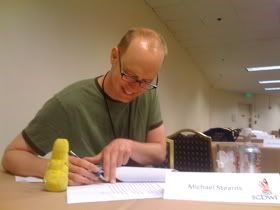 Peepy was expecting Michael to sign her up on the spot, but he told her she wasn't quite ready for an agent yet. This made her very unhappy and she got a tad huffy. Um . . . never get huffy to an agent with an iPhone that has special Bat powers or this could happen to you . . .
Oh my. Luckily for Peepy, she still had a couple more manuscript critiques to go.
Stay tuned for my next blog and meet more authors, agents, and editors!
Subscribe to Lisa Yee's Blog and get her fresh baked blogs e-mailed to you!