When we last left off, Peepy and I were
here
. The
conference
continued with more hobnobbing. Well, at least for Peepy. I was working.
Here's Peeps with awesome artist and author and smek-y guy
Adam Rex
. . .
Here's Peeps with the-man-who-knows-everything-about-child
ren's-books
Leonard Marcus
. . .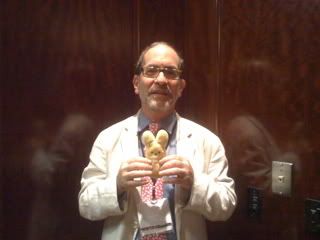 Here's Peeps with NY TIMES bestselling authors
Mark Teague
and
Rachel Cohn
(BTW, I had
lunch with Rachel
the day she found out that
NICK AND NORAH'S ULTIMATE PLAYLIST
was going to be a movie!) . . .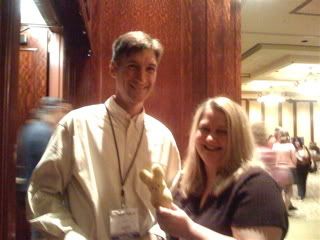 Later, Peepy calmed down long enough to sit in on the SCBWI Success Stories panel along with me,
Jay Asher
,
Paula Yoo
,
Yuyi Morales
and
John Rocco
. Here was my view from the stage . . .

And here's the view of the stage . . .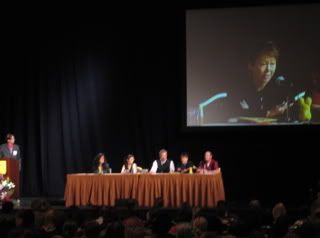 All of us had loooooong journeys to be the overnight successes that we are. And all of us owe a HUGE debt to the
SCBWI
for helping us find our way.
Afterward, there were more manuscript critiques and Peepy had a meeting with
Writers House
agent Steve Malk . . .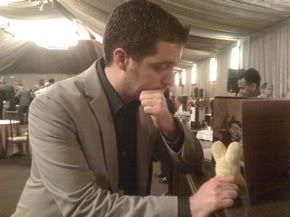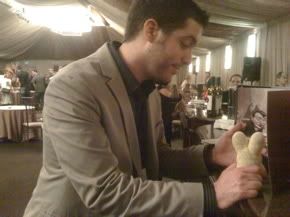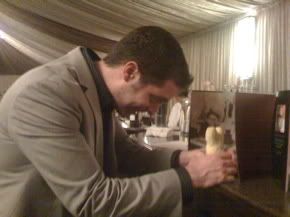 (He didn't sign her on as a client, but she did get invited to his party.)
The next day it was time for this . . .
I moderated the Humor Panel and it was a blast. How could it not be with Newbery winner
Sid Fleischman
, SCBWI empress/author/producer
Lin Oliver
and multi-talented author-illustrator-pumkin-carver
David LaRochelle
all dispelling myths about humor and creating new ones. It was standing room only . . .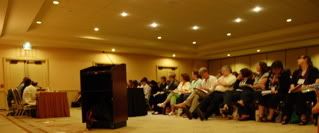 That evening, for the Paint the Town Red Gala, Peepy wore a couture outfit designed by
Julie Winkler
. . .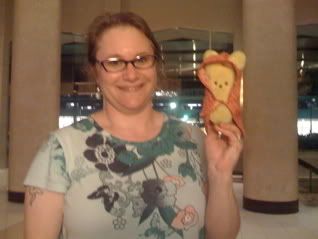 The gala was uber-totally-fantabulous My family came with me and, as before, were shocked at how rowdy children's book people can be! Here's Peeps with the costume winner, blogland's own
Angela Fox
. . .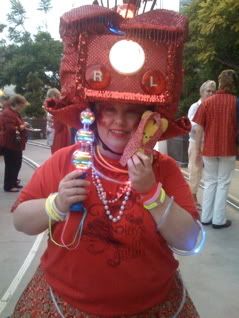 (Peepy felt she should have won.)
Here I am with two of my fav people,
Dan Santat
who's cartoon series is
THE REPLACEMENTS
(AND he's illustrating my upcoming chapter book series -- wheeee!!!) and Emmy award-winning Sesame Street creative director and now Art Director for Simon & Schuster
Laurent Linn
BEFORE and AFTER we got into our gala costumes . . .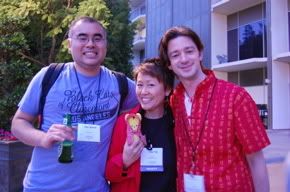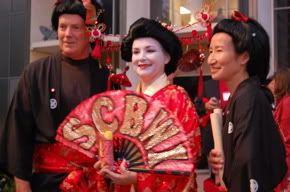 (Um. Not really. That's
Tina Nichlos Coury
and her entourage. Tina won last year's costume contest.)
Such was the power of the children's lit world that night that the
ENTIRE hotel
lit up red . . .
Next blog: Revision Workshopping, Golden Kite Awards and Peepy Misbehaves
Until then, here's the trailer for NICK AND NORA. Enjoy!
Subscribe to Lisa Yee's Blog and get her fresh baked blogs e-mailed to you!