We were
here
and
here
, when we last blogged. Okay, so then it was time for the
Golden Kite
Luncheon. Peeps and I sat with our pal
Mark Teague
. . .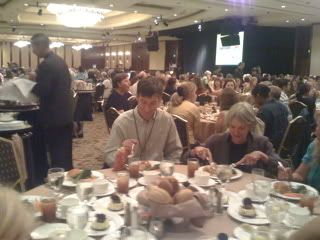 (Mark has many books about
dogs
and
dinosaurs
, but no Peeps . . . yet.)
Traditionally, the
Sid Fleischman Humor Award
is also given out at this time. This year there was no announcement. From the selection of books presented to the judges none met the criteria they were looking for.
Immediately after lunch, it was time for my Revision Workshop. I was thrilled to see that people showed up . . .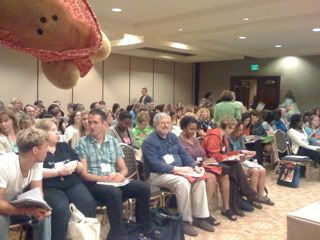 I always think no one's going to come. That's probably because my best friend once said he was throwing me a surprise party. Only he changed his mind, but didn't tell me. For WEEKS everytime I walked into a room I was prepared to act surprised.
Oops. I should have taken the Don't Ramble When You Blog Workshop. Back to the conference. One of Peeps friends showed up and it was just like old times . . .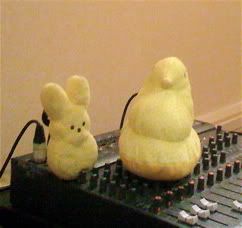 Anyway, Alice Pope, Editor of
Children's Writers and Illustrators Market
, did a
wonderful summary
of the workshop. Here's Alice sharing cookies with Peepy . . .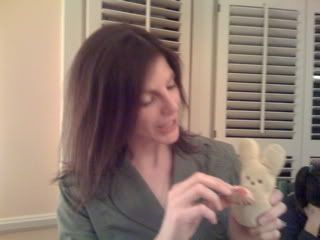 Later, I did a YouTube video of
ABSOLUTELY MAYBE
, my young adult novel that comes out in February, for
ReaderGirlz
. The multi-talented
Little Willow
interviewed me. She brought along her Peep, too . . .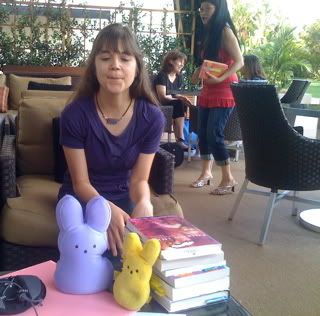 Then it was time for Peepy's manuscript critique with industry insider and snazzy dresser Mark McVeigh, Editorial Director of
Aladdin/Simon & Schuster
. . .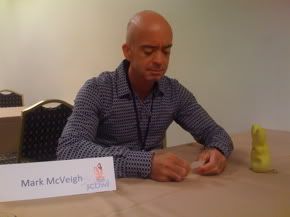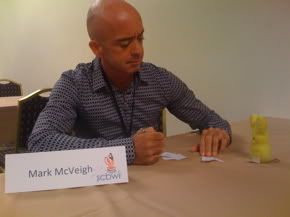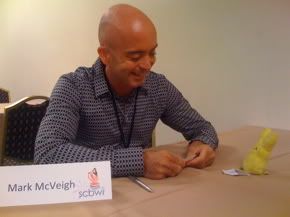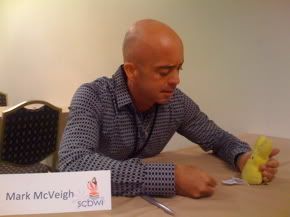 Peeps was convinced that Mark was going to offer her a multi-book deal. When it didn't happen, she lost her temper . . .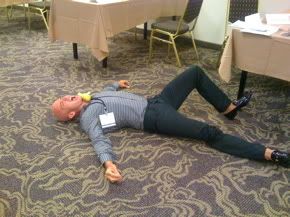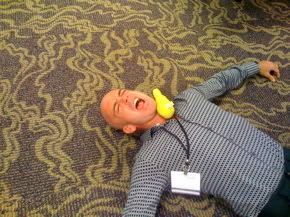 . . . and was put in time out.
Dinner before the party was with
Arthur Levine
,
Dan Santat
and Teen, seen here--only Dan and Teen are hiding . . .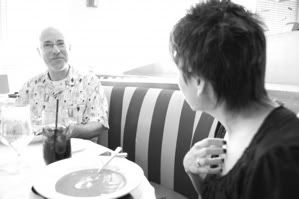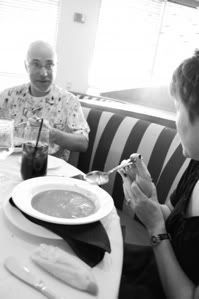 I struggled with whether I should still allow Peepy go to
Steve Malk's
Writers House party. (I'm represented by Jodi Reamer at
Writers House
.) Ultimately, I gave in . . .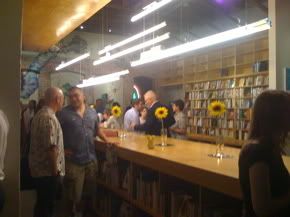 Peep was on her best behavior when she talked with Caldecott-ian
David Diaz
. . .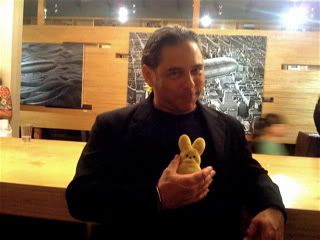 However, I think she may have said something that offended actress/author
Rhea Pearlman
. . .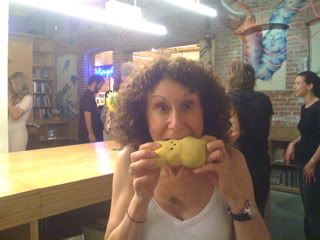 Sigh.
Next blog: Writers, illustrators and editors on a bus, book signings, and a board meeting
Subscribe to Lisa Yee's Blog and get her fresh baked blogs e-mailed to you!