Strange isn't it? You can spend five days at a conference but it takes five weeks (or so it seems) to blog about it.
In the
last blog
, Peepy clearly did not follow editor/author-wannabe protocol . . .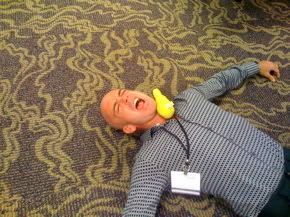 (I am concerned that Mark McVeigh might file a lawsuit.)
The next day Newbery-ian
Susan Patron
gave a very lovely, very funny, very moving closing keynote . . .
Teen kept annoying me by asking if I was crying. "No, I'm not. It's allergies."
Immediately after I finished crying it was time for the autograph party. That's were the 19,293 authors and illustrators from the faculty sign their books and eat cupcakes . . .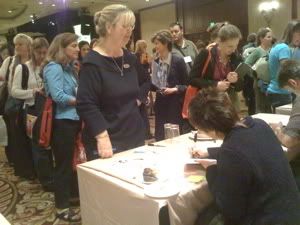 Sadly,
Peepy
started misbehaving again. That often happens when
Paula Yoo's
bear, Bartlett, is around. Last year things got so
out of hand
that the two of them got really sick. Paula took these candid photos of Peeps and Bartlett fighting over cupcakes . . .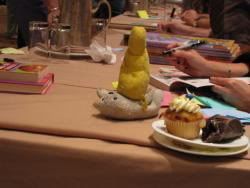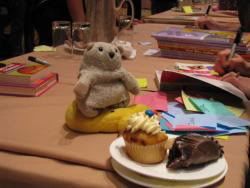 (In a stranger-than-fiction moment, immediately after the Peepy/Bartlett cupcake incident, Paula and I had a smackdown over cupcakes. It was not pretty.)
Then
upcoming-awesome-movie
maven
Rachel Cohn
and I snuck away to the lobby bar for drinks. Only we ended up by the pool and didn't drink. Which was just as good, cause Rachel's a lot of fun. Plus, she took this photo . . .
I had no idea Teen had put it on me. It says, "I'm with author." That's not toooooo bad. One time she changed the signature on my e-mails to read: "I am pooping now."
After not drinking in the lobby, it was time for the Faculty Party! Everyone boarded busses and we sang 100 Bottles of Beer on the Wall and mooned passing cars. Or not. However, it was quite rowdy, I mean get a look at these party animals disguised as top publishing industry professionals . . .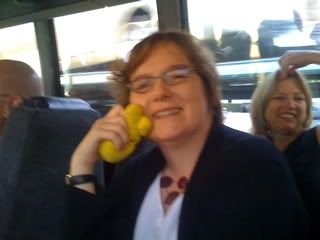 (That's Vice President and Publisher of Egmont USA,
Elizabeth Law
telling Peepy publishing secrets. Behind her,
Sara Pennypacker
is contemplating the overthrow of the world.)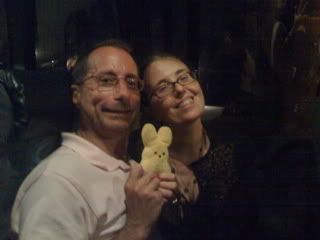 (David Gale, VP and Editorial Director at
Simon & Schuster
Books for Young Readers, and Dianne Hess, Executive Editor of Blue Sky and
Scholastic
Press, stopped arm wresting long enough to pose with Peepy.)
However, the two people who had the most motivation to party were The Incredibles:
Lin Oliver and Steve Mooser
, the founders and reason the
SCBWI
exists for its over 20,000 members . . .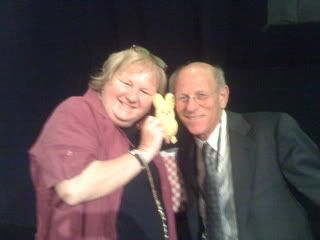 The next morning, even though the conference was over, there was still hard work to be done. Here are my editor
Arthur Levine
and I taking a meeting about JUST BOBBY TITLE TO BE CHANGED . . .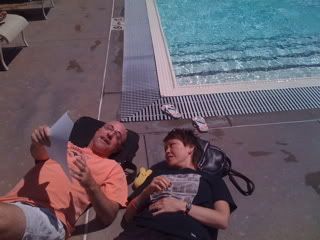 The SCBWI Board Meeting also took place. Last year I was invited to be on the board. It was/is an amazing honor. I mean, some of the other authors include
Judy Blume
,
Walter Dean Myers
,
Jane Yolen
,
and more
. Alas, Peepy was dismayed not to find her name . . .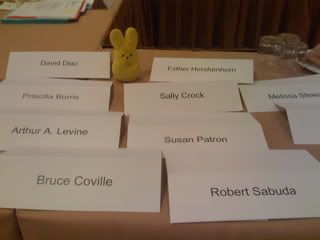 Maybe she'll have better luck in Las Vegas. That's where we headed next to speak at the
Nevada Library Association
Conference.
Subscribe to Lisa Yee's Blog and get her fresh baked blogs e-mailed to you!